A prototype kitchen and servery at this elementary school and high school set the standard for other renovations — allowing fresh food to become the star of the show.
Amy Miles, prep cook, prepares ingredients for lunch at Roosevelt High. Photo by Joe TrelevenWhen Bertrand Weber joined the Minneapolis Public Schools (MPS) district in 2012, he set forth ambitious goals to make major changes in the foodservice program. As director of culinary and nutrition services, Weber intended to turn away from the existing operation, which was unpopular but accepted as status quo and which relied primarily on centrally produced, prepackaged meals using processed ingredients. He sought to shift instead to one that incorporated scratch cooking, fresh ingredients and more locally sourced products. With this new system, Weber envisioned students and faculty would dine during one of three lunch periods in pleasant environments that encouraged social interaction with open, airy, attractively designed spaces with eye-catching graphics and murals of fresh food and digital signage. These goals would be possible to achieve, he said at the time, with dining facility renovations and new builds, a community and urban farm-to-school program and the True Food Chef Council, a collaboration of local chefs helping with recipe development, renovating the central kitchen and adding food trucks.
Rather than conduct a request for proposal (RFP) for a feasibility study, the district's planning department decided to plan for new kitchens through the capital renewal budget. The first step was to develop new kitchen prototypes and then determine what spaces were necessary for new kitchens and what it would take to renovate existing kitchens.
Prototypes were developed for the various types of schools (K5, K8, middle school and high school). For each type there are five sizes, ranging from small to large, depending on enrollment. With the student enrollment as a starting point for each school, the district developed a formula for the cafeteria to seat one-third of the students at a time, using 13 to 15 square feet per seat as the space requirement guide. At the schools with a higher percentage of special-needs students, the ratio of square feet per seat is larger. The district standard is now three serving periods, regardless of enrollment, and each of the five sizes was allocated with a specific square footage for both the kitchen and servery spaces, as well as the dining space, using the developed formulas.
Each Market Cart salad bar allows students access from both sides as they move toward the cashiers at Lucy Laney Community School. Photo by Joe TrelevenFour years later, Weber's vision is coming into focus. Though the original timeline called for completion in six years, Weber thinks the project may take seven years due to higher-than-anticipated construction costs and the need to get more capital allocated.
"All renovations have their own challenges, but dealing with buildings built in the '20s, as was Roosevelt, brings additional complications as you bring the older buildings' utilities and structures into compliance with current code requirements," says the projects' foodservice design consultant Len J. Groschen, principal of FS1 Design Inc., Minneapolis. Groschen and his team designed the prototypes and all of the other kitchens. "Expanding the hot food production capability at Roosevelt brought with it the increased requirements for exhaust and make-up air ductwork, thus requiring larger duct-shaft space within an existing structure. Engineering design was complex, but ultimately attainable."
"As a department we did minor improvements to high schools and junior highs in 2013 and 2014 by purchasing serving lines," Weber says. "The high schools and junior highs had antiquated kitchens, but they did have ovens and enough equipment to get by." In the 2013-14 school year the district selected schools for new kitchens. Design began in the winter of 2014-15, and a bid went out in early 2015. Renovations were completed in the summer of 2015 for one high school, a junior high and six elementary schools. This article explores the prototypes of two of the schools completed in the summer of 2015: Lucy Craft Laney Community School and Roosevelt High School. By the end of the summer of 2016 three more elementary schools will be completed, and by the end of the 2016-17 school year one high school and two additional elementary school cafeterias will be completed. At the project's end, 65 more school foodservice operations will be up and running.
The ovens at Lucy Laney were reconfigured to run parallel to the serving lines. Photo by Joe TrelevenSince Weber's arrival, participation in the MPS programs serving breakfasts, lunches, suppers, summer meals and after-school snacks has increased considerably. Revenue has jumped from $14.5 million 4 years ago to $20.5 million today. No doubt, many factors have contributed to this jump in revenue. These include notable programs that allow local chefs to sponsor a Junior Iron Chef Competition, in which students compete to come up with cafeteria recipes. On Minnesota Thursday, the menu features only locally sourced ingredients.
Achieving these goals has come with daunting challenges. As none of the elementary schools had kitchens, they had been receiving prepackaged meals prepared in a centralized kitchen (called the Nutrition Center). Though when it was built in the 1970s the Nutrition Center had been considered a cost-efficient solution to the foodservice program, decades later the system of food preparation, packaging and delivery no longer enabled the district to meet the requirements of a more sophisticated clientele, the new 21st-century meal standards set forth by the USDA and the goals of the First Lady Michelle Obama's "Let's Move" initiative. The high schools had minimal equipment but needed new equipment to allow the executive chef and school cooks to expand and enhance the menus.
Grilled cheese sandwiches and tomato soup await students as they enter the serving line at Lucy Laney. Photo by Joe TrelevenWhile implementing changes to individual schools, Weber and his foodservice team are transitioning the central kitchen into a production facility to produce large quantities of sauces and salsas as well as to roast meats for schools that don't have ovens to cook these menu items themselves. The central production facility also washes and cuts vegetables and fruit for the schools' salad bars. Elementary schools without kitchens still receive prepacked entrées and hot vegetables, but they have salad bars on-site as well. Others receive food prepared in bulk at a high school.
"Designing these new facilities to accommodate an increase in the student population without adding any additional space to the areas is always an exciting challenge," says Groschen. "To that end, we looked at student population as our main guide for the prototypes. We utilized product flow from the receiving area, to the refrigerated and dry storage areas, to the prep/production areas and finally out to the servery. Dishwashing is located at the most common student flow exit from the dining area.
"Strategically, we try to utilize as many of the existing utility locations as possible to reduce overall construction costs and schedule time without compromising flow," Groschen adds. "Most exhaust hoods were located within the same area as previously designed to utilize duct shafts and roof curbs. At Lucy Laney and Roosevelt High, walk-in refrigerators and freezers contain recessed slabs whenever building structure allows, to permit a level flow of carts at the threshold of the doors and eliminate any ramps."
In order to provide the production capacity and speed of service at the school level, the individual kitchens feature combi ovens that FS1 Design says are versatile and have a much faster cooking time than conventional ovens. Tilting braising pans allow for a variety of menu options, and hot/cold pans on serving lines support menu variations during the week.
Lucy Laney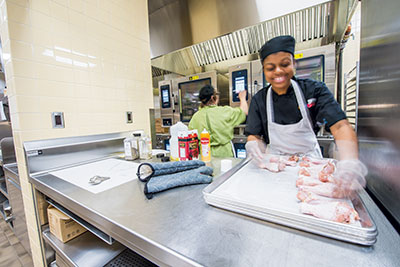 Arica Burgess breads oven-fried chicken thighs at Lucy Laney. Photo by Joe TrelevenLast renovated in the 1990s, Lucy Laney already contained many of the components needed to make this latest project a success. "The walk-in cooler/freezer and dry storage, the pot and pan washing equipment and cold food production equipment were all adequate to meet the prototype, and most of the utilities were up to code," says Groschen. The construction schedule for this facility was adequate to perform this renovation within the allotted construction days from early June to early September.
In implementing the new Lucy Laney prototype, the project team was able to incorporate most of the existing equipment. Updating the spaces included adding a dishroom and reworking the servery line and hot food production areas. New plumbing codes required some demolition of the existing slab and replacement floor tile. In addition, in the servery, designers placed a soffit between the servery and production space at the top of the pass-thrus in order to close off this area and allow color to show through on the dining room side. "We were also able to hide the electrical connections for the pass-thru cabinets up into the kitchen side of the soffit to eliminate hanging cords," Groschen says.
"The result is a much better flow of hot food to the servery," Groschen says. "For example, the ovens used to be perpendicular to the serving lines and are now parallel. We took out walls separating hot food production from the serving lines, which helps facilitate communication among the staff members and offers more visual contact."
Staff take deliveries from the receiving dock to a walk-in cooler, walk-in freezer or dry storage. The kitchen prep equipment includes a food processor, slicer, 20-quart mixer and can openers. In addition to a tilt skillet and a four-burner range with an oven and spreader, staff use two double-stacked combi ovens to prepare a wide variety of menu items that change daily.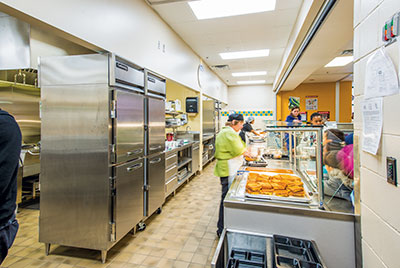 Lisa Irwin (front) and Arica Burgess serve students at Lucy Laney. Pass thru refrigerators add to the Lucy Laney kitchen's efficiency. Photo by Joe TrelevenStaff move food from the kitchen to the serving lines through pass-thru hot and cold cabinets. "With this arrangement, staff can fill pans in the back and place them in the cabinets, and servers can pull what they need from the front and quickly supply their lines," Weber says.
Students can select food from two mirrored servery lines. "Counters in elementary schools are typically 32 inches high to accommodate the youngest students," Groschen says.
Colorfully designed "Market Cart" salad bars sit after the main line and before the cashiers. They contain cold pans, which customers access from two sides. The bars feature at least one lettuce salad, three fresh veggie toppings, one whole-grain salad, one legume salad and fresh fruit. The salad bar complements the entrée, or students can make a complete meal by taking three of the five meal components. A cashier station sits at the end of each line.
The addition of a dishroom represents a huge departure from the original design. Because the old system used prepackaged meals on disposable trays, there was no need for a dishroom. The new operation — with its trays, bowls, plates and serviceware — requires a high-temperature conveyor dishmachine with a built-in booster. The dishmachine also washes pots and pans.
The soiled dishtable holds a disposer. Students drop off trays in the dining area. Canisters for trash and recycling sit just outside the dishwashing area.
Roosevelt High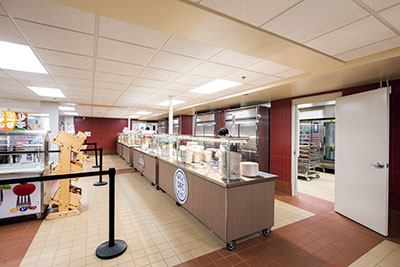 The Market Cart salad bars are situated near Mill City Cafe at Roosevelt High. Photo by Joe TrelevenThe Roosevelt High cafeteria renovation was also completed in the summer of 2015. "The construction schedule for this renovation was extremely aggressive," Groschen says. "A complete shutdown of the foodservice operation was necessary to accomplish the construction schedule within the allotted time."
The kitchen was gutted, and the dining room was stripped. Improvements to the dining facility included new flooring, new furniture, new signage and fresh paint. Because the serving line had been upgraded just two years earlier, the project included only a few changes to the serving line and all-new kitchen equipment. The facility kept its existing hot and cold pass-thru cabinets between the servery and hot food production/kitchen.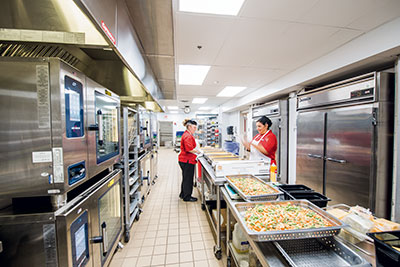 Amy Miles and Margo Lopez prepare food at Roosevelt High. Photo by Joe TrelevenThe kitchen sits in an old building, and the new operation had to fit within the existing space. The à la carte area and equipment were removed to allow space for the dishroom. "The à la carte function was eliminated in favor of an additional service line," Groschen says. "In fact, the servery's hot and cold pans were only two years old, so we didn't need to replace these. We added one more service line for an additional entrée station, bringing the total entrée station selections to five."
"We basically serve no à la carte menu items with the exception of water, sparkling beverages and smoothies because our purpose is to provide good quality breakfasts and lunches and to compete with local restaurants," Weber says. "We aren't a fast-food chain or a convenience store. So if students want more food than the one meal provides, they buy a second entrée."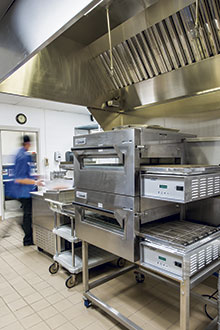 A double-deck conveyor oven cooks pizza at Roosevelt High. Photo by Joe Treleven.The age of the building (93 years), as well as ceiling heights under 8 feet, created the greatest challenges."Getting the duct work out and putting in walk-ins was challenging," Groschen says. "We had to work around the columns and custom design the walk-ins to fit within the space allotted." The design team also reworked hot production to include a roll-in combi oven and two double-stacked combi ovens for roasting poultry, meats and vegetables, steaming vegetables and baking. A tilt skillet cooks pasta, rice and butternut squash chili. Staff use the four-burner range for heating small-batch menu items. A double-stacked conveyor oven for pizza is also part of the new equipment package, which required a separate exhaust hood.
The dishroom features a high-temp conveyor washer that can also wash pots and pans. Just like the elementary school prototype, students drop used trays off at a window. The trash and recycling containers sit just outside the kitchen.
In the front of the house, Roosevelt features menu items at TC Grill Station, Mill City Café Station, Café Italiano, Minneapolis Deli and Ethnic Bowl. Two Market Cart salad bars offers fresh vegetables and fruits daily. New food shields were added so that now they all match.
In order to bring more sustainable practices into the dining operations, Groschen says the operation uses natural gas in as much of the equipment as possible, taking advantage of the energy rebates offered by the local utility supplier. Energy-efficient electrical equipment is utilized wherever possible as well as water-saving faucets used throughout the facility. In addition, the use of recycling cabinets reduces waste to the landfills. "This full production facility allows the district to reduce the deliveries from the central kitchen, as well as reduce the amount of weekly product deliveries, thus lowering the carbon footprint for each of the facilities," Groschen says.
Walk-in coolers hold ingredients safely until needed for menu production. Photo by Joe TrelevenMaking sweeping changes in a school district's dining program requires leaders and teams who bring razor-sharp focus, exceptional intelligence and immeasurable passion to their jobs. Add to this patience, persistence and an unquestioning desire to build a new food and service culture. That's what Bertrand Weber and his team bring to Minneapolis Public Schools and to the hundreds of districts who are learning from their experience.
Facts of Note:
Schools in the District: 64
Students: 36,705
Average Meal Participation: Breakfast, 36.6 percent; lunch, 65.2 percent. The food truck sells an additional 200 to 300 meals at the high schools in the fall and spring.
Projects Completed: Lucy Laney, September 2015; Roosevelt High, September 2015
Scope of Project: Front- and back-of-house renovations
Size of Serveries and Kitchens: Lucy Laney, 2,850 sq. ft; Roosevelt High, 4,950 sq. ft.
Seats: 150 at Lucy Laney; 300 at Roosevelt High
Meal Price: Elementary, $2.35 elementary; secondary, $2.55
Total Annual Revenue for the Department: $20.5 million
Transactions: 435 meals at Lucy Laney; 800 to 900 meals at Roosevelt High
Hours: Lucy Laney, breakfast, 8 a.m. until 9 a.m., and lunch 10:55 a.m. until 12:25 p.m., Monday through Friday; Roosevelt High, breakfast, 8 a.m. until 9 a.m.; lunch, 10:50 a.m. until 12:30 p.m., Monday through Friday
Menu Specialties: Lucy Laney features chicken à la king with a biscuit; turkey, beef and bean nachos; taco salad; fish and chips; and cold-cut combo subs. Fresh fruits and vegetables are offered daily. Roosevelt High features chicken pasta parmesan; curried chicken bowl with yellow rice; pickled pineapples and peppers; beef pepperoni and other specialty pizzas; and fresh fruits and vegetables.
Staff: 150 FTEs in department; 4 at Lucy Laney; 7 at Roosevelt High
Total Project Cost: $850,000 for Lucy Laney Community School; $950,000 for Roosevelt High
Equipment Investment: $285,000 for Lucy Laney Community School; $400,000 for Roosevelt High
Website: www.nutritionservices.mpls.k12.mn.us
Key Players
Owner: Minneapolis Public Schools (MPS)
Director of Culinary and Nutrition Services: Bertrand Weber
Executive Chef: Mark Augustine
Coordinator at Lucy Laney: Lisa Irwin
Coordinator at Roosevelt High: Todd Waldeland
Lead Cook at Roosevelt High: Scott Hillestad
Architect: LSE Architects Inc., Minneapolis; Jennifer Anderson-Tuttle, principal and director education and public sector; Diana Glasgow and Carleton Crawford, project architects
Interior Design: LSE Architects Inc., Minneapolis
Food Facilities Design Consultants: FS1 Design Inc., Minneapolis; Len J. Groschen and Andrew Druva, principals
Equipment Dealer: TriMark Strategic, for Lucy Laney and Roosevelt High
Equipment Key
Lucy Laney Community School
Roosevelt High School
1. Walk-in cooler/freezer
1a. Pass-thru refrigerator
1b. Mobile milk refrigerator
1c. Walk-in cooler
1d. Walk-in freezer
1e. Served beverage refrigerator
1f. Milk/beverage cooler
1g. Beverage cooler
2. S/s closure panels
2a. S/s insulated wall panels
3. Freezer refrigeration system
3a. Cooler refrigeration system
4. Cooler/freezer shelving
4a. Dry storage shelving
4b. Overshelf
4c. Wall shelf
5. Dunnage rack
5a. Mobile pan rack
5b. Rack dolly
5c. Can rack
6. Utility cart
6a. Tray cart
7. Hand sink
7a. Three-compartment pot wash sink
7b. Janitor's sink
8. Soap/towel dispenser
9. Faucet w/spray rinse
10. Blower/dryer
11. Clean dishtable
11a. Soiled dishtable
11b. Worktable w/two sinks, drawer
11c. Worktable w/sink, handsink
11d. Mobile worktable w/drawers
11e. Mobile worktable
11f. Pizza prep table
12. Corner unloader
13. Vent riser
14. Dishmachine w/built-in booster
15. Disposer w/control
16. Prerinse spray unit
17. Eye wash
18. Hot water dispenser
18a. Serviceware, napkin dispenser
19. Can opener
20. Food processor
21. Trash container
21a. Trash/recycle cabinet
22. Utility chase
23. Fire protection system
24. Slicer
24a. Mobile slicer stand
25. 20-qt. mixer
25a. Mobile mixer stand
25b. 40-qt. mixer
26. Tilting skillet w/faucet
27. Floor trough w/grate
28. Four-burner range w/oven, spreader
28a. Two-burner range w/spreader
29. Water filter
30. Double-stacked combi oven
30a. Impinger pizza oven
30b. Roll-in combi oven
31. Exhaust hood w/make-up air plenum
32. Hot food pass-thru cabinet
33. Hot food counter
33a. Cold food counter
33b. Utility counter
33c. Salad counter
33d. Cashier counter
33e. Condiment counter
33f. Counter w/sink
33g. TC Grill Station counter
33h. Mill City Café Station, counter
33i. Café Italiano counter
33j. Minneapolis Deli Sandwich Station
33k. Ethnic Bowl Station counter
34. Three-well hot food pan unit
34a. Two-well hot/cold food pan unit
34b. Five-well cold food pan unit
34c. Two-well hot food pan unit
34d. Two-well cold food pan unit
34e. Three-well cold food pan unit
34f. Hot well
35. Food shield
36. Cash register/POS
37. Hose reel
38. Employee lockers
39. Fruit merchandiser
Save