An expansion and renovation project elevated student education and dining.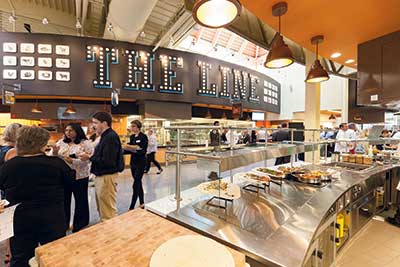 The high-volume production cookery class serves breakfast, lunch and dinner from a state-of-the-art kitchen and serving line called The Line. Photograph by CIA/Phil Mansfield At the Hyde Park campus of The Culinary Institute of America (CIA) students spend hours in kitchens and restaurants learning professional skills. Now they have their own dining venue where they can not only enhance their education but also dine, interact and relax with their peers.
Since its launch in June of 2015, The Egg has provided students with a collegiate dining experience comparable to that at other top-rated U.S. colleges and universities. "Continuing the tradition of CIA leadership, this new building asserts our dedication to food excellence, innovation and education," says Dr. Tim Ryan, CIA president. "The Egg and our expanded student commons marks an important advance for the college."
The 28,000-square-foot project represents a joint partnership between the CIA and Restaurant Associates (RA), a contract management company. "To be able to partner with an institute of such high caliber as the CIA has been an incredible opportunity for Restaurant Associates," says Dick Cattani, CEO, Premier Hospitality Division, including Restaurant Associates, of Compass Group. "The CIA's values mirror those of Restaurant Associates in terms of quality, hospitality excellence, innovation, wellness and sustainability. This strategic partnership allows us to create and foster a new standard of excellence in the foodservice industry."
With input from RA, the CIA operates The Line, which includes a high-volume production kitchen and live-action service station providing breakfast, lunch and dinner. Students cook and serve food at these operations. The CIA also operates the Innovation Kitchen, home to a new student-operated pop-up concept every semester, and The Brewery, a joint venture with Brooklyn Brewery. RA operates The Café, which is staffed by RA staff and a few graduate students.
Dining areas offer students many options in a bright and airy space. Photograph by CIA/Phil MansfieldIn addition to the many dining options, the new dining space features 7 lounge areas with 500 indoor seats and 150 outdoor seats as well as breathtaking views of the Hudson River and surrounding valley.
"This relationship with RA allows our students to become more familiar with high-volume production and RA's knowledge of providing contract foodservices in large-volume environments," says Waldy Malouf, senior director of food and beverage operations, who coordinated the many people who contributed to the project. "For RA, they introduce students to the latest innovations in technology and menu development and meet potential future managers, chefs and cooks."
The heavily glazed exterior and numerous skylights create a light and airy interior at The Egg. The space also includes a special events stage and advanced sound system, large multimedia screens for movie and sports nights and dozens of charging stations. In an area adjacent to the production and dining spaces, students also have access to new fitness options with expanded areas for aerobics, cardiovascular and resistance training.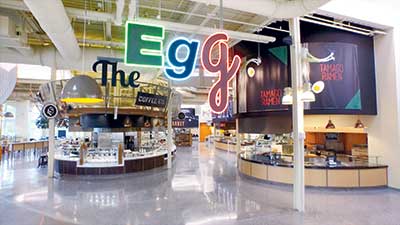 Bright signage welcomes customers to The Egg. Photograph by CIA/Phil MansfieldThe Market offers grab-and-go food as well as fresh, local produce and other artisanal ingredients such as charcuterie, pasta and cheeses for students to take home and cook in their residence halls or off-campus housing.
Thinking out of the box was Dr. Ryan's request of the project team and Hammer Design Associates. "Dr. Ryan wanted an operation that people throughout the industry would want to come see," says Gary Hammer, FCSI, cofounder and senior principal, Hammer Design Associates Inc./HDA-Pacific. "He challenged the design team with a guiding principle developed by the Japanese in the auto industry called the 5S system, which calls for 'a place for everything and everything in its place.' This applies to finding a spot for trash, recycling, food waste, cutting boards, the loading dock, and you name it. In keeping with this, you may remember that Julia Child's husband made a pegboard and outlined where every kitchen tool should go so everyone who used Julia's kitchen would know where tools belong."
Hammer and his associates, Teri Kidwell, principal/studio director, and Ashley M. Mauro, project manager, developed three-dimensional presentations that labeled where items — such as gloves, wraps, utensils, plates, pans, trash containers and ingredients —should be housed in the space. They also used three-dimensional models for the equipment and counters. "Waldy and a carpentry team created a wooden mock-up in a spare building so their chefs and Kari Kinder, CIA equipment and materials manager, could study and make comments before fabrication," Hammer says. The design team also analyzed equipment and supplies positioning for ergonomic benefits and efficiencies.
Right: Keeping order in the kitchen requires a lot of shelving and precise placement of supplies and each piece of equipment. Photograph by CIA/Phil Mansfield"From the design side, donations from equipment companies to provide what was needed took some of the cost pressure away so we could include the customization and accessories we felt were necessary," Hammer says.
Before selecting the equipment for the operation, the CIA decided to feature a broad range of healthful and cutting-edge food options. The college integrated CIA's Menus of Change initiative, which includes principles such as increasing the use of vegetables and fruits, developing dishes in which meat plays more of a supporting role, incorporating more whole grains and creating conscious menus that promote health and sustainability.
Dining stations such as sushi, wood-fired pizzas and artisanal sandwiches use local, responsible and sustainable ingredients whenever possible. The salad bar features a chef preparing cooked-to-order proteins that serve as salad toppings. Snacks focus on health, wellness and a diversity of cultures and cuisines. Though students and other customers can choose from standard college staples such as burgers and fries, the pricing structure provides a discount of more than 20 percent for customers who purchase healthier dishes such as the wheat berry mushroom burger, chipotle lime–glazed cauliflower taco, wood-oven chicken stir-fry or fish falafel.
At beverage stations, aguas frescas and unsweetened iced tea are free for students presenting their reusable cups. No high-fructose sweetened beverages are offered.
High-Volume Production Kitchen and The Line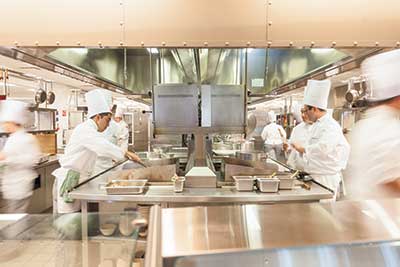 A cooking suite in the high-volume production kitchen includes two charbroilers, two six-burner ranges and two fryers/dumps."One of our goals was to relocate the CIA's high-volume production class from the Roth Hall location and integrate it with what a student might find in a corporate café," says Teri Kidwell, principal/studio director, Hammer Design Associates. "The CIA wanted to expand the students' minds to different avenues of foodservice beyond restaurants. Finding the right balance between the shared functions of the foodservice
facility had to be identified."
The kitchen had to function as a classroom that could expand with the number of students enrolled. First-year students learn the art of preparing and presenting foods while working at a grill line and the live-action service station. The classroom can expand into a deli experience and soup production when class attendance is high. A division was made between cold preparation and the hot line so morning and afternoon classes could work cohesively. Approximately 30 students work in the training kitchen at one time. Step-in refrigerators line the back of the hot line and are identified for lunch and dinner ingredients.
A tilting kettle and pressurized tilt skillets support skill training for high-volume production. Photographs by CIA/Phil Mansfield"Students are receiving much-needed real-world experience with equipment representing what's used in the industry," says Bruce Mattel, CHE, associate dean of food production. "They develop confidence working in this kitchen so, when they work in commercial and noncommercial operations, they are prepared."
The operation's storage includes six walk-in coolers, a walk-in-freezer, dry storage and step-in refrigerators for breakfast, lunch, dinner and the Innovation Kitchen. Bulk storage sits in an L shape from receiving. Each prep and serving station contains undercounter or stand-alone refrigeration as well.
The high-volume production cookery class serves breakfast, lunch and dinner from The Line. "Ingredient prep is not walled off because the equipment serves multiple stations and 40 students may be in the kitchen for instruction at any one time," Hammer says.
The bakery area's equipment package includes a dough scale, ingredient bins, worktable, 60-quart mixer and dough sheeter. For hot preparation, students use two pressurized tilt skillets, a stockpot range, convection ovens, combi ovens, steam kettles and braisers.
Students conceive of the concept and run the operation at Innovation Kitchen. Photograph by CIA/Phil MansfieldA cooking suite contains two charbroilers, two six-burner ranges and two fryers/dumps. A rice cooker allows students to prepare the grain in large quantities. Students receive a little taste of working with a small blast chiller and a vacuum sealer that packages nonprotein food items such as string beans and potatoes.
The Line features stations for assembly and just-in-time cooking for desserts, soups and cereals (Ladle), a deli (Bread), entrées (The Main Event) and grill (The Grille Pit). These stations contain heat lamps, induction cooktops and food wells for cold and hot foods. The deli features panini presses, overhead broilers and a high-speed microwave/convection oven. "The layout minimizes cross-contamination, and there's no need to re-prep stations," Mattel says. "Each daypart shift team sets up stations."
Beverage areas in the dining room feature hot and cold drinks, including juices and infused waters in addition to filtered still and sparkling water on tap.
The Café
Staff at The Noodle Bar at The Café create stir-fries and dishes featuring pasta, grains, udon and ramen. Photograph by CIA/Phil MansfieldThe oval-shaped café functions as a dining and gathering spot from 9 a.m. until 11 p.m. It operates daily even when The Line is shut down. Staff use dedicated storage in the back of the house as well as storage at each station.
"We are a college providing education first, and we don't have the desire to operate a retail café full-time, which is one reason this partnership with RA works so well," Malouf says.
At the top of the oval is No. 1 Pie, a station featuring pizza that staff prepare using a gas and wood-fired stone-hearth oven. Char, the grille, contains a single-sided suite with a charbroiler, fryer/dump station and four-burner range. Immediately behind this sits Double Decker, a deli sandwich prep area that contains a rapid-speed oven and panini press. Sushi sits nearby, featuring a sushi chef's freshly prepared selections.
Yo!, at the end of the oval farthest from No. 1 Pie, features frozen yogurt, cakes, pies, cookies, tarts and other desserts. Customers can also purchase wine and beer at a mini tap bar.
At Coffee, Etc., a state-of-the-art espresso/coffee bar attracts customers throughout the day. "A prime example of how this operation offers contemporary fare and features innovative equipment is the specialty coffee system used at only two places in all of Manhattan," says Malouf. A barista inputs data for orders into a computer, and the coffee is brewed in undercounter modules and served on tap.
A signature salad bar, Oil & Vinegar, features fresh and often locally sourced produce. The Noodle Bar contains induction cooktops and a wok range for staff to produce an eclectic menu including dishes with pasta and grains, udon and ramen, and stir-fry.
Innovation Kitchen, Dishwashing, Sustainability and the Brewery
In addition to the classroom, The Line and The Café, the CIA wanted an Innovation Kitchen designed with the greatest flexibility — similar to pop-up restaurants — where bachelor's degree students could develop their own concepts. "Up to 20 students in the Bachelor of Professional Studies [program] select a concept theme, design the menu and logo, analyze financials such as food costs, and select equipment," says Annette Graham, associate dean of business management. The CIA sees this as an incubator for restaurant concepts.
This station for the "intrapreneurship" academic concentration also offers foodservice equipment manufacturers a space to showcase a new product. "Because of the need for flexibility and equipment changes, both a Type II and solid fuel hood were included, allowing for various pieces of equipment to plug and play," Hammer says. "If this area is not being used by students, it could be operated by the contract management company."
The Innovation Kitchen contains a solid fuel specialty piece of equipment that can serve as both a grill and oven. Working 100 percent with charcoal, it contains a front-opening door system and vent system for temperature control. This station also features an island (with a wood countertop and refrigerator/freezer drawers beneath), a four-burner range and griddle top with a convection oven base, undercounter warmers, a grill, fryers and steam wells that convert to hot and cold. The equipment can meet the menu requirements of the current concept, POCO, The Potato Company. The next concept, The Shuk, named after Mahane Yehuda Market, a marketplace in Jerusalem also referred to as "the Shuk," may feature different equipment.
The warewashing operation, which sits adjacent to the Market, contains soiled and clean dishtables, a tray return accumulator, a dishwasher with a booster heater, a decarboniser, pot and pan transport carts and scullery and sort sinks.
Attention to sustainability also contributes to The Egg's notable features. The operation includes low-water fixtures, Energy Star–rated equipment when possible, demand ventilation on every hood and a central and remote refrigeration system with a mechanical room above to reduce the amount of energy going into the servery. Lighting features all energy-saving LED and automatically adjusts to the light coming in through floor-to-ceiling windows.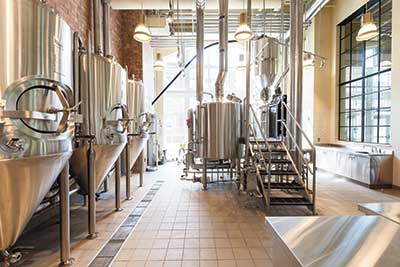 The Brooklyn Brewery is home to the CIA's Art and Science of Brewing course. Photograph by CIA/Phil MansfieldAnother key feature of the new CIA project is The Brewery. Developed in partnership with New York City's Brooklyn Brewery, this operation contains units for milling, mashing, fermenting, filtering and cooling. Students enrolled in the college's Art and Science of Brewing course work in a small group atmosphere under the direction of Professor Douglass Miller and head brewer Hutch Kugeman, to learn the art of combining different hops and grains to create different ales and lagers. Lighted tables allow students to view the different colors and particles within the beers. The craft beers brewed here are available at the café and in other restaurants on the Hyde Park campus. "Students get a taste of the physical labor required to brew beer as well as the operational concerns and realities of operating a business," Kugeman says.
The Egg marks the beginning of a new era of culinary education for CIA students. Their dining space is now comparable to the best dining found on other college campuses nationwide. They're not only practicing high-volume production in a much-improved environment with more state-of-the-art equipment, but they also will experience the joys of relaxing and dining with their peers, faculty and visitors in a unique setting. Who can argue about the value this will bring to the hospitality industry in years to come?
Facts of Note
Ownership: The Culinary Institute of America
Student Population: 2,400
Opened: June 29, 2015; the education kitchens opened in August.
Scope of Project: High-volume production kitchen/classroom and live-action service station at The Line, Innovative Kitchen (run by bachelor's degree students) and brewery in partnership with Brooklyn Brewery, all operated for educational purposes; the Market; and The Egg Café, a retail foodservice operation managed by Restaurant Associates, a foodservice management company. The Student Commons also houses recreation, student organizations, administrative offices and classrooms.
New Expansion Size: 40,000 sq. ft., including 28,000 sq. ft. for The Egg. Space includes: kitchen, 5,200 sq. ft.; serving, 4,840 sq. ft.; dining, 9,900 sq. ft.; office, 264 sq. ft.; storage ref/dry, 423 sq. ft.; brewery, 993 sq. ft.; The Café island/support, 656 sq. ft. storage and 1,105 sq. ft. in The Café island; Innovation Kitchen, 468 sq. ft.; cold preparation kitchen, 784 sq. ft.; instruction kitchen, 1,556 sq. ft.; dock and receiving, 350 sq. ft.; dishwashing/scullery, 1,209 sq. ft.
Seats: 500 inside, including a 40-seat private room for student clubs; 150 seats outdoors on 2 outdoor patios
Average Check: Approximately $9 for students with meal plans; public pays approximately $12
Total Annual Sales: $4.5 million
Transactions/Covers/Day: 2,000 to 2,500, including The Line, 200 to 300 for breakfast; 400 to 500 for lunch; and 500 to 600 for dinner; approximately 1,000 other meals from the à la carte café and Innovation Kitchen
Hours: Class days from 5:30 a.m. to 11 p.m.; non-class days, The Egg Café operates from 9 a.m. to 11 p.m.
Menu Specialties: Sushi, wood-roasted chicken and fish, a 50/50 blended burger with beans, mushrooms and grain
Staff: The Line, 25 professional staff members, including 3 at each shift; The Egg Café, managed by Restaurant Associates, 20 FTEs, 10 graduates, and 20 part-time students
Total Project Cost: $25 million
Equipment Investment: $3 million (some equipment discounted, some donated)
Website: www.ciachef.edu
Key Players
Owner: The Culinary Institute of America
President: Dr. Tim Ryan, EdD, CMC, AAC
Provost: Mark Erickson, CMC
Senior Director, CIA Food & Beverage Operations: Waldy Malouf
Associate Dean, Business Management: Dr. Annette S. Graham, PhD.
Associate Dean of Food Production: Bruce S. Mattel, CHE
CIA Project Managers, Facilities Management: Rebecca Oetjen and Thomas Hirst
CEO, Premier Hospitality Division, including Restaurant Associates, of Compass Group: Dick Cattani, New York City
Restaurant Associates Manager at CIA: Molly Buckie-Pinder
Executive Chef, Restaurant Associates: Michael Smith
Head Brewer: Hutch Kugeman
Architect of Record: Noelker and Hull Associates Inc., Chambersburg, Pa.; Michael G. Hull, AIA, NCARB, president and principal-in-charge; Stuart Christensen, AIA, LEED AP, NCARB, principal; and Cassandra L. Kennedy, senior interior designer
Interior Design: Tihany Design, New York, N.Y.; Adam Tihany, owner
Foodservice Planning and Design: Hammer Design Associates Inc./HDA-Pacific (kitchen, servery and support facilities); Gary C. Hammer, FCSI, cofounder and senior principal, in Coraopolis, Pa.; Teri Kidwell, principal/studio director; and Ashley M. Mauro, project manager
Equipment Dealer: Bova Corp., Valencia, Pa.; Peter Bova and Dean Bova, principals
General Contractor: Consigli Construction NY (formerly Kirchhoff-Consigli Construction Co.), Salt Point, N.Y.
Meet the Players
Molly Buckie-Pinder Restaurant Associates manager at CIA (left) and Michael Smith is RA executive chef. After earning her bachelor's in culinary management from the CIA, Buckie-Pinder worked as a private chef and later joined Restaurant Associates in 2006 as the catering manager at the Philadelphia Museum of Art. Smith began cooking at a small neighborhood restaurant in Brooklyn while in high school. After graduating he worked at Restaurant Laurent in New York City and won a scholarship to the CIA. After graduating in 1992 he returned to Hudson River Club and continued training with chef Waldy Malouf. Years later Smith worked with Malouf to revamp the acclaimed Rainbow Room, then went on to work at Jazz Standard/27 Standard, with Restaurant Associates at the Metropolitan Museum of Art and the New York Times. In 2015 he rejoined Malouf at The Egg at the CIA.

Dick Cattani, CEO, Premier Hospitality Division, including Restaurant Associates, of Compass Group. Since starting with Restaurant Associates right out of college as back-of-the-house steward, Cattani has held many regional and corporate positions with Restaurant Associates. He became CEO of Premier Hospitality Division of Compass Group, which includes Restaurant Associates and Wolfgang Puck Catering, in 2008. His many honors include the Conti Distinguished Professor Chair at Penn State University, as well as being named a Distinguished Visiting Professor at Johnson and Wales University in Providence, R.I., and a Wise Professor at the University of Delaware. Photograph courtesy of RA

Dr. Annette S. Graham, Ph.D., associate dean, business management, CIA. Returning to her alma mater in 2012, Graham oversees the curriculum, instruction and program development of the college's business management courses, including the intrapreneurship academic concentration and the Innovation Kitchen. Her professional experience includes positions at Ohio University in Athens, Pennsylvania State University in University Park, Purdue University in West Lafayette, Ind., Morehead State University in Morehead, Ky., and Brass Eagle Restaurant in Morehead, Ky.
Gary C. Hammer, FCSI, cofounder and senior principal, Hammer Design Associates/HDA-Pacific, a professional food facility planning and design firm with studios in Pennsylvania and California. Hammer brings 40 years of experience in all aspects of food facility planning and design. The firm's work has been featured in national and international media and has won several national awards.

Michael G. Hull, AIA, NCARB, president and principal-in-charge, Noelker and Hull Associates. Hull is the second generation to lead Noelker and Hull Associates. Hull began his architectural career at the age of 14, creating drafts for his father and later attending a pre-architectural program in high school. Following his college graduation, he worked for renowned architects Charles Moore and William Turnbull (MLTW) in San Francisco for five years and then joined Noelker and Hull in 1984. Photography by Richard Boyd, Boyd Pearman Photography [must run w/ pix]

Teri L Kidwell, principal/studio director, Hammer Design Associates/HDA-Pacific. Kidwell has more than 20 years of experience in all aspects of food facility planning and design. Her experience includes working on dozens of business dining and college/university projects.
Hutch Kugeman, head brewer, The Brewery, CIA. Kugeman, The Brewery's first head brewer, is responsible for producing four kinds of beer in the microbrewery for the CIA's public restaurants and student dining facility. He also assists in teaching, as The Brewery at the CIA is also a classroom. Kugeman came to his current position after serving as founding brewer at Crossroads Brewing Company in Athens, N.Y. He was previously lead brewer at Ithaca Beer Company in Ithaca, N.Y, and head brewer at Great Adirondack Brewing in Lake Placid, N.Y.
Waldy D. Malouf, senior director, CIA food and beverage operations. Malouf is responsible for food and beverage operations at the CIA, and he manages the CIA Restaurant Group. A 1975 graduate of the CIA, Malouf joined the administration of his alma mater in 2013. Previously he spent 13 years as co-owner and chief operating officer of Beacon Restaurant in New York City and as executive chef and director of operations at the Rainbow Room and executive chef at the Hudson River Club and Le Cremaillere.
Bruce S. Mattel, CHE, associate dean, food production, CIA. Mattel is responsible for the curriculum, instruction, program development and food quality in the kitchen classrooms at the college. A 1980 graduate of the CIA, he previously served for two years as interim associate dean of curriculum and instruction for culinary arts. He was also an associate professor of culinary arts. He is the founder of the SkillsUSA postsecondary chapter at the CIA and cochair of the national culinary competition.

Ashley M. Mauro, project manager, Hammer Design Associates/HDA-Pacific. Mauro has more than nine years of experience in all aspects of food facility planning and design. Her experience includes dozens of business dining and college/university projects.
Dr. Tim Ryan, EdD, CMC, AAC, president, CIA. Ryan has served as president of the CIA since 2001. A 1977 CIA graduate he received bachelor's and master of business administration (MBA) degrees from the University of New Haven and his doctorate degree in education from the University of Pennsylvania. He is also a certified master chef (CMC) and culinary Olympic champion. Dr. Ryan broadened the reach of the CIA by establishing a CIA campus in San Antonio, Texas, and the college's first international campus in Singapore.
The Egg at CIA Floorplan
Equipment Key
1. Glass rack
1a. Pot and pan rack
1b. Kitchen equipment compressor rack
1c. Dunnage rack
1d. Rack
1e. Table rack
1f. Spice rack
2. Pot and pan transport cart
2a. Oil transport caddy
2b. Ice transport cart
2c. Dish cart
2d. Pastry transport cart
3. Waste receptacle
3a. Receptacle tower
3b. Food waste collector
3c. Trash receptacle
4. Shelving unit
4a. Beer/wine shelving unit
4b. Shelving system
4c. Wall shelf w/pot rack
4d. Elevated glass rack shelf
4e. Wall shelf
4f. Heated display shelf
4g. Open shelving unit
5. Wine dispensing system
5a. Draft beer dispensing system
5b. Milk dispenser
5c. Cup/lid dispenser
5d. Airpot dispenser
5e. Ice/water dispenser
5f. Beverage dispenser
5g. Frozen yogurt dispenser
6. Floor trough w/grating unit
6a. Floor trough w/grating unit, s/s surround
7. Beer/wine walk-in refrigerator
7a. Roll-in refrigerator
7b. Walk-in refrigerator
7c. Walk-in freezer
7d. Walk-in dairy refrigerator
7e. Walk-in meat refrigerator
7f. Walk-in produce refrigerator
7g. Step-in breakfast refrigerator
7h. Step-in lunch refrigerator
7i. Step-in dinner refrigerator
7j. Step-in innovation refrigerator
7k. Refrigerated drawer
7l. Freezer
7m. Blast chiller
7n. Undercounter refrigerator
7o. Refrigerated bakery case
7p. Refrigerated deli case
7q. Refrigerated pantry case
7r. Refrigerated topping display
7s. Refrigerated drawers w/cutting board
7t. Refrigerated pizza base
8. Hand sink assembly
8a. Scullery sink
8b. Soak sink
8c. Produce wash sink w/prerinse spray, faucet
8d. Barista sink
9. Slicer
10. Rice cooker
11. Worktable
11a. Prep table w/sinks
11b. Soiled dishtable
11c. Clean dishtable
11d. Worktable w/overshelf
11e. Baker's table
11f. Display table
11g. Filler
12. Wall cabinets
12a. Roll-in proofing cabinet
12b. Hot food cabinet
13. Food cutter
14. Prerinse spray
15. Double-stack ice makers w/bin, water filters
16. Trash/recycling counter
16a. Work counter w/sink
16b. Work counter w/overshelf, pot rack
16c. Work counter w/sink, overshelf
16d. Work counter w/sink, overshelf, pot rack
16e. Market display counter
16f. Beverage counter
16g. Deli/soup/dessert counter
16h. Hot entrée counter
16i. Grille/bread counter
16j. Back counter
16k. Equipment counter
16l. Innovation counter
16m. Back counter w/sink, display shelves
16n. Asian/pasta toss counter
16o. Signature tossed salad bar counter
16p. Back counters w/sink, s/s surround
16q. Barista counter
16r. Equipment counter w/sinks, utensil wells
16s. Yogurt/dessert counter
16t. Cashier counter
16u. Deli counter
16v. Grille/pizza counter
17. Waste pulper w/remote extractor
18. Tray return accumulator
19. Dishwasher w/booster heater
19a. Utensil washer
20. Wall cap w/utensil holder
21. Decarboniser
22. S/s wall panels
23. Fire suppression system
23a. Recessed pull stations
24. Convection ovens
24a. Cook-and-hold oven
24b. Combi oven w/water filters
25c. Microwave/ convection oven
24d. Oven w/grill
24e. Tools for oven w/grill
24f. Stone-hearth oven w/exhaust ventilator
25. Exhaust ventilator
25a. Exhaust ventilator surround
25b. Exhaust ventilator w/fire suppression system enclosure
25c. Exhaust ventilator surround/fire suppression
26. Trunnion kettle w/base
27. Dough sheeter
28. Ingredient bin
29. Mixer
29a. Mixer stand
30. Dough scale
30a. Scale
31. Vegetable dryer
32. Heat lamp
33. Grinder
34. Pressurized tilting skillet
35. Stockpot range
35a. Four-burner range and griddle top w/oven base, salamander broiler
35b. Four-burner range and griddle top w/convection oven base
35c. One-burner wok range
36. Fill faucet
36a. Espresso and steam taps w/water filters
37. Cooking suite
38. Vacuum sealer
39. Refrigerated display case
39a. Market display soffit, surround
39b. Sushi display case
39c. Deli display case
40. Hose reel w/control panel
41. Toaster
42. Food shield
43. Refrigerated food well
43a. Hot/refrigerated food well
43b. Soup wells
44. Induction cooktop
45. Coffee brewer
46. Waffle maker
47. Overhead broiler
48. Panini press
49. Fryer w/filter, dump station assembly
50. Blender
51. POS system
52. Order entry system
53. Griddle