With an emphasis on healthful menu items, this renovated, all-you-care-to-eat dining hall features microrestaurants offering display cooking and self-service.
Seating at Noodled takes on an earthy, green hue. Natural lighting streams in from outside, contributing to the sustainable features of this operation. In an effort to elevate the on-campus dining experience for students, faculty, staff and visitors, Ohio University Culinary Services spent the past eight years expanding its service offerings and renovating its venues. The latest project, Boyd Dining Hall on the West Green, did more than simply renovate a long-standing facility. Ohio University (Ohio) and its project team created a cutting-edge dining facility unlike anything else on campus.
"We also wanted this dining hall to be different than what is found on other college campuses," says Rich Neumann, director of Culinary Services.
Previous renovation projects on the Athens campus include Nelson Court on South Green and Shively Court on East Green. "Before their renovations, the facilities were very dated and tired," Neumann says. The Culinary Support Kitchen (CSK) opened in December 2011 to support all culinary facilities on campus.
Boyd Dining Hall transitioned from a traditional college foodservice option to a nontraditional, all-you-care-to-eat venue with several themed microrestaurant concepts, each with its own variety of seating styles. "We focused on celebrating and preparing fresh food in front of customers, creating new and unique healthful menus and applying sustainable practices," Neumann says.
Seating at Between the Bread features maple tables and stools. Tilework emphasizes the New York deli ambiance. Photographs by Scott Pease, This email address is being protected from spambots. You need JavaScript enabled to view it.In addition to some lofty goals, transforming a 1960s-era building also presented a few challenges. "The existing footprint greatly limited what we could do," says Rebecca Fox, AIA, LEED AP BD+C, project architect at Davis Wince Ltd. Architecture. "We wanted to define the spaces while still creating an open environment where students could explore and discover different foods and new concepts around the corner. With an emphasis on healthy and fresh options, the cooking and preparation were moved to the front of the house providing exhibition-style cooking, showcase preparation and cleanliness, and transparency of ingredients and preparation so students are accountable for their food selection. Each microrestaurant concept has state-of-the-art food prep equipment that is functional and aesthetically pleasing."
"This is a healthy dining service model the culinary team wanted to implement efficiently," says Leonard D. Condenzio, principal, Ricca Design Studios. "There's a strong message of how fresh can we make this for you among all the menu offerings. The refreshed and modernized facilities provide more convenience to busy students without
compromising quality or nutritional value."
Planning Process and Accommodations during Construction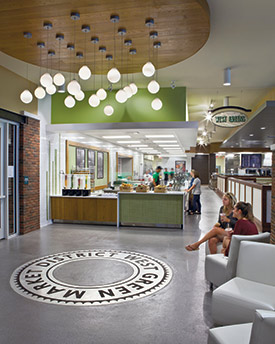 The District's floor stamp at the entrance was inspired by the team's visit to Chelsea Market in New York City. Planning began in November 2013 when Ohio's project team, which included Culinary Services, the Culinary Services Development Committee (a student-led focus group) and Ohio University Design & Construction, met with architects from Davis Wince and foodservice designers from Ricca Design Studios. In December 2013 several project team members traveled to Columbus, Ohio, to visit six restaurants and gather ideas for the renovation.
In January 2014, Condenzio, the Culinary Services team, architects and interior designers flew to New York City to spend a day visiting 31 restaurants. Condenzio provided a tagged map of Manhattan and a worksheet for each location emphasizing the reasons for each visit. Venues included Todd English's food court in the Plaza Hotel, Chelsea Market and Eataly. "I cannot overemphasize the power of the benchmarking tours when all the players travel together," Condenzio says. "All eyes were seeing the same thing, and all ears were experiencing the reactions. The enthusiasm was terrific and infectious for the whole design team. This is invaluable when articulating the vision, sticking with the vision and protecting the vision from erosion. This also helped us to survive value-engineering."
Condenzio says his greatest challenge after the benchmarking tours was recording the Ohio Culinary Services team's numerous ideas and must-haves. "We incorporated into the design most of what they asked for by conducting a rigorous after-action review to articulate the key features that needed to occur," he recalls.
In December 2014 Boyd Dining Hall closed for renovation. The fast pace of project deadlines presented another challenge for Fox and Condenzio. "Completing a $12 million project with solution-phased construction in a tight eight-month schedule was challenging," Fox says.
"During face-to-face design sessions with Ohio University in the design development phase we collaborated with the culinary team to keep the project on track and were able to work through design features and elements at each micro-restaurant platform," Condenzio says.
"Utilizing 3D design capabilities we were able to make changes we discussed in real time and provide instant elevations, perspective views and axon views. This helped everyone visualize the newly created spaces in a way it is hard to convey in 2D," says Aaron Ortiz, Ricca project manager.
Boyd Market features fresh vegetables and fruits that are prepared and cut at Veggie Butcher. Staff use blenders at Smooth Moves to prepare smoothies. Photograph by Scott Pease, This email address is being protected from spambots. You need JavaScript enabled to view it.In order to minimize the impact of the renovation on customers, Boyd Market remained open through April 2015. In addition, the project team converted the Boyd Hall lobby area into a grab-and-go operation to serve customers through the spring 2015 semester and until its completion in August 2015. Culinary Services also purchased the Hungry Cat, the university's first full-service food truck, parked it adjacent to Boyd Hall on West Green and served students during construction until the end of the 2015 spring semester. During the renovation, a shuttle service transported customers from Boyd Hall to Nelson Court, the campus' largest residential dining facility. Shively Court and Nelson Court operated seven days a week.
"The dining hall went offline for only a semester, and the revenue-generating retail space was only offline for the summer," Neumann says.
In August 2015, culinary staff were trained, and the renovated facility was reopened under the name The District on West Green in Boyd Hall.
Storage and Food Production
Food arrives at the loading dock near the offices. With the exception of dairy items, soda, juice and commercial sandwich bread, all products originate in the Central Food Facility (CFF), which includes the Culinary Support Kitchen (CSK). The CSK prepares sauces, precooked pastas, marinated proteins, butchered proteins and vegetables and includes a bakery, a gluten-free kitchen, and a dry-goods warehouse. The products arrive at The District via trucks.
A tilt skillet and two steam kettles assist staff in producing large quantities for just-in-time service.At The District, staff place food into dry storage or four walk-in coolers, each designated solely for dairy, produce, proteins and prepared proteins, and other menu items such as lasagnas and cooked pastas from CSK. One small freezer holds vegetables and gluten-free breads for both the dining hall and retail operation. "We don't have french fries on the menu, so this lessened the need for a large freezer and eliminated the need for deep fryers," Neumann says.
"The classic flow of design is compressed without a full back-of-house cold and hot production kitchen," Condenzio says. "For this to be successful the receiving area functions, dry storage and bulk refrigeration must be adequate to hold, stage and requisition items for each of the microrestaurants."
"Because of the CSK, we were able to shrink the original back-of-the-house kitchen production space by 75 percent and bring the fresh food production to the microrestaurants, which each have small but efficient production spaces visible to our customers," Neumann says. "We were able to save an estimated $500,000 on equipment. For example, we do not need as many steam kettles, ovens, or deli slicers to prepare food. But what we have is aesthetically pleasing as well as functional."
The project's designers strategically placed refrigeration at each serving venue in order to adequately support menu offerings throughout the day. "Labor usage can be reduced by filling the coolers only once per day," says Phillip Landgraf, principal, Ricca Design Studios.
A smaller back of the house does not mean prep functions were entirely eliminated, though. "We use the very small prep area with tables and sinks to mix vegetables, add salt and pepper, and move these to the microrestaurants," says Jeffrey Arthur, Culinary Services executive chef.
Front-of-House Microrestaurants
Seating at Carver's Cut adds an upscale touch to the ambiance. Photograph by Scott Pease, scottpease@pease photography.comThe District's floor stamp at the entrance was inspired by the team's visit to Chelsea Market in New York City. The feature water wall in the entry welcomes students and makes a statement that they are about to experience something different. Microrestaurants include Carver's Cut, West Greens, Between the Bread, Destinations, Noodled and Margaret's. "Each area is defined with different carpet, finishes and light fixtures, some large and some small in scale," Fox says.
Carver's Cut features two options of low-fat baked and roasted meats daily, a vegetarian entrée, two vegetables and desserts.
Staff prepare chicken, beef and pork on a rotisserie and roasted meats and vegetables on a churrasco grill. "These provide entertaining eye-appeal for customers," Arthur says.
Two combi ovens allow staff to prepare vegetables and chicken breasts for the action station at West Greens and bacon for Between the Bread. "These ovens are our workhorses," Arthur says.
Staff use one flattop for vegetables only and another for animal proteins. "On Saturdays we offer either hot or sweet Italian rope sausages prepared at Carver's Cut so we can break down the churrasco grill to clean it thoroughly," Arthur says.
Seating at Carver's Cut is more upscale than on many college campuses. "The emphasis is on natural wood," Fox says. "We also brought in a triangular community table with a marble top for multiuse for staff meetings and also an area for students to eat lunch while observing the food preparation. Bottle walls in each area define the beverage stations and provide a vertical element that is highly visible throughout the space."
At West Greens, customers can make their own salads with ingredients displayed on a 45-foot-long bar. Or they can order salads prepared by staff. Chicken and tofu prepared at Carver's Cut are kept in hot holding cabinets.
Between the Bread is a New York-style deli concept featuring tables and chairs made with butcher-block maple. Subway tile further enhances the New York deli ambiance. "The industrial feel is further complemented with the use of exposed ductwork, large windows and polished concrete," Fox says.
The deli concept features two soups, a sandwich of the day and custom deli sandwiches. A refrigerated rail holds ingredients. Staff use two flattops: one at the right for grilling sandwiches with meat and the other at the left for grilling vegetarian sandwiches. They also use three panini presses: two for animal protein sandwiches and the other for vegetarian sandwiches.
Between the Bread debuts new technology that allows customers to place their orders through three electronic kiosks that provide a faster dining experience. "This plays on the use of technology that students love," Neumann says. "They are used to ordering through a kiosk and not face to face."
A stone hearth oven and circular grill separate Between the Bread and Destinations, the latter of which features a variety of international cuisine options. The oven bakes freshly made naan and whole wheat pita bread, which staff serve at a made-to-order pita concept with tzatziki and other sauces; four to six types of hummus; deli or roasted meats from Carver's Cut; and various other toppings. A refrigerated rail holds ingredients for the pita sandwiches.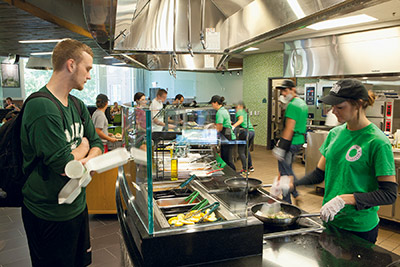 Induction cookers allow staff to prepare customer's choice of pasta and sauce at Noodled. Photograph by Scott Pease, scottpease@pease photography.comStaff also use the oven to cook specialty chicken dishes and Asian-influenced dishes. "We could use the oven for pizza if we want to in the future," Arthur says. "But for now, we're not serving pizza at this location."
Destinations also features international dishes of the day, including sautéed vegetables, vegan and vegetarian entrées and hot grilled vegetables added to the made-to-order pita concept that staff prepare on a circular grill with a cast iron cooktop. "The grill looks similar to a Mongolian grill," Arthur says. "It has an inner and outer ring that you can adjust for temperature. The cast iron maintains even temperature. We're just getting used to using this, but we see that the sky's the limit with what we can prepare with this equipment."
Noodled features several varieties of prepared pasta dishes such as fagioli, garlic and herb gnocchi and cacio e pepe, and sauces daily presented self-service style. The concept also offers customers a selection of pasta, protein, vegetables and sauces, which the venue's staff proceeds to sauté in view of the customer. This new microrestaurant holds ingredients in a refrigerated rail and contains two pasta cookers and a stacked steamer and a rethrermalizer for pasta sauces. The area also holds countertop induction cookers for display cooking. "Induction cookers are safer than traditional burners and are neater looking because food doesn't fall into the burners," Neumann says. "We didn't want staff to inadvertently burn themselves."
Arthur adds that induction cookers take less time to bring a pan up to temperature and so provide more rapid cooking. However, he admits that "I'm a traditionalist and prefer a gas flame to react with food. But induction has certain benefits in this setting. For instance, we can tell student staff to turn the induction on to a certain number versus telling them medium heat, which could be misinterpreted by different students."
Noodled's seating area uses bright green chairs with black accents and a reclaimed wood ceiling. "A glass wall made up of etched panels separates Between the Bread and Noodled," Fox says. "The glass wall is etched with an Asian-inspired grass design to complement the use of sustainable materials and help define the space while allowing natural light to penetrate to the Noodled area."
Induction cookers at Margaret's allow staff to produce menu items safely. Photographs by Scott Pease, This email address is being protected from spambots. You need JavaScript enabled to view it.Three induction cookers, two quick-speed countertop ovens, two panini presses and two toasters also support staff at Margaret's (named in honor of Margaret Boyd, Ohio University's first female graduate and Boyd Hall's namesake), an allergy-friendly concept. Staff prepare food items to order for students with specific food allergies or special diet needs, the most common of which is gluten-free. Gluten-free dessert items served here are prepared in the gluten-free kitchen at the CFF.
Other key features of The District are hydration stations at West Greens and Destinations. These attractive water containers hold fruit-infused water. "The goal in this dining facility is to promote health, so we encourage water, juice and milk consumption," Neumann says. "There is only one pop machine in the entire dining area."
Plain water and ice stations with electronic dispensers sit near Carver's Cut, Between the Bread and Noodled.
Boyd Market
The culinary team wanted the message of fresh to resonate into the entire operation, including the retail market.
Inside the market, Smooth Moves is the campus' only fresh juice and smoothie bar. The venue embodies Culinary Services' commitment to offering students healthier and expanded meal options. "The smoothies made here with high-speed blenders are intended to be meal replacement smoothies rather than dessert smoothies," Neumann says. "Culinary Services consulted with Jason White, a former Ohio University assistant professor of exercise physiology who has worked with professional athletes, on the supplements and protein powders that can be added to the smoothies made at Smooth Moves. In addition, Culinary Services is allowing those on university meal plans to use meal swipes at Smooth Moves, providing a meal option outside of the dining venue's traditional meal hours."
The retail market also features sandwiches prepared at CSK in addition to housing Veggie Butcher, a concept where customers can shop for and select fresh vegetables and fruit that a staff member washes, trims and chops. This area shares prep space with the West Greens salad bar concept but is only accessible to customers from the market.
Sustainable Practices
Approximately 17 percent of all food served on campus is sourced locally within 250 miles of campus. "We are working hard to expand this to 20 percent or more," Neumann says. "One of our biggest challenges for The District was sourcing food, so we worked with our Office of Sustainability and Erin Robb, our purchasing specialist."
The project had a goal of obtaining LEED Silver certification through the U.S. Green Building Council, and designers are tracking it for LEED Gold certification.
The District uses reclaimed wood, and the building's original floor was refurbished with polished concrete. Energy Star equipment is used when available. "A building automation system allows not only programmability of the building systems to only be on during occupied hours but also allows the university to access the building systems remotely to troubleshoot any issues that arise," Fox says. For the lighting control system, daylight harvesting reduces output from the light fixtures on sunny days. Many windows provide natural light. All other lighting is LED and is on timers to automatically shut off during periods when the operation is shut down.
In order to maximize the customer experience and natural light into the dining area, the dishroom was relocated to the middle of the building, freeing up valuable window space for the dining area. It was placed close to the exit with multiple drops in a two-sided area that is hidden but easily accessible. "We attached two major platforms to the warewash, along with screening the drop-off areas (one with a self-service frozen yogurt and topping bar) in order to achieve the desired operation," Landgraf says. "Inside of the dishroom, the team worked intensely with manufacturers to integrate two drop-off locations with a single warewasher."
Expectations for The District are undoubtedly high. "Our $12 million investment will help us retain and recruit students to Ohio University," Neumann says. "We work closely with our admissions office, and The District is a showpiece for all potential students and families considering Ohio University. The expression on our potential students' faces is 'Wow!' Research shows that 50 percent of a student's decision to attend a college or university is based on the campus living environment and experiences outside the classroom. The District greatly enhances the student experience at Ohio University."
In addition, Neumann says, Culinary Services has increased meal plan sales to off-campus students. "Compared to last year, off-campus meal plan sales are up 13.4 percent; 1,307 off-campus students are on a meal plan, and 442 faculty and staff are on a meal plan," he says. "Overall there are 9,544 students plus 442 faculty and staff on a meal plan, compared to 9,168 student meal plan holders last year, which is a 4.1 percent increase. That translates into approximately $1,000,000 more in board plan sales this year versus last year." The facts clearly speak for themselves.
Facts of Note
Ownership: Ohio University
Opened: August 22, 2015
Scope of Project: Complete renovation of Boyd Dining Hall (renamed The District on West Green in Boyd Hall) including microrestaurants and a small back-of-house storage and prep area
Size: Hall, 112,506 sq. ft.; dining, 23,000 sq. ft.
Seats: 460
Average Check: All you care to eat, but for paying customers, breakfast, $7.80; lunch, $10.85; dinner, $13
Total Annual Sales: $9 million (dining hall estimate); $8 million (market estimate)
Transactions: Dining hall, 500,000; market, 1.2 million
Dining Hall Hours: Dining hall: hot breakfast, Monday through Friday, 7 a.m. to 9:15 a.m.; continental breakfast, Monday through Friday, 9:15 a.m. to 10:30 a.m.; continental breakfast, Saturday, 8:30 a.m. to 10 a.m.; lunch, Monday through Friday, 11:30 a.m. to 2 p.m.; lunch, Saturday and Sunday, 11 a.m. to 2 p.m.; dinner, daily, 5 p.m. to 8 p.m.
Boyd Market Hours: Sunday, 12 p.m. to midnight; Monday through Thursday, 8 a.m. to midnight; Friday, 8 a.m. to 9 p.m.; Saturday, 12 p.m. to 9 p.m.
Menu Specialties: Baked and roasted meats, vegetables and vegetarian entrées at Carver's Cut; soups and sandwiches at Between the Bread; international cuisine and four to six types of hummus and toppings at Destinations; baked pasta, pasta and sauces at Noodled; gluten-free and allergy-friendly options at Margaret's; packaged menu items at Boyd Market in addition to smoothies at Smooth Moves.
Staff: Dining hall, 28 full-time hourly, 4 managers, 1 intern and 400 student employees; at Boyd Market, 1 manager and 150 student employees
Total Project Cost: $12 million
Equipment Investment: $2.3 million
Website: www.ohio.edu/food
Key Players
Owner: Ohio University
Associate Vice President, Auxiliaries: Gwyn Scott
Director, Culinary Services/Asst. Professor: Rich Neumann, MS, FMP
Associate Director, Auxiliaries Operations: Kent Scott
General Manager, The District on West Green: Dennis Washington
Executive Chef, Culinary Services: Jeffrey Arthur
Architect of Record: Davis Wince Ltd. Architecture, Powell, Ohio; Rebecca Fox, AIA, LEED AP BD+C, project architect
Interior Design: Davis Wince Ltd. Architecture, Powell, Ohio; Tom Davis, AIA; and Lynette Bush Clouse, NCIDQ, LEED AP BD+C, director of Interiors and Renovations, Ohio University
Foodservice Design Consultants: Ricca Design Studios, Greenwood Village, Colo.; Leonard D. Condenzio, FCSI, partner-in-charge of design; Phillip Landgraf, principal, Charlotte, N.C.
Equipment Dealer: TriMark SS Kemp, Cleveland; Heather Boden
General Contractor: Setterlin Building Co., Columbus, Ohio
Structural Engineer: Kabil Associates, Columbus, Ohio
MEP Engineer: Korda/Nemeth Engineering, Columbus, Ohio; Jim Demsky, PE, LEED AP, partner
Lighting Designer: Tec Studio, Columbus, Ohio; Ardra Zinkon
Landscape Architect: Vivian Llambi & Associates, Cincinnati, Ohio
Equipment Key
1. Dry storage shelving
1a. Storage shelving
1b. Cooler storage shelving
1c. Wall shelf w/pot hooks
1d. High-density shelving
1e. Drop-in heated shelf
1f. Heated shelf
2. Corner guard
3. Hose bib
4. Soiled dishtable
4a. Clean dishtable
4b. Mobile worktable
4c. Prep table w/sinks
4d. Mobile prep table
4e. Worktable
5. Wall flashing
6. Condensate hood
6a. Exhaust hood
7. Rack conveyor dishwasher
7a. Undercounter dishmachine
7b. Tray conveyor
7c. Conveyor control panel
7d. Roller rack conveyor
7e. Dishmachine w/booster
7f. Vent duct
8. Hand sink w/soap and towel
dispenser
8a. Prerinse sink
8b. Pot sink
8c. Soap and towel dispenser
8d. Hand sink
8e. Drop-in hand sink
8f. Soak sink
8g. Mobile soak sink
9. Waste collector
9a. Compost bin
9b. Collector
10. Cart
10a. Pan rack cart
10b. Ice cart
11. Walk-in cooler
11a. Cooler evaporator coil
11b. Walk-in cooler/freezer
11c. Freezer evaporator coil
11d. Reach-in refrigerator
11e. Refrigerated worktop
11f. Undercounter refrigerator
11g. Refrigerated base
11h. Display door
11i. Roll-in refrigerator
11j. Cook's cooler
11k. Refrigerated equipment stand
11l. Refrigerated sandwich top
11m. Refrigerated base w/drawers
11n. Undercounter glass door refrigerator
12. Slicer
13. Serving counter
13a. Back counter w/sink(s)
13b. Back counter
13c. Work counter
13d. Beverage counter
13e. Soup counter
13f. Coffee/cereal counter
13g. Serving counter w/sink
13h. Work counter w/sink
13i. Bar top and die
14. Food shield
14a. Food shield w/lights
14b. Food shield w/lights and heat
15. Cutting board
16. Soup well
17. Drop-in cold pan
17a. Cold pan w/round wells
17b. Hot/cold drop-in unit
17c. Drop-in ambient pan
17d. Drop-in hot food well
18. Decorative carving station
18a. Portable carving station
19. Dish dolly
19a. Glass rack dolly
20. Undercounter holding cabinet
20a. Cook-hold oven cabinet
20b. Undercounter heated cabinet
21. Portion scale
22. Food processor
23. Pot filler
23a. Filler faucet
24. Ice maker w/filter
25. Ice bin
26. Air screen
27. Dunnage rack
27a. Glass rack
27b. Tumbler
27c. Bread rack
28. Soda system
29. Fire-suppression system
30. Tilt skillet, 40-gal.
31. Tilting kettle, 60-gal.
32. Floor trough
33. Food mixer
34. Conveyor toaster
34a. Toaster
35. Rotisserie
36. Convection steamer
37. Churrasco grill
37a. Panini grill
37b. Circular grill
38. Griddle
38a. Griddle w/refrigerated base
38b. Griddle w/stand
39. Four-burner range w/oven
40. Stacked combi ovens
40a. Undercounter microwave oven
40b. Stone hearth oven
40c. Microwave convection oven
41. Undercounter heated drawers
42. Undercounter plate warmer
43. Ice/water dispenser
43a. Milk dispenser
43b. Juice dispenser
43c. Dry product dispenser
43d. Soda/ice dispenser
43e. Cereal dispenser
44. Coffee brewer w/filter
44a. Tea brewer w/filter
45. Soft-serve machine
46. Silver chute
47. Rice cooker
48. Heat lamp
49. Bread display
50. Grab-and-go
51. Countertop induction wok
52. Induction cookers
53. Rethermalizer