A chic-casual Italian restaurant features an open kitchen on the main floor and a rooftop bar and patio on the seventh level of a new downtown building.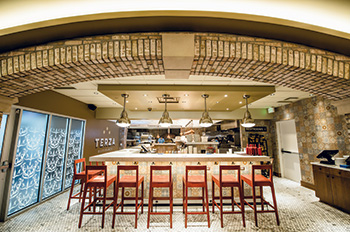 Guests who want to be up close to the culinary action sit at the pasta bar, which frames the wood-fired pizza oven that is covered in tile. Photos courtesy of Shea, Inc.; photography by Travis AndersonWhen office building owners Andy Chafoulias and his father, Gus, invited Pat Woodring and Scott Foster, partners of Nova Restaurant Group, to open their third restaurant concept in downtown Rochester, Minn., the decision was easy given the relationship already formed between the two parties. Their previous restaurant ventures in this city have been quite successful.
The new location, close to the renowned Mayo Clinic and also in the heart of an area with notable redevelopment, presented a welcome opportunity. The seven-story H3 Plaza building now contains Terza Ristorante on the main floor and La Vetta Bar Nel Cielo on the seventh floor. Terza means "third" in Italian; it is Nova Restaurant Group's third restaurant in Rochester, and the building is on Historic Third Street. La Vetta translates to "the summit" in Italian. The tag line Bar Nel Cielo means "bar in the sky."
Though Mayo Clinic is Rochester's largest employer and has a dominant presence in the city's downtown, managing partner Foster, who also serves as Nova Restaurant Group's executive chef, says the restaurant and rooftop bar serve not only Mayo Clinic visitors and employees but also community residents. "Terza and La Vetta are examples of our approach to business," he explains. "We create concepts that honor what the community wants. We don't just create a specific concept that may or may not work in a particular area. We like to look for a void in the marketplace and bring that idea to the community."
For Terza and La Vetta, Foster says that he and Woodring "were adamant from the beginning that the brands, though they have different names, are unified." Terza's menu inspiration and philosophy derive from a classic Italian culture created in what Foster says is the spirit of dell'anima, which translates to "from the soul." La Vetta invites customers to relax and socialize at the bar and order small plates or come in for special events. "Both menus feature the wide range of flavors found in Italy," Foster says.
The use of wood and pale-colored brick unifies the restaurant's zones. The long, narrow space's design allows guests to see the entire space.Though the location is ideal, the building's long, narrow floors and the need to position operations on multiple levels presented significant challenges for the design team. The team included Woodring; Foster; architects and interior designers at Shea, Inc., including David Shea, AIA, owner and CEO, Charles Nolan, AIA, LEED AP B+C, senior architect and project manager (he left Shea in 2015), and Tanya Spaulding, principal; and Gary Zechmeister, retired co-founder, and Cheri Smith, project manager/sales rep, both of Premier Restaurant Equipment & Design.
Initial kitchen and equipment planning for the restaurant began at Zechmeister's kitchen table in Orlando, Fla. "Scott and I have worked on many projects over the years and have become family friends," Zechmeister says. "I agreed to come out of retirement to work with him on this new Italian concept. In what might now be considered the old-fashioned way, we sat down with pen and paper to draw plans, reworking and reworking them to accommodate Scott's vision of an open kitchen." La Vetta was designed with Foster, Woodring, Premier Restaurant Equipment and Shea, Inc.
The 4,400-square-foot restaurant design strategically features three energy zones, a series of small, more intimate, interconnected spaces that work together to create the facility's overall ambiance. "As a chef, it was very important to me that we allow the visual entertainment of food preparation to draw our guests' eyes from the front of the restaurant to the back," Foster says. "Shea was a key part of taking the long space and creating three separate, continuous dining areas."
The seven-story H3 Plaza building in downtown Rochester, Minn., houses Terza and La Vetta. Photos courtesy of Shea, Inc.; photography by Travis AndersonThe energy of the front bar and its Italian architecture influences immediately welcome guests. "A wall of operable accordion glass panels seamlessly integrates the energy from the street and outdoor patio into the peninsula-style bar," Spaulding says. "Windows can be opened so there is a seamless transition between the bar and patio outside. Then follows the dining space, which is complete with a custom-made, temperature-controlled wine display."
The focal point at the end of the dining space is an arch-framed room that leads into the pasta bar and open kitchen. Rich Italian country-style tiles bring together the colors of the entire space. "The pasta bar and open kitchen were designed to play center stage, providing theater and function as the anchor to the entire experience," Foster says.
The Shea team selected authentic materials that derive from classic Italian restaurants. Spaulding says that design elements include updated versions of classically designed ceramic tile, real marble tile floors and an acoustical ceiling that resembles pressed-copper and helps reduce ambient sound. "Zoned lighting using LED technology with dimmable programming helps to create a glow for the proper feel in the entire restaurant," Spaulding says. "A primary design lighting feature was inspired by glass floats used in Mediterranean fishing boats." Wood elements throughout the restaurant provide a natural look, while bright red chairs at the pasta bar contribute to the contemporary ambience.
Staff use refrigerated rails, a scale and a fire-engine-red showpiece slicer imported from Italy."In order for the kitchen and the authentic, imported pizza oven to be focal points for the space and make room for the main bar and seating areas, the display cooking, prep kitchen and dish area had to be positioned at the farthest end of the restaurant," Foster says. "This was also the only access to the building for deliveries to the main and basement levels. The display cooking area, pizza oven and pasta bar were still able to be positioned in such a way that they could be easily viewed from the front of the house."
When designing La Vetta, the design team had only a 3,300-square-foot space in which to place a kitchen, full-service bar, adequate dining seating and an open-air rooftop patio. "They also wanted to maintain the panoramic 280-degree views of downtown Rochester and the beautiful surroundings," Foster says.
La Vetta also features an elevated high-top gas fireplace table, a retractable garage door featuring glass panels to place emphasis on the indoor and outdoor experience, and a perimeter drink rail that allows guests to relax and enjoy cocktails while taking in views of the city.
Storage and Production
The hot cook line features a charbroiler, overhead broiler, a griddle and ovens beneath. Photography by Bill Ziegler, President & CEO, Premier Restaurant Equipment & DesignDeliveries for Terza and La Vetta arrive at the back of the building. Staff take food to the lower level storage area in a staircase or elevator. They bring other ingredients and supplies up a few stairs to the main kitchen and use the elevator to reach the top floor. "Chefs work with vendors and drivers so they understand where products need to be split and delivered," Foster says.
The lower level contains a five-compartment refrigerated walk-in. Four of the compartments separate proteins from the regular food cooler. The beverage cooler contains a separate red wine cooler set at an ideal 57 degrees. The other portion of the cooler contains white wine and bottled and keg beer. The freezer sits in the fifth compartment. The lower level area also houses dry storage shelving, storage space for liquor and bulk C02, and offices.
"Eight remote refrigeration condensers were installed in the basement, requiring adequate space and air circulation," Smith says. "All parties concerned were made aware of the heat output of the condensers. And, because this is a seven-story building, the basement was filled with ductwork and large-scale mechanical and electrical equipment that created challenges to the kitchen equipment layout even well into the project."
In addition to cold storage, this level also holds worktables, a lettuce spinner and separate prep tables with sinks for vegetable preparation on one side and protein preparation on the other. In addition, a mixer and pasta dough sheeter share the space so culinary staff can prepare handmade, fresh pastas and pizza dough. Staff also use a three-compartment sink for cleaning dishes.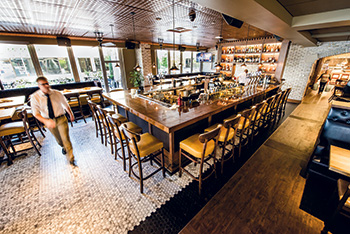 Terza's full-service bar and temperature-controlled wine display greet guests as they enter the restaurant. Photos courtesy of Shea, Inc.; photography by Travis AndersonOn the main level, culinary staff work in a 600-square-foot area to prep for the open-kitchen production. "We have a walk-in cooler on this level so cooks don't have to run up and down stairs to get their ingredients during service times," Foster says.
"In order to position the open cooking area, pizza oven, pasta bar and beverage counter so they can be viewed from the front of the house, the prep kitchen and dishroom had to be positioned at the back of the restaurant where it is easily accessed from the two cooking lines and the stairs to the basement level," Smith says.
In the bulk prep area, staff use the steam kettle and tilting skillet to prepare stocks, sauces and soups. "The tilting skillet is a must, and I won't build a kitchen without one," Foster says. "I was first introduced to this in 1991 when I was with Lettuce Entertain You. We can use this to sear vegetables, make soups, sauces, caramelize vegetables and make our mother sauce, which is my version of a tomato sauce that everyone's mother makes the best. The tilting skillet also serves as a bain-marie for holding hot sauces and products for service."
Two large Btu candy stoves sit next to the tilting skillet, which allows staff to make small batches of sauces and menu items such as polenta. Nearby, a double-stacked convection oven allows staff to bake pastries and breads, including the restaurant's signature focaccia, which the pastry chef prepares at designated worktables.
In the kitchen space, two cook lines create an L-shaped pattern and include a similarly shaped expo/pickup counter. Stainless steel counters on the expo line contain drop-in refrigeration and heated bread drawers. Servers can access all food from this area and deliver it across an aisle to the pasta bar or to the front-of-the-house dining and bar areas.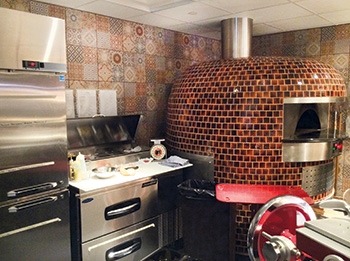 The wood-fired pizza oven is a focal point in the open kitchen. At one line, staff use refrigerated prep counters and two six-­burner ranges to prepare fresh and dry pasta and other sautéed menu items, a charbroiler for grilling fish and proteins, and a griddle for miscellaneous proteins, such as chicken parmesan, veal parmesan and veal saltimbocca. An overhead high-heat broiler melts cheese and broils fish and steak. The cook line contains refrigerated prep tables and drawers and stainless steel tables with drop-in hot wells. A pasta cooker sits at the end of the line for par­cooking dry pastas and cooking fresh pastas to order. Culinary staff prepare the pasta dishes under the guidance of Vincenzo Giangiordano, who previously owned and operated a small restaurant in Italy. "A separate air plenum is mounted to the front of each hood," Smith says. "This is a good way to get the make-up air back into the kitchen and to appropriate areas."
At the other cook line, staff prepare salads, antipasti and desserts in the pantry. A showpiece flywheel slicer allows staff to cut menu items such as 600-day-old prosciutto for charcuterie and antipasti platters. Two small fryers also sit in this area for staff to prepare calamari, arancini and fried cheese balls.
In between the pantry and pizza stations, a cooler holds antipasti platter ingredients. In the pizza prep area, staff pound and hand-stretch dough, top with ingredients held in a refrigerated rail and place in an authentic showpiece Italian pizza oven to bake. "The combination wood- and gas-fired pizza oven is both decorative and functional," Smith says. After baking, pizzas are cut and placed for pickup under copper heat lamps at a stone-surface pass-thru window before service staff pick them up and deliver them to customers.
Convection ovens, a tilting kettle, stock pot ranges and a tilting skillet support menu production. Photography by Bill Ziegler, President & CEO, Premier Restaurant Equipment & Design"The challenge for us was to have the pizza oven on-site early enough in the construction process so it could fit into the building," Smith says. "Then, we had to work with the general contractors as they proceeded to build out and decorate the pizza oven with the selected tile. We provided the custom stainless steel access doors, wood storage and an air-vent screen as a part of the decorative build-out of the oven. The unit had to be ventilated to the seventh-floor roof by the mechanical contractor."
Another key feature of the space is the pasta bar, where guests can sit and watch the display kitchen's animation. The beverage station features an imported Italian espresso machine and beer and wine on tap. "The challenge was to have adequate aisle space between the expo/pickup line and the pasta bar as well as have adequate aisle space for staff to access the beverage service and dishroom areas," Smith says. "Scott designed the space to have areas of the expo line offset from the pasta bar and also expand the aisle width to the maximum allowed by the space available."
"We want our guests to see what we're doing in the kitchen not only for entertainment but also to see the authentic ingredients," Foster says. Because of this, he says, "I am very picky about lighting. It's important for back-splashing walls and pinpointing tables where you can see a face light up. Guests notice the lighting the moment they walk in the restaurant." In addition, he says, proper lighting is equally important for staff comfort and efficiency.
Effectively laying out the space contributes to the efficiency. "The space is snug, so therefore no one has a long way to walk from the kitchen to the service of food," Foster says. "The bar is close to all the seating. There are advantages to the staff working in close proximity to the guests. Also, managers can stand in the middle of the room and see the kitchen, dining room, host stand and bartenders, which allows for management to see the experience through our guests' eyes."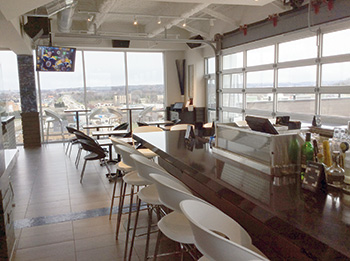 Convection ovens, a tilting kettle, stock pot ranges and a tilting skillet support menu production. Photography by Bill Ziegler, President & CEO, Premier Restaurant Equipment & DesignA private dining area seating 14 is enclosed when privacy is appropriate. The area's sliding doors and arched doorway tie in to the dining room's design.
La Vetta and Sustainable Practices
Deliveries to the rooftop bar and restaurant come via a freight elevator. Guests enter via a passenger elevator. A small storage area contains an ingredient cooler for the antipasti, salad and appetizer stations; a walk-in cooler for wine and beer; and a dry storage area. Walls enclose the dishroom in the back. "To eliminate the need for staff to access the dishroom through the small kitchen, a dish drop into the dishroom for soiled dishes was made through a window in a back hallway," Smith says.
Staff prepare food at a cooking line with a 24-inch charbroiler, a panini press and a high-temperature, two-deck pizza oven. A refrigerated prep table sits in front of the cooking line. A large beverage counter sits in close proximity to the prep and cooking areas. "The cook line and corresponding expo lines were situated in the proper direction to allow maximum window exposure, which is the key feature of this space," Smith says. "Equipment size had to be taken into account for roof access via the elevator or if it had to adhere to the proper timing of a one-time rooftop lift via a crane. The walk-in cooler and its refrigeration were lifted via the crane."
Organization is essential for prep efficiency at La Vetta. Photography by Bill Ziegler, President & CEO, Premier Restaurant Equipment & DesignThe full-service bar comes complete with a full line of underbar equipment and bottle coolers and includes glass ice displays that sit on top of the bar. Staff and guests can move from the indoor space to the outdoor roof patio through large garage doors with glass panels.
When sourcing ingredients, Foster and the staff consider sustainability. "We're very picky about salmon, for example, in addition to pork and other proteins," he says. In another nod to green practices, staff separates recyclables for pickup.
As Terza and La Vetta staff show off their talents, they are receiving enthusiastic praise from guests who appreciate the authenticity and entertainment. As each day passes, they find new ways to be more efficient and agile in this new space.

Equipment Key
1. Walk-in cooler
1a. Walk-in cooler evaporator coil
1b. Undercounter refrigerator
1c. Sandwich/salad prep refrigerated table & refrigerated base
1d. Reach-in freezer
1e. Reach-in refrigerator
1f. Refrigerated prep table w/ raised rail & refrigerated base
1g. Underbar ice chest w/ cabinet
1h. Froster/chiller for glasses/mugs/plates
1i. Underbar ice chest for bottles
1j. Shorty refrigerator
2. Walk-in cooler shelving
2a. Chemical shelving
2b. Dishroom shelving
2c. Wall shelf
2d. Sorting shelf
2e. S/s shelving
2f. S/s wall shelf
26. Storage shelving
2h. Pass shelf
2i. Solid metal shelving
3. Hand sink
3a. Mop sink w/ faucet
3b. Mobile shorting sink
4. Clean dishtable
w/ 3-compartment sink
4a. Soiled dishtable w/ slant rack shelf
4b. Work table
4c. Pizza prep table, refrigerated
5. Booster water heater
6. Rack conveyor dish- and warewasher
6a. S/s pant leg exhaust ducts
7. Garbage disposer
8. Ice maker w/ bin
Terza Floorplan
8a. Filter system for ice maker
9. Floor trough
10. POS units
10a. POS printer
10b. POS cabinet
11. Tea brewer
12. Coffee grinder
12a. Coffeemaker
12b. Espresso grinder
12c. Decaf grinder
13. Soda dispenser
14. Water filter
15. Beverage counter
w/ hand sink
15a. Pick-up counter
w/ 2 drop-in hot wells
15b. S/s wait counter
15c. S/s espresso counter
16. Cooling bin
17. Mobile warming & holding cabinet
17a. Storage cabinet
17b. Cabinet w/ drop-in hot well
17c. Underbar glass
storage w/ drain board top
17d. Cabinet w/ hand sink
18. S/s wall panels
19. Fire protection system
20. Tilt skillet
21. Steam-jacketed kettle
22. Stock pot range
22a. Heavy-duty range
23. Convection oven
23a. Pizza oven
23b. Direct venting for pizza oven
24. Exhaust hood
24a. Fans & duct work
25. Control panel
26. Deep fat fryer
27. Food slicer
28. Food shield
29. Tile (for pizza oven)
30. Decorative heat lamps
31. Drop-in cold pan
31a. Drop-in hot wells
32. Warmer, 2 drawers
33. Trash container
34. Water gun
35. Wine and pasta bar fixture
36. Corner drain board
36a. Underbar drain board
37. Undercounter-mount rinse faucet
37a. Pot filler faucet
38. Bar stools
39. Beer taps
39a. Wine taps
40. Heated, self-leveling plate dispenser
41. Pasta cooker
42. Under-fired counter broiler
42a. Wall-mounted broiler
Facts of Note
Opened: Terza Ristorante, June 2015; La Vetta Bar Nel Cielo, September 2015
Scope of Project: Three areas within a new building include Terza, a chic-casual Italian restaurant with a full-service bar on the main floor; La Vetta, a rooftop bar serving small plates on the seventh floor; and a state-of-the-art prep area on the lower level for pasta-making and food storage.
Terza Size: 4,000 sq.-ft. main level, with an additional 3,000 sq. ft., lower-level prep and storage area. The total square footage on the main level consists of a 1,631-sq.-ft. kitchen, 1,690-sq.-ft. dining area, 497-sq.-ft. pasta bar and 860-sq.-ft. bar.
La Vetta Size: 3,300 sq. ft.
Seats: Terza, 185 and 50 outside; La Vetta, 110, including the outside deck
Average Check: Terza, lunch, $15; dinner, $40 to $50; La Vetta, N/A
Weekly Covers: 2,500 to 3,000 for Terza and La Vetta
Terza Hours: Lunch, 11:30 a.m. to 3:30 p.m. Monday through Saturday; dinner, 4 p.m. to 10 p.m. Sunday through Thursday, 4 p.m. to 11 p.m. Friday and Saturday; bar open until 1 a.m.
La Vetta Hours: Spring, summer and fall hours, 3 p.m. to 2 a.m. Monday through Saturday. The license permits staying open until 2 a.m. depending on volume. Winter hours, 3 p.m. to 2 a.m. depending on volume Thursday, Friday and Saturday. La Vetta is available year-round for private parties. For Terza and La Vetta, Happy Hour from 3 p.m. to 6 p.m. and 9 p.m. to close.
Menu Specialties: Salumi e Formaggi nel Piatto; antipasti such as tomato bruschetta, chicken meatballs and wood-fired garlic shrimp; fresh pasta including tagliatelle funghi and butternut squash mezzaluna; pizzas such as prosciutto and fig, broccoli rabe and sausage; secondi entrees such as classic chicken parmesan, veal saltimbocca, grilled salmon with caponata and grilled pork chop with polenta.
Staff: Executive chef and three sous chefs, general manager, bar manager, service manager, assistant manager and approximately 60 other staff members.
Total Project Cost: $2.6 million plus tenant improvements for Terza and La Vetta
Equipment Investment: Terza, $680,000; La Vetta, $170,000
Website: www.terza3.com
Key Players
Owner: Nova Restaurant Group, Eden Prairie, Minn.; Pat
Woodring, partner, and Scott Foster, partner and executive chef
Architect: Shea, Inc., Minneapolis, David Shea, owner and CEO; Charles Nolan, AIA, LEED AP B+C, senior architect and project manager (he left Shea in 2015); and Tanya Spaulding, principal
Interior Design: Shea, Inc., Minneapolis
Kitchen Design Consultants: Nova Restaurant Group, Scott Foster; Premier Restaurant Equipment & Design, Brooklyn Park, Minn.; Gary Zechmeister, retired co-founder, and Cheri Smith, project manager/sales rep
Equipment Dealer: Premier Restaurant Equipment &
Design, Brooklyn Park, Minn.; Bill Ziegler, President and CEO
Construction: Terza, Weis Builders, Rochester, Minn.;
La Vetta, Titan, Rochester, Minn.
Meet The Players
Patrick Woodring (left) and Chef Scott Foster (right) formed a partnership in 2004, now known as Nova Restaurant Group. Nova operates five restaurants in Minnesota: Hazellewood Grill and Tap Room in Tonka Bay; Chester's Kitchen & Bar in Shops at University Square and Pescara in the DoubleTree by Hilton Hotel, both in Rochester; Tavern 4 & 5 in Eden Prairie; and their newest concept, Terza, with the rooftop La Vetta, also in Rochester. Foster and Woodring were honored as Restaurateurs of the Year by the Minnesota Restaurant Association in 2013.
David Shea is owner and creative principal at Shea, Inc. He founded Shea, Inc. in 1978 with a focus on full integration of interior design and architecture. The firm has grown to employ more than 35 people. As creative director on most of Shea, Inc.'s projects, Shea has been directly involved in the design of more than 400 retail, hospitality and office projects in the firm's history.
Tanya-SpaldingTanya Spaulding is principal of Shea, Inc. She brings more than 20 years of experience in marketing, branding and creation of consumer experiences. Her expertise is in developing business plans, brand strategies and consumer concepts through all points of contact from marketing to the physical environment.
Cheri Smith is project manager/sales rep at Premier Restaurant Equipment & Design. Before joining Premier 26 years ago, she worked in other foodservice-related jobs, including as a customer service rep in the flour mill industry, cafeteria manager, congregate dining program assistant, cafeteria foodservice worker and waitress. She finds reward and challenge in project management while continuously learning new aspects of the industry.
Gary Zechmeister, retired co-founder of Premier Restaurant Equipment and Design, joined the contract equipment department of broadliner PYA Monarch in 1972. During his 17 years with the group, he served as design manager and also worked in equipment and furnishings sales. In 1989, Zechmeister left his position to co-found Premier.