A dministrators at the Divinity School wanted to turn an underutilized and dated dining space into a space that would foster community through food and conversation. Yale Hospitality and the project team were tasked with reimagining the space to help create this community as well as to create excitement, promote health and wellness and increase participation in the dining program. The team was also charged with reducing overhead operating expenses, including lowering energy consumption and reducing labor, which was possible through support from the new Culinary Support Center (CSC).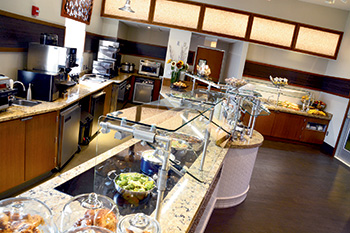 At far right, menu offerings include composed salads, sandwiches and fresh fruit. A built-in faucet allows staff to convert the wells to hold hot menu items when necessary. The line from left features entrées, vegetables, soups, oatmeal and ingredients to make themed salads. Behind the line sit coffee-making equipment, a steamer, induction soup pots, a high-speed oven and undercounter refrigeration. This led to completely gutting and then renovating the operation within the same footprint. In order to create a more cohesive flow between the servery and dining room, part of the kitchen was repurposed and combined with the old servery, and part of the old servery was opened up to connect with the dining room. The new equipment package primarily includes items that the team members can use to perform multiple functions.
"We are often challenged with the implementation of three core principles — simplicity, choice and innovation — in our retail operations while operating in the context of maximum space utilization and efficiency," says Rafi Taherian, associate vice president for Yale Hospitality. "The way we expressed this concept through finishes, materials and equipment had to be respectful and integrated with the School of Divinity's environment and the people. It's not an easy task."
The color palette and high concentration of design features creates an impression of the space feeling larger than
it really is. Despite the Refectory's small footprint — a 442-square-foot servery, 320-square-foot kitchen and 1,332-square-foot dining room — it is a hybrid operation. It includes a full-service coffee shop, a limited-selection café offering premium coffee drinks, a station featuring chef-driven daily entrées and a plant-based health station featuring composed salads and a deconstructed salad bar. An extensive grab-and-go program with an air-screen display case fills in the menu and voids.
Customers pay at the end of the granite counter where they can also find desserts and packaged treats. The menu board announces coffee drinks.The Refectory's design incorporates the natural light streaming in from tall windows behind. "The design is earthy and natural," says Adam Millman, director of auxiliary operations. Architectural wood panels carved to reflect leaves sit above the windows, which create synchronicity with the ceramic tile, dark wood floor and acorn-shaped lighting. The dining space fosters conversation and collaboration by utilizing soft and hard seating to create an inviting space that allows guests to enjoy food, study, relax and socialize.
"Our challenge was to make efficient use of every corner of the space to offer both served and self-service elements while offering health- and wellness-focused menu items that create excitement and offer variety," Millman says. "The equipment, such as hot and cold wells, are used for multiple purposes. We also decided to offer precrafted sandwiches rather than ingredients for make-your-own sandwiches to contain waste and reduce the needed footprint." The menu includes chef-driven, health and wellness–focused choices that hold and reheat well and portions that can be easily self-served.
"Support by the Culinary Support Center and how product flowed was our number-one focus," Millman says. "We started by mapping the movement of products from delivery and receiving to the end consumer. This center serves as this facility's remote kitchen, so we only had one shot to get it right." CSC products arrive on a cart at the café, and staff place the items into one of two roll-in refrigerators, a freezer or dry storage inside the 20-foot-by-15-foot pantry, which also contains a mop sink, small dishmachine and staging table. Carts hold products that delivery assistants return to CSC each day.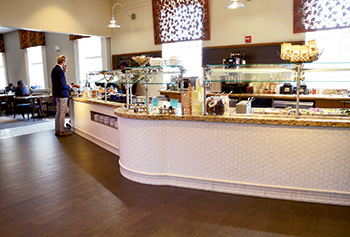 Food shields sitting above the counter are flexible so staff can change from self-service to a service model as necessary."Because the café's operating model calls for this facility to keep inventory low and products fresh and continuously rotating, very little general and long-term storage is found in the space," Millman says. "Unlike for our residential menus, we do not need to offer a complete four-week cycle. Rather we build the foundation off a number of signature dishes. How we serve each item, the portion size and quality as a result of hold times need to be the driver of each menu item."
Customers can go directly to the stations offering the food and beverages they like rather than going through the entire line. They can also select food and beverages from a grab-and-go display case. Customers pay at the cashier's station once they have made all their selections.
Coffee, Salads, Entrées and Desserts
When conceiving the full-service coffee bar, the design team was challenged to align it with a reduced-staffing model. The solution was to add a fully automatic espresso machine and undercounter refrigerator in close proximity to the point-of-sale system, which allows one person to manage both tasks. "The espresso machine was preprogramed to include our coffee drinks," Millman says. "The team member serving as a barista and cashier just needs to prepare hot beverages by positioning the cup and pushing the button. The machine freshly grinds the beans and froths the milk." During busier periods, two baristas work the coffee station. The baristas prepare regular coffee and heat water before meal service. These items are
available for self-service.
In addition to the coffee station, customers can find fresh fruit and sandwiches at another station sitting to the far right side of the main serving line. "We selected hot and cold convertible holding wells so we have maximum flexibility to change the menu," Millman says. When offering cold foods, team members often place cutting boards over the wells to create a rustic look. An NSF-approved cold lip surrounds the well. This area also can serve as a bar area featuring menu items such as tapas and baked potatoes.
At the salad station, the operation offers a featured cold salad such as white bean salad with Swiss chard and watercress or Brussels sprout salad with oranges, dried cranberries, walnuts and Parmesan cheese each day as well as a deconstructed salad bar. "Deconstructed means we select salad bar items with an end purpose in mind," Millman says. "For instance, we display roasted pumpkin and squash and other ingredients for a harvest salad. This way customers can select ingredients they like to make their own version of the themed salad."
Adjacent to the salad display, induction warmers hold oatmeal, and nearby jars contain raisins, brown sugar and other condiments. Induction warmers also hold soup. Crackers and artisan breads sit in baskets nearby.
Entrées sit in pans and pots on a hot plate. Team members warm them in a high-speed oven that sits on a counter behind the serving station. Entrées might include chicken schnitzel, lamb and feta burgers, Asian-style sweet and spicy spareribs and a barbecue brisket sandwich on a brioche bun. Vegetarian options include spinach ravioli with sage butter, Mai Pham's tofu and vegetable stir-fry, and sweet potato, quinoa and mushroom burgers with tomato chutney. Daily menus also include fresh vegetables and a starch heated in a microwave steamer that also sits on the counter behind the serving line.
At the end of the line near the cashier, the dessert display includes daily treats such as peanut butter cookies, homemade brownies, cranberry oatmeal cookies and red velvet cupcakes.
Customers selecting grab-and-go options choose prepared menu items from local, high-end restaurants as part of Yale Hospitality's globally local program, CSC-produced salads, fruit, sandwiches, other items such as parfaits, yogurt and beverages.
"Our contribution to sustainability is the elimination of a kitchen and energy usage in this operation along with occupancy sensors and heat recovery on the hoodless dishmachine," says Daniel Flynn, director of asset renewal and planned projects for Yale Hospitality. The operation also features induction soup warmers that heat up as needed, the high-speed oven that staff use only when needed and compostable serviceware.
At far right, menu offerings include composed salads, sandwiches and fresh fruit. A built-in faucet allows staff to convert the wells to hold hot menu items when necessary. The line from left features entrées, vegetables, soups, oatmeal and ingredients to make themed salads. Behind the line sit coffee-making equipment, a steamer, induction soup pots, a high-speed oven and undercounter refrigeration.
Facts of Note
Opened: October 1, 2014
Scope of Project: Reimagining and renovation of dining room, kitchen and café
Size: Dining room 1,332 sq. ft.; servery, 442 sq. ft.; kitchen, 320 sq. ft.
Seats: 60
Average Check: $6.12
Total Annual Sales: $300,000
Annual Transactions: 49,000
Hours: 8 a.m. to 5 p.m.
Menu Specialties: Composed salads and artisan sandwiches
Staff: 3 employees
Total Project Cost: $1.5 million
Equipment Investment: $80,000
Website: www.yale.edu/dining/locations/divinity.html
Key Players
Ownership: The Yale Divinity School
Director, Finance and Administration Divinity School, Chief Administrative Office: Sandra Lynch
Dean of Yale Divinity School: Greg Sterling
Executive Director of Yale Hospitality: Rafi Taherian
Director of Asset Renewal and Planned Projects, Yale Hospitality: Dan Flynn
Director of Auxiliary Operations, Yale Hospitality: Adam Millman
Project Manager, Yale University Office of Facilities: Justin Ritz, LEED AP
Director of Culinary Excellence: Ron DeSantis
Architect: LDL Studio Inc., Providence, R.I. and Houston; Gary M. Lepore, AIA, NCARB, LEED AP
Interior Design: LDL Studio Inc., Providence, R.I. and Houston; Gary M. Lepore, AIA, NCARB, LEED AP
Programming Consultant: The Pulse Group, Palm Springs, Calif.; Tom Tucker, partner
Equipment Dealer: US Foods, Norwich, Conn., and Fountainhead Foodservice Group, Burlington, Mass.
Construction: Petra Construction, North Haven, Conn.