Page 1 of 4
A renovated campus center eatery with a focus on sustainability and fresh, healthful food features 10 self-contained, European-inspired bistro-style concepts that offer a casual, urban dining experience, as well as the gourmet Harvest Market.
Photos courtesy of Bruner/Cott; photography by Emily O'BrienLocated on the University of Massachusetts Amherst campus, the Lincoln Campus Center concourse serves as a major crossroads for students, faculty, staff, hotel guests, conference attendees and campus visitors. The construction of a new classroom building located next to the campus center promised to bring increased traffic flow due to anticipated turnover of 2,300 students per hour.
"The existing facility had not seen major renovations for more than 15 years. The back-of-house kitchen was 46 years old, and the style of service and equipment didn't match the level of food quality that UMass Amherst had risen to," says Dan Raih, AIA, LEED AP, principal-in-charge, at Bruner/Cott & Associates, the project's architects and interior designers. "The facility was not able to expand its capacity to handle additional volume demand."
A complete renovation and reconfiguration of the existing dining presentation, service and environment brought Blue Wall to what Ken Toong, executive director, Auxiliary Enterprises, UMass Amherst, describes as a "fine example of the next generation of retail dining on campuses. We wanted to create an urban marketplace model that captures the best of restaurants such as Eataly in New York and Chicago so our guests can customize their orders with just-in-time meals made with local ingredients. With a focus on sustainability and globally inspired, healthful dishes, we play down a branded image and emphasize fresh, wholesome, authentic food."
At Star Ginger, staff hold ingredients in a refrigerated rail and use a six-burner range with oven beneath, a wok range, and a fryer to prepare Asian favoritesToong held an extensive naming contest, and students voted overwhelmingly to retain the name Blue Wall, derived from a long-since-removed blue wall that once dominated the space. The new Blue Wall features 10 bistro-style concepts featuring open kitchens with exhibition cooking and new cooking technology at each platform, enhanced menu offerings and communal and flexible seating environments. The space also contains a gourmet Harvest Market, a quiet lounge/study space and an engaging connection to the outdoors.
New interior finishes and LED and natural lighting also contribute to the casual urban environment. "New circulation and transparency within the market environment strengthens connections for student traffic and adjacent buildings," Raih says. "Upgraded meal serving speed and quality of service
enhance convenience and encourage customer traffic."
"We've responded to student-consumers' needs and desires," says David Eichstaedt, director of Retail Dining Services, UMass Amherst. "Today's students are definitely more savvy consumers. They want local, sustainable foods and to know where food comes from and how it is prepared. At Blue Wall, when customers of all ages come in they experience a fast-paced market environment. When they order a burrito, for example, they see a staff member making a fresh flour tortilla right in front of them on a showpiece tortilla oven, while another staff member is preparing beans on a four-burner range and grilling the steak on a charbroiler. When customers walk by the bakery, they see staff making everything from bread to pies. Customers love this. They are ordering food and being entertained."
Leveraging 22 points of sale, UMass Amherst hopes to drive double-digit sales increases at Blue Wall, Raih explains. "Also supporting the plan to increase revenue was the decision to close The Hatch, a 200-seat venue. The net result was a facility with a more dense seating layout that required less labor to operate on an ongoing basis."
The Blue Wall Experience
Tamales is one of customers' favorite viewing areas as they watch staff make tamales in a cooker that takes the ball of dough, drops it into a chute, spreads it out, warms it and shoots it out onto a conveyor at the other end. Staff prepare sauces for the tamales on a four-burner range. For the interior design, Blue Wall's materials and colors remain in neutral tones in exposed black waffle slab ceilings, while polished concrete floors and interesting mirrored and three-dimensional accent tiles contribute to the ambiance. "We used shots of color in the furniture and LED lighting only, so that a variety of moods could easily be created within the space and changed in the future," says Robert Simmons, AIA, LEED AP, principal/partner, Bruner/Cott & Associates.
Enclosure of an outdoor court provides a bright, airy space suitable for special events. This provides a contrasting environment to the darker, lounge-like mood in the main space, which put light accents on the food and exhibition elements including a tortilla maker, coffee roasters, sushi cases and exhibition stir-fry and bakery tables.
Staff bake pizza and stromboli in the pizza oven at Famous Famiglia. The architects and interior designers used existing and new ceiling skylight elements, color-washed wall tile, and monumental graphic lighting objects to add a unique feel to Blue Wall. "Nature is brought in under the skylights with olive trees, which are surrounded by communal gathering tables," Raih says. "Shimmering stainless mesh curtains, which help divide the massive space into cozier rooms, contrast sharply with the rough exposed concrete columns and walls of the modernist building, designed by Marcel Breuer in 1967. The polished floors and mirrored tile surfaces reflect glimmers of color across the 300-foot-long space."
The Project's Design Process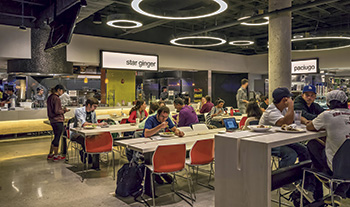 Blue Wall's materials and colors remain in neutral tones in exposed black waffle slab ceilings, while polished concrete floors and interesting mirrored and three-dimensional accent tiles contribute to the ambiance.In order to streamline the construction process, as well as workflow and organization, project designers hired facilitator Nick Masci from Haley & Aldrich, which specializes in the "lean" process design approach borrowed from Japanese car manufacturing techniques. "We studied practices such as exhaust stack design options and dock delivery logistics," says Raih. "The team 'followed the potato' from the loading dock to the plate to analyze process flow, including the preparation, cooking, and storage inefficiencies."
"The lean process enabled us to find efficiencies in layout, operations and equipment that resulted in a new dining facility combined from three original venues that in 20 percent less space serves 1,500 more meals a day, with a 28 percent increase in total revenue and 10 percent less meal cost. Most important, students and staff love the new facility," Simmons says.
"This was an interesting yet intense exercise in which we questioned and analyzed design issues in the process," Eichstaedt says. "While we were in the design process, we were visualizing how stations would work and how people would move within the spaces. Staff who would be working at the stations told us how they thought the workflow would work best. I can't tell you how many times we went through the design and decided to change something. When we moved in, we had to tweak a few things, but much less than if we hadn't gone through the lean process."
Van Sullivan, the manager of Campus Center foodservices at UMass, agrees with Eichstaedt, adding that the deli received a paper mock-up and was deemed to be too small for the desired production. "We made adjustments, which was extremely helpful in advance of opening. I wish we had had more time with the lean process, but we were on such a tight schedule that we didn't officially receive the keys until two days before the facility opened."
Another design contribution came from a peer consultant brought in by the project manager to review what had been done during various design phases. "This was helpful because all of us on the project team could easily get locked into ideas and fail to see better approaches to flow and process," Eichstaedt says.
Sustainable Features
Natural light enters Blue Wall's atrium, offering a bright place to dine.Designed according to LEED CI-Retail guidelines, the finished kitchens, serveries and dining spaces include a variety of equipment for energy and water savings, lighting, composting and recycling, and low-VOC furnishings and finishes. The facility is LEED CI–Retail Silver registered and is under consideration for a LEED CI-Retail Gold rating.
"Taking a sustainable approach, we specified as much energy-saving equipment as possible," says Peter McGillicuddy, senior associate at Colburn & Guyette Foodservice Consultants. "We also tried to use as much existing equipment as we could. For instance, we kept refrigerated counters at the pizza platform, merchandise counters at Peoples Organic Coffee and as many carts, trash containers and fryers as possible. All this resulted in huge money savings."
Another sustainable feature was installed as a solution to minimize the cost of installing a grease exhaust system through a 12-story hotel building that sits above Blue Wall. "The units make the air clean and odor free and exhaust it at grade," Raih says.
The Flow of Production and Preparation
To reinforce Blue Wall's themes of freshness, cleanliness and healthful cuisine and to allow guests to see out-front exhibition cooking, the space does not include a traditional back-of-house kitchen. Blue Wall does feature a garde manger area that serves several of its platforms. "Each restaurant stands alone, contains its own undercounter refrigeration and undercounter dishmachine for smallwares and can function independently from the others," McGillicuddy says.
Harvest Market features hot Indian, Ethiopian and other entrees, as well as a salad bar, locally sourced bagel bar, yogurt bar, all-natural and organic snacks, local cheeses and deli meats, grab-and-go salads and sandwiches, and a made-to-order juice and smoothie bar.The open production environment necessitated staff training in sanitation practices and organizational skills. "Staff had to refine some of their work habits so they could work well in front of customers," Eichstaedt says.
In order to use as much square footage as possible upstairs for preparation and seating, designers kept the majority of storage downstairs. Deliveries arrive at a lower-level loading dock, and staff place food items in two walk-in coolers, a walk-in freezer and dry storage. Each of the storage areas resides on the lower level. "The dock isn't new, but it was redesigned to accommodate a larger walk-in cooler, and we reconfigured the dry storage," Eichstaedt says. "Deliveries come in all day."
At the end of the last shift of the business day, staff working in the restaurants submit requisitions for food and supplies to staff working at the dock and storage facility. At night when the operation is shut down, staff members transport food and supplies on hand trucks to the restaurants via a fairly centralized service elevator in order to avoid interfering with production when the restaurants are open. "Restaurants hold only one day's supply of food and supplies," Eichstaedt says.