An overhaul of an old police headquarters building transforms an industrial space into a restaurant with three cooklines and the sounds and textures of Mexico and Southern California.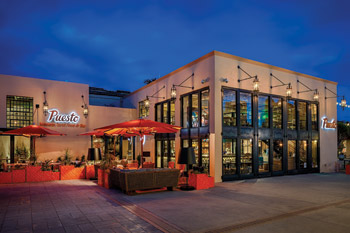 When the family owners of the successful Puesto in La Jolla, Calif., decided to open their second restaurant, they searched for a heavily trafficked location with a beautiful Pacific coastline view. They found an ideal venue in a registered historic building that formerly served as San Diego's police headquarters. Located downtown, the building sits next to the convention center in the Seaport Village area, which attracts businesspeople, tourists and local residents.
"This restaurant builds on the authentic Mexican street food concept developed in our first restaurant that opened in La Jolla in February 2012 and was expanded in June 2014," says Eric Adler, who owns Puesto with his brother Alan and cousin Isidoro Lombrozo.
The three relatives grew up tasting traditional Mexican recipes brought to San Diego by their family's elders, and while visiting Mexico. After attending college in Boston; Providence, R.I.; and Nashville, Tennessee, respectively, the young men moved to San Diego and discovered a chef who was preparing tacos at catered parties in San Diego and Los Angeles. "We had never experienced anything like the Mexican street food Luisteen Gonzalez was producing," Adler says. "None of us had the intention of starting a restaurant, but we were so drawn to the food that we entered into the business. We also love Mexican architecture and design." They hired Gonzalez as their executive chef.
Pleased with the success of Puesto's La Jolla location, Adler says, "We wanted to build on the concept of featuring an exposed cookline to assure customers that the traditional Mexican-American recipes we're preparing are fresh and handled correctly and to give them an exciting dining experience. We also wanted to expand and include a full-service dining room and full bar. And there's outside dining." The menu features tacos made from stone-ground corn tortillas, all-natural meats and poultry, sustainable seafood and seasonal, local fruits and vegetables.
Before transforming the large space, designer Thomas Schoos of Schoos Design and one of his senior designers, Lisa Gill, recognized that rather than attempting to obscure or clean up the distressed architecture, preserving the rustic, sensual textures and using them as inspiration for the new restaurant would be far more evocative.
"I wanted the feeling inside this big industrial space to be as vibrant and alive as a street festival or a bullfight in old Mexico, with all the color, action and excitement associated with that," Schoos says. "On top of this, we added a number of modern elements, such as two murals, one in each dining room, by a graffiti artist, that express a typically Mexican love of color."
Part of the building's original structure, a mezzanine overlooks the action of the open kitchen, the cookline for seated guests and the dining rooms below. The mezzanine serves as a dining balcony and gives the main dining room the ambience of an open atrium.
Designers also maintained other elements of the building such as the cast concrete walls, steel-cased transom windows, concrete ceilings and wood floors that are all clear-coated to preserve their distressed states with chipped paint and glue spots. "Echoing this, the modern light fixtures are functional and mechanical, consisting of metal rods hung in a mobile-like arrangement with excess electrical cords dangling," Gill says. Thick wood and woven rattan chairs and vintage mechanical floor lamps contribute to the rustic environment.
Since the building's designation prevented designers from altering the interior and exterior walls, designing the 7,225-square-foot space for multiple functions presented significant challenges. The owners wanted to maximize the first floor's dining and bar areas, which minimized the amount of space available for a kitchen. Within that limited space, the owners wanted a prep area and three cooklines, which they believed would expedite service.
"Puesto offers multiple ways for customers to order their food," says Wen Ko, senior foodservice designer at Food Service Design Group. "The upscale Mexican street taco environment can be open to the outside air because designers screened the kitchen to satisfy the health department requirements."
"The San Diego County Health Department has one of the strictest set of guidelines in the country," Schoos adds. "Designing a completely exposed cookline in a space that is completely open to the outside air was difficult. To separate guests from the fire, aromas and cooking activity we had to design a functional yet aesthetically pleasing copper screen system along two walls of the dining room. All the mechanical elements such as exhaust hoods, ducts and electrical equipment are visible behind the steel mesh and fit perfectly with the industrial vibe."
Plating and dishwashing areas also reside on the first floor. "As a result of all the functions on the first floor, we placed all the walk-ins and dry storage upstairs," Ko says.
Storage and Production
Deliveries arrive at a designated first-floor entrance, and from there staff place menu ingredients in the two walk-in coolers, a reach-in freezer and food storage areas. Culinary staff carry food downstairs via a staircase to a prep area that contains worktables and refrigerators. In this prep area staff use knives, blenders and grills to prepare ingredients for many menu items, including antojitos ("little cravings" in English), a type of street food. Staff prepare salads; plain and crab guacamole; eight salsas; Mexican Street Bowls with fresh mango, pineapple, melon, cucumber, jicama, chili, sea salt and lime juice; ahi tuna tartare; ceviche de Acapulco; and various tostadas with vegetables, mahimahi, octopus and shrimp.
Staff also prepare ingredients for salads and tacos, which feature chicken, cheese, tinga (chicken with hibiscus and chipotle flavors), pineapple, avocado, green and red tomatoes, jalapeño tomato sauce, filet mignon, pork, mahimahi, wild cod, shrimp and lobster, to name just a few. What's more, staff prep ingredients for carnitas, mole, slow-roasted pork, short ribs and all the sauces accompanying these dishes. They also prepare desserts such as flan and frozen horchata (milkshakes).
Also in the prep area, staff make tortillas from scratch using corn meal. "We prepare the maize and roll the balls, which is very time consuming," Adler says. "We're looking for equipment to make this more efficient."
Adjacent to the cold prep area, staff use a prep cooking line with two fryers to make fish tacos and crispy garnishes; a charbroiler to grill meat, chicken and fish; and two open-burner ranges to cook dishes such as black and refried black beans, and jasmine rice steamed with epazote leaves.
At the second cookline where staff prepare meals for customers eating in the restaurant, staff use griddles for heating tortillas, drop-in cold and hot wells, overhead food warmers and undercounter refrigerators to prepare everything from the soft tacos to entrées. A cold rail contains ingredients that staff place on tortillas and other menu items. After staff complete assembly, they pass plates through double-stacked shelving to an expediter who garnishes the plates and places finished plates at the pick-up counter for servers to access.
Sitting perpendicular to the kitchen, a cook-to-order expo cookline invites customers to place orders and watch the entire taco cooking and assembly process. Staff keep tortillas hot in a warmer. While tortillas heat up, a staff member melts and crisps cheese on a griddle and cooks chicken, meat and fish on the rotating griddle. A staff member places the warm ingredients on the tortillas and passes them to another staff member who garnishes them with customers' selections of ingredients and sauces.
"The original thought was to have a square tortilla griddle, but as the project moved along, the owner decided to install a rotating griddle, which is circular and was not easy to fit into the rectangular line," Ko says. "This required a crane dropping the griddle in from the sky into the precut counter."
After customers receive their food, they pay at the cashier station and order beverages.
"Providing multiple cooklines definitely increased the kitchen equipment costs," Gill says. However, the triple lines do enhance the kitchen staff's flexibility and help them fill orders quickly, therefore increasing the potential for bringing in more revenue.
"Finding the appropriate hoods to accommodate all three cooklines into the back area was challenging because the mezzanine is on top of the kitchen and the net ceiling height is only eight feet," says Ko, "So all hoods had to be custom made. The hood and duct work installations were also very challenging."
Beverages play as prominent a role in the Puesto experience as the food. Each day staff make aguas frescas from scratch and offer lime chia, strawberry mint, "Jamaica" and frozen horchata varieties. The drink menu features many tequila combinations, specialty cocktails such as margaritas and sangria, beer and wine on tap and local beers. The liquor display, which designers call the tequila wall, rises 14 feet and is lit by mini LED lights with a bronze glass filter that creates an amber glow. The reverse of this wall contains one of the graffiti murals.
Sanitation and Sustainable Practices
When servers bring dishes into the kitchen, they use the main door leading in and out of the kitchen. "The warewashing equipment is conveniently placed right inside the main door, so there is no cross-traffic, and the kitchen staff and servers have a smooth circulation flow while the business is in operation, which increases profitability and service timing," says Ko.
"At one time we considered placing the dishwashing room upstairs and installing the walk-in cooler downstairs, but the final decision was to have the dishwashing room downstairs because moving all the dishes up and down could be a nightmare for the operation," Ko says.
Buying fresh, locally produced food contributes to the restaurant's sustainable practices. The menu features all-natural meats and sustainable seafood. While the menu stays fairly constant, the chef brings in seasonal ingredients to offer up variety.
The kitchen features energy-efficient equipment and an energy management system for the exhaust hoods that automatically adjusts the fan speed in relation to the cooklines' temperature. Fan speeds drop when the cooklines are not in use.
As Adler and his co-owners look to the future, they admit they may expand and open more locations. "We won't change the philosophy of serving flavorful, fresh food in a fun environment," Adler promises. For now, positive press, word of mouth and a food truck continue to tell the community about the authentic Mexican menu featured in a fun, lively environment.
Design Capsule
Opened: November 2013
Scope of Project: Complete remodel of the old police headquarters at Seaport Village in downtown San Diego without demolishing any existing walls; interior and exterior dining areas, bar, open kitchen and back-of-house prep and storage
Size: Total, 7,225 sq. ft., which includes seating interior, 2,600 sq. ft.; seating exterior, 1,661 sq. ft.; bar, 268 sq. ft.; open kitchen, 504 sq. ft.; back of house, 1,754 sq. ft.; restrooms, 438 sq. ft.
Seats: 195
Average Check per Person: $25
Menu Specialties: Mexican street food, including tacos
Hours: 11 a.m. to 10 p.m.
Total Project Cost: N/A
Equipment Investment: $350,000
Website: www.eatpuesto.com
Key Players
Owners: Eric Adler, Alan Adler and Isidoro Lombrozo
Executive Chef: Luisteen Gonzalez
Architect of Record: Ocio Design Group, San Diego
Interior Design: Schoos Design, Los Angeles; Thomas Schoos, principal, and Lisa Gill, senior designer
Graphic Design: Ripe, Washington D.C.; Tomás Snoreck, principal
Mural Artist: Chor Boogie
Foodservice Consultant: Food Service Design Group,
San Diego, Calif.; Wen Ko, senior foodservice designer
Equipment Dealer: San Diego Restaurant Supply, San Diego; Josh Egan and Nick Sandvig
Construction: Jaime Partners, San Diego; Alfredo Jaime
Meet the Players
Eric Adler, Alan Adler and Isidoro Lombrozo
Puesto is owned and operated by brothers Eric and Alan Adler and their cousin Isidoro Lombrozo, native San Diegans and alums of La Jolla High School. As first-generation Americans, whose family hails from Mexico, they were influenced by the culinary flavors of authentic, home-cooked Mexican meals. While living in many other cities throughout the United States the trio was captivated by how the local flavors and unique restaurants represented the people and culture. Puesto has become an extension of that inspiration and represents the authentic flavors of Mexico with the best ingredients of San Diego.
Wen Ko
Wen Ko, senior foodservice designer at Food Service Design Group, has worked in the foodservice industry for 24 years. He cofounded Food Service Design Group in 1993 when it was formed as a division within San Diego Restaurant Supply to provide professional consulting services. Prior to joining this group, he worked in Taiwan and Japan as a commercial art space planner and architectural hand letterer for architectural plans in Taiwan.
Lisa Gill
Lisa Gill is a senior designer with Schoos Design. She has been with the firm for nine years. Born and educated in England, she brings 14 years of experience to her position. Her projects include Figue in La Quinta, Calif., Ellipsis in Mumbai, India, and restaurants for Iron Chef Morimoto in Hawaii and Mexico City. She has also contributed to hotel projects such as the Hotel Frank and the Vertigo Hotel in San Francisco and a new residential resort development on Ko Samui, an island off the coast of Thailand.
Luisteen Gonzalez
Executive Chef Luisteen Gonzalez is a native of Mexico City whose passion for food comes from his grandmother, who taught him to cook when he was 10 years old, and his father, a fisherman of more than 25 years. At 14,
Gonzalez prepared his first dinner for a quinceañera party in his hometown. This experience influenced him to follow his passion for food and home cooking and turn it into a culinary catering career in San Diego, which he has called home for the past 20 years.
Thomas Schoos
Thomas Schoos is the founder and principal of Schoos Design Inc. His designs can be seen at hospitality venues including Tao at the Venetian Hotel in Las Vegas, Santa Monica's Huntley Hotel, Searsucker in San Diego, Morimoto Mexico City, Herringbone restaurant in Los Angeles and La Jolla, and Figue in La Quinta, Calif. In addition to designing for clients, Schoos Design is creating its own restaurant brands, including Beach Nation, a beach-themed coffee shop.