Page 1 of 2
A high-rise bank building repurposed into a premier steakhouse positions foodservice on multiple levels and pays homage to this renowned baseball team's history and culture.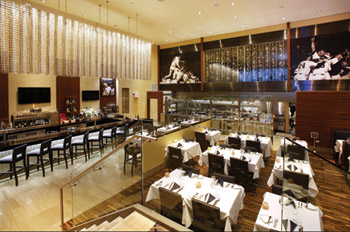 Once serving as a bank, this space was repurposed into a premier steakhouse. A custom-designed, 25-foot-long wine display cantilevers over an open exhibition kitchen in the 30-foot-high dining room. Photo by John Dimaio PhotographyThe New York Yankees and Hard Rock International, owned by the Seminole Tribe of Florida, thrive on high-level competition and brand mystique. The two organizations partnered to open a premier steakhouse in midtown Manhattan, one of the most competitive restaurant markets in the country.
Located steps from Rockefeller Center in midtown Manhattan, NYY Steak is the organization's third restaurant venture. The first New York Yankees-themed restaurant opened in 2009 at the new Yankee Stadium in the Bronx, N.Y., and the second opened in 2012 at Seminole Casino Coconut Creek in Florida. The Manhattan restaurant is the largest, occupying 4 levels and 17,500 square feet in a former New York bank.
"We started looking for a site in 2010, settled on this location in 2012 and began planning, specifying and putting it out for bid," says Dave Miller, senior vice president, development and operations, for Seminole Gaming. "Then we ran into an obstacle due to a lack of inspectors following Hurricane Sandy. We finally started construction in April 2013 and opened officially on January 9, 2014." Miller has been part of the NYY Steak project since its inception, describing his role as "the keeper of the flame for the brand."
One of the first visuals guests see after entering the restaurant is a custom-made, backlit signature wall containing the autographs of 86 time-honored Yankee players. "We transformed four levels of a city high rise to emanate the one-of-a-kind culture of this iconic baseball team," says Michael Mangini, director of interior design at SOSH Architects.
As the guests look to their left they see a grand staircase connecting the various levels. After walking up a few stairs, to their left they see a custom-designed glass chandelier from Italy, containing more than 8,500 individual overlapping hand-blown glass links in mirror finishes of gold, silver and bronze, and dramatically descending nine feet from the ceiling over the full-service bar. The lighting fixture shimmers with the help of concealed LEDs. Glass cases contain pinstripe memorabilia as a reminder of the team's 111-year history, and to the right of the bar a wall holds steak knives etched with the names of celebrities, athletes and VIP customers who can use these knives during their visits to
the restaurant.
Also in the main dining room, guests feel the presence of players whose larger-than-life photographs grace the 30-foot-high walls. At the far end of the main floor, a glass wall allows a full view of the culinary staff working in the exhibition kitchen. Overhead, what at first glance looks like a modern sculpture turns out to be a 25-foot-long wine display that cantilevers over the kitchen. Though these bottles aren't available for consumption, most of the varieties are also kept in a space behind the wall.
On the level above the main dining room sits another dining room and identical kitchen. The lower-level butcher shop, where steaks and other meat are aged and butchered, is shielded by glass windows. Also on the lower level, guests find a private dining room that can seat 75 people and features a collapsible wall; in the former bank vault sits an intimate 16-seat private room.
The BOH Storage and Production
Food and all supplies arrive on the 51st Street side of the restaurant at a door adjacent to the main entrance. Staff take deliveries to dry storage and various walk-in coolers and freezers on the lower level where items remain until culinary staff need them for production. "We use a designated freight elevator, but because it's in a 100-year-old building, it's not always reliable, as I found out early on when I was stuck in there for 35 minutes," says Elliot Lopez, executive chef, who opened NYY Steak here and at Yankee Stadium. "We climb the stairs a lot."
"The staff that runs up and down these stairs will win the Olympics," Miller adds. "That's what happens when you work on multiple levels in an old building."
Transporting products daily through the restaurant remains one of the most challenging aspects of operating in the multilevel establishment. Throughout the day, staff must ease their way around each other as they maneuver through the space with trays and containers. "Finding enough storage space for everything needed was, and remains, one of the restaurant's biggest challenges," says the project's kitchen designer John Egnor, president of JEM Associates. "There was no way to anticipate where each item should be stored until the staff started working in the space." Lopez agrees, explaining, "As the culinary staff becomes more familiar with the building and what's needed for regular service and parties, we discover areas to place pans and carts. Eventually everything will have its designated place."
Another challenge, according to Mangini, is "to accommodate the proper temperature-controlled environment along with access for the wine room, which is directly over the main exhibition kitchen. Coordinating kitchen exhaust, MEP and structural elements was crucial to make the space function flawlessly."
"We also had to figure out what to do with garbage during the day," Miller says. "So we built an air-conditioned trash room on the lower level and use a mechanical lift to bring the garbage up to street level at night."
Temperature control also fell into the area of collaboration with Egnor. In the butcher shop, for example, a meat-aging cooler holds all prime cuts of beef and other proteins such as lamb and pork. Lopez and the culinary staff order quadrants of steer, full lamb saddles and sides of pork, which remain in the cooler for 21 to 28 days or longer for dry aging. Himalayan salt blocks sit in a brick frame along one wall, which help draw moisture from the meat and add flavor.
"The key to quality control is establishing a proper balance between keeping temperature at 33 degrees F to 36 degrees F and using a humidifier to keep the moisture levels at 60 percent to 65 percent," Egnor says. "Another element is keeping air circulating and pure. Fans keep air circulating and also filter the air to kill contaminants so the outside of the meat is free from bacteria yet the internal aging process must continue to work."
Meat butchering takes place daily on a butcher-block table sitting in a temperature- and humidity-controlled environment. Butchers use knives and a band saw to cut meat into pieces. Among the meat items on the menu are 8-and 12-ounce filet mignon, 27-ounce long bone rib eye, 28-ounce porterhouse, 14- and 20-ounce New York strip, 16-ounce prime veal chops and lamb chops. Pork chops are held in the regular walk-in cooler. "We also grind our beef for hamburgers and chopped steaks," Elliot says. "We use scrap meat and bones in beef, lamb and pork stocks."
Restaurant staff encourage NYY Steak guests to walk down a few stairs from the entrance to see aging meat stored in the butcher shop and watch butchers as they work their craft. When culinary staff are ready to cook the meat, they requisition it from the butcher shop and carry it in stainless steel pans to their stations.
Also on the lower level in a prep area, staff prepare mise en place, storing it in refrigerators. On one side of the room, culinary staff wash, prepare and store Alaskan king crab, whole Maine lobster and lobster tail, ahi tuna, Atlantic salmon, catch of the day, oysters, clams, shrimp and scallops. Staff process some of this seafood into menu items such Maryland lump crab cakes and crab bisque, while much is served raw, steamed, sautéed or grilled. Staff prepare several salad dressings here as well as in the upstairs pantry kitchen.
On the other side of the prep room, a hot cookline spans one wall. Staff prepare menu items for regular service and special events using a gas range, a countertop gas griddle, combi oven, tilt skillet, two-compartment convection system and floor mixer, as well as an underfired gas broiler and a water filtration system, plastic shelving and mobile worktable.
A small dishwashing area — with two warewashers, a pot rack, three-compartment sink and glass rack shelf — handles all of the dishwashing for the restaurant.
Despite the challenges created by the building, Egnor says the same design principles apply here as in any foodservice space. "My philosophy is, it's not about the design per se — it's how the design functions," he says. "Is it efficient, and do we minimize the amount of labor needed? Do they have all the items they need at or near their stations so they don't have to run around in order to be efficient? And can everyone see one another? In each area here the answers are yes."