The chain's leaders believe their passion for pizza and commitment to high-quality ingredients will make this fast-casual pizza concept rise above its competitors.
The chain has covered its word-burning oven in red glass tiles, part of the "modern" in its rustic modern design.Lots of people say they love pizza. Most of them don't — at least not like Glenn Cybulski loves pizza.
Cybulski has given over a big chunk of his life to the dish. As a certified pizzaiolo who trained in Italy, he'll talk with enthusiasm about the best flour for making dough or about kneading techniques that support proofing's chemical reactions. He knows what bricks make the best pizza ovens and how oven masters should rotate a pie while it's cooking at 800 degrees F. He believes that a good pizza isn't loaded with a half dozen average toppings, but two or three great ones.
This is the passion he brings to his emerging chain, Persona Wood Fired Pizzeria.
Persona began back in 2012, when Cybulski met cofounder Joseph Baumel at a trade show and the two discussed opening a fast-casual pizzeria. According to Cybulski, the decision was "a no-brainer," especially in light of fast-casual's continued march across the foodservice landscape.
Of course, the idea of fast-casual pizza didn't start with Cybulski and Baumel. The sector has seen multiple chains emerge over the past few years (see FE&S' profiles of Pie Five and PizzaRev). What Cybulski believes will set Persona apart, though, is the quality of its product.
It starts with the crust, Cybulski explains. Persona uses "00" flour made by an Italian company, with the double-zero signaling the finest flour grind available. To make the dough, Persona mixes this flour with purified water, sea salt and yeast — that's it. It then undergoes a proprietary 24-hour cold-proofing process that helps create the dough's flavor profile.
"There are no oils or sugars in the dough because we don't need that to help it bake properly. The baking process is the 800-degree F oven where the proper hydration of the dough creates the bubbly crust and the perfect charring that you would find in a Neapolitan pizzeria in Naples, Italy.
This approach carries through to Persona's sauces and toppings. The chain makes all but one of its sauces and dressings in-house, including ranch, blue cheese, crushed Italian tomatoes, bianca and chipotle. The lone exception is the chain's marinara. Persona goes through so much in a day that it simply can't handle in-house production. Instead, the chain has contracted with a professional kitchen to make the marinara to its specifications, which include whole fresh tomatoes, onions and garlic — and no tomato paste.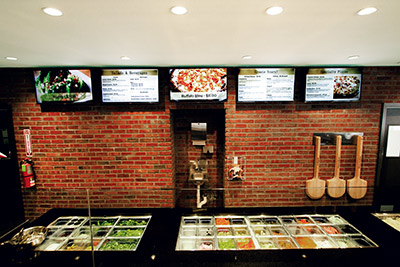 The brick veneer behind the make line is reminiscent of pizzerias in Naples, Italy.For the toppings, Persona makes its sausage in-house; imports high-quality salami, prosciutto and sopresatta; and hand slices whole Canadian bacon. And as it expands, the company will seek out local produce distributors, which, Cybulski believes, will have access to fresher, higher-quality produce — including seasonal items — that will have the biggest possible "flavor impact" on the food.
"Flavor impact," in fact, represents a big part of the Persona approach. While many other chains in the fast-casual pizza space let patrons choose as many toppings as they want for one price, Persona charges for each topping. This approach, Cybulski believes, will allow the quality of his pizzas to shine through.
"Chipotle has nailed it in the fact that they use great ingredients to make a burrito. It's clean, you feel good about eating it. That's the same philosophy we have at Persona. More is not better. We encourage our guests to use no more than three toppings because they will taste the flavor profiles of what they pick so much more. It will be a better pizza, and they'll be a happier guest," he says.
In addition to supporting the brand's position, this is a cost-effective approach, Cybulski maintains. A little goes a long way when using high-quality ingredients. Not having to smother its pies with toppings helps the restaurant keep its food costs in check.
And by making so many of its ingredients in-house, the concept can make only what it actually needs. As a result, Persona's spoilage rate is near just one percent, and it doesn't need a big storage area to hold gallons of sauces and dressings that might not be used for several weeks.
"Rustic Modern" Front of the House
One other area where Persona runs counter to many competitors is in its appearance. Several fast-casual chains embrace the industrial chic design style by incorporating concrete floors, stark colors and lots of metallic finishes. Persona goes the opposite direction, employing a rustic modern appearance featuring warm welcoming tones along with a few contemporary touches.
Reminiscent of sun-baked Italian stucco, the walls in the dining area feature pictures of life in Italy — people walking down narrow streets, a child eating pizza — next to high-definition video monitors showcasing the chain's offerings. Customers can sit on a light-colored wood community bench that matches the tabletops or on dark brown chairs.
More than most fast-casual places, the make line at Persona includes accents that reinforce the front-of-the-house design. One key example of this is the black marble countertops built into all five stations on the line, which, naturally, starts with the worktable at the dough station.
Cybulski sticks to his Neapolitan guns here. After retrieving preportioned dough balls from proofing bins, staffers don't use a dough press. Instead they stretch the balls into 12-inch crusts by hand, a process that takes only about 5 seconds for a trained employee. Staff then place the crusts on wooden pizza paddles. The paddles reinforce Persona's commitment to quality, with phrases like "00 Flour" and "Naples, Italy" etched into the handles.
Next along the line, two pizza tables feature built-in black marble tops surrounding the cold wells and serving as the work surface. While the marble gives the make line a unified appearance, staff can move each table with ease. "We built it that way so that it looks seamless, but when it comes to cleaning and procedures, we can pull each unit out individually. It makes it very simple to keep the restaurant looking brand new," Cybulski says.
At the first of these tables, staff add sauce and cheese. It's here that customers commit to a specialty pizza or a pie of their own design. Persona offers six base sauces and two base cheeses (fresh mozzarella or shredded whole milk mozzarella). Refrigeration beneath the worktop stores this station's backup ingredients.
Next on the line comes the meat and produce table, which holds toppings both common (pepperoni, black olives) and less so (beets, prosciutto). By labeling the ingredients at this station and all across the line, Persona draws attention to the chain's vibrant colors and freshness.
Following the meat and produce table is the salad station, where wells hold ingredients. This station also features refrigeration below for storing backup ingredients. Here customers can order traditional salads like Caesar and mixed green or the create-your-own Persona salad with lettuce and three toppings to start.
A draft beer table, also clad in black marble, follows the salad table. Persona does not require franchisees to serve alcohol, though, notes Cybulski. As a fast-casual establishment, revenue from alcohol sales is not essential to the concept's success.
After assembling a pie, staff slide it into the oven. As a pizza purist, it's no surprise that Cybulski uses an oven from a manufacturer that traces its roots to Italy and imports both its raw materials and master oven makers from that country. This hybrid unit burns both gas and wood, typically almond, cherry or oak. The wood, says Cybulski, contributes to Persona's flavor profile, while the gas allows the unit to fire consistently at 800 degrees F for 12 hours solid.
The intensity of the oven, along with Persona's commitment to quality, prompted the chain to add one more step to its food production process. At all times, it has a person responsible for expediting. During slow hours this may be a cashier, while during peak it may be a dedicated staffer. This person monitors the quality of the final product. If a pie has a little too much char on the crust, the expeditor tosses it out and has it remade.
Naturally, the oven also plays a role in the front-of-the-house design. It is covered with red glass tiles that the oven manufacturer has promised are exclusive to Persona. It also faces the dining area, giving customers the visual excitement of wood-burning flames cooking their pies.
Prepping with Pride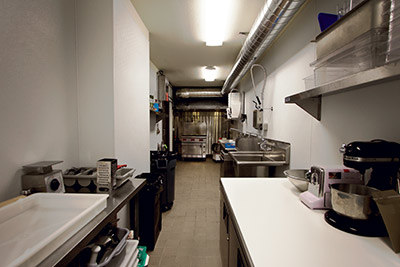 Two workers spend an average of 5 hours a day in Persona's prep kitchen, usually starting between 7a.m. and 8 a.m.With Persona's commitment to house-made sauces, toppings and dough, the back-of-the-house prep kitchen plays a big role in the concept's success. Ideally, Cybulski says, the kitchen will have a straight-line layout, though that can change to match a space's footprint.
It starts with a six-burner range, where staff make sauces, sauté vegetables and sear meatballs. Under the range sits an oven, which staff use to cook bacon and house-made sausage as well as to complete the meatballs.
Next to the range/oven resides a large floor mixer which staff use to make dough. Instead of specifying a standard spiral-spinning unit, Persona uses a fork-style mixer that mimics the motion of hand-kneading dough while rotating the bowl itself. This unit is programmable, which allows Persona to use it for the two stages of its mixing process. Doing so not only ensures the ingredients are combined properly, it also prevents the dough from heating prior to Cybulski's cold-proofing process.
After the mixer come the worktables. Depending on the size of the store there will be anywhere from three to five tables with at least one unit having undercounter refrigeration. On these tables staffers portion dough into balls, shred cheese, chop veggies, make the sauces that don't require heating and slice meats with a countertop unit.
The prep kitchen also has a three-basin sink, prep and hand-washing sinks and shelving units. In addition, the space includes an undercounter dishmachine for washing china and flatware. "A lot of places [serve their food on] aluminum trays with paper [on top]. That's a nice picnic option. We're not a picnic. We're a high-quality fast-fire concept, and we believe that our pizzas are so good that they deserve to be on a china plate," Cybulski says.
For cold storage, the chain will install a walk-in cooler wherever possible and rely on reach-ins when not.
When's a Chain a Chain?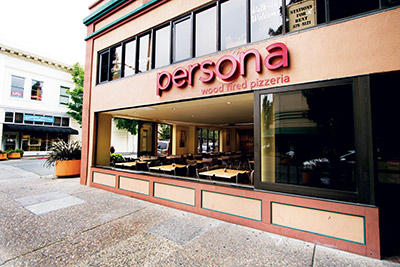 The windows at Persona's first franchise location open, allowing guests to dine semi al fresco.Persona's first and, to date, only corporate store opened in Santa Barbara, Calif., in 2013. Since then it's been named the city's top pizzeria and one of its top 10 restaurants overall.
After refining its internal processes and going through the legal steps needed to become a franchisor, Persona's first franchised unit began operating in Santa Rosa, Calif., in July. By some definitions, having two stores doesn't yet qualify the restaurant as a chain.
That's about to change, though. Persona has inked deals with four franchise groups totaling up to 80 locations in California, the Carolinas, Florida, Georgia and Texas. It's also in discussions with an international franchisee that could add up to 150 stores abroad.
Cybulski projects that by the end of this year a total of four Persona franchise locations will be open. Another 15 units are expected to open in 2016, with a total of 250 stores expected to open in the next 5 years.
When asked why he expects to hit these numbers and what's driving franchisee interest in a concept with just two units, Cybulski goes back to Persona's calling card: quality.
"Our franchisees that are signing up are going out there and tasting all our competition and looking at all our competition literally with a fine-tooth comb," he said. "The deciding factor — bottom line — is that they believe we have the best product on the market, and that the quality of the product is going to separate everyone once the sexiness of the concept mellows out."
Key Players
CEO and Lead Chef: Glenn Cybulski
Chairman: Barry Baumel
Co-Founder and Director of Business Development: Joseph Baumel
CFO and President: Daniel Locke
Vice President of Franchise Development: Harold Miller
Franchise Sales and Development: Ian Andewelt
Interior Designer/Architect: Ken Dickson, Windward Engineering (domestic design); International Development Group (Middle East contracts and design); Charger Design (large area development build-outs)
Kitchen Design Consultant: Ken Dickson
Facts of Note
Chain Headquarters: Santa Barbara, Calif.
Year Founded: Restaurant operating company founded in 2012; franchise company, Persona Pizza Holdings, founded in January 2013
Number of Units: One corporate unit in Santa Barbara, Calif.; one franchised location in Santa Rosa, Calif.; eight additional units sold, with franchise area rights for up to 80 stores agreed upon
Average Unit Size: 2,500 to 2,800 square feet; 80 percent front of the house, 20 percent back of the house
Unit Growth Projections: 145 to 230 domestic stores in five years; 110 to 140 international stores in five years
Check Average: $15.30 (corporate store)
Build-out Cost: Between $242,650 and $404,100, including franchise fee, per the uniform franchise
disclosure document
Franchise Fee: $35,000 for a single domestic unit; $25,000 for area development