I just returned from yet another National Restaurant Association show. I think that this was my 34th, but who is counting?
So, what is my take of this year's event?
First of all, it did not disappoint.
I had the opportunity to meet with a multitude of suppliers and operators, attend events, interface with old and new colleagues and take the industry's pulse, all under one roof, over the course of a few days. One can say that I had a very productive and efficient trip to Chicago.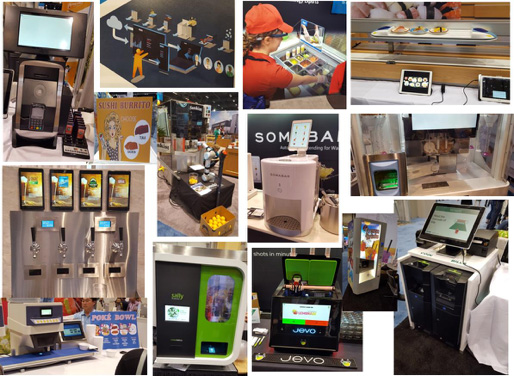 Automation was plentiful on the NRA Show floorThis year's show floor seemed to display a lot more automated devices that can help foodservice operators provide better service, enhance production and deliver a better customer experience. These solutions help increase the number of options available to guests while decreasing the work employees have to perform. In other words, these solutions allow operators to do more (sales and throughput) with less (labor). Given that unit economics represents a metric that measures an operation's effectiveness at generating sales and throughput at lower operating costs, these devices clearly aim to help the industry battle some of the issues it faces, especially reducing labor costs, without sacrificing the customer experience.
In addition to the typical online order systems and self-serve kiosks that have become prevalent in the prior years, clearly there was a significantly higher number of vendors with automated devices in other areas. The automation that I saw spanned the gamut, including:
Devices to monitor many pieces of equipment (performance and maintenance) in an integrated way and proactively alert what the owner should do.
Semi-automated dough stretching machine.
A variety of order taking machines/kiosks.
Automated order and cash handling machines — there was one that also energized a coaster/table tracker at the end of the process.
Lockers for self-serve pick up, some of which had very futuristic and artistic designs.
Automated yogurt, ice cream and frozen beverage machines.
Automated shot, cocktails and beer dispensing machines, some of which included payment acceptance method, making it fully automated.
Automated sushi and acai assembly machine.
Automated plate transfer system, including one that resembles Japan's high speed bullet trains.
Automated salad-making device.
Automated/robotic arm orange handling and squeezing machine.
Automated training glasses that show the employees the assembly steps that they need to follow.
Automation was not confined to the show floor, mind you. On the way out, at the O'Hare airport, I came across a vending machine with fresh food in it; lemon herb shrimp, salads, bowls, etc. It even had a disposal for the containers so the operator can recycle them. This is an example of how operators keep taking the food to the people. This machine even sent me an electronic receipt and an e-mail survey asking for immediate input on my experience.
Some of the machines I saw reminded me of those that I used to get food and drinks from during my childhood in the '70s, including the one in the airport. In an example of back to the future, the units looked similar to equipment from the past, but they came with some significantly enhanced technology and, in most cases, they did not require cash.
My conclusion from this year's show is that suppliers are beginning to lead the conversation when it comes to providing automated equipment and technology that can support the needs of the restaurant; to offer better service options for guests while reducing the labor demand. As labor costs continue to track up, automation becomes a more important part of the solution set. These types of equipment options, along with continuing to develop innovative operating methods and designs that allow employees to work smarter and more efficient, are definitely ways that operators can keep their competitive edge and battle the cost challenges that they face.
I can't wait until The NAFEM Show in 2019 and, of course, next year's NRA Show. It will be interesting to see how industry suppliers continue to move the automation needle. Maybe we are closer to Jetson's-like automation than we think. Time will tell.