For the past few years, off-premises consumption has played a prominent role in the restaurant industry's ability to continue to post positive, real growth. And with a variety of states and other municipalities banning consumers from dining on-premises it seems that carryout, delivery and even curbside pickup should be poised for growth as the COVID-19 crises plays out.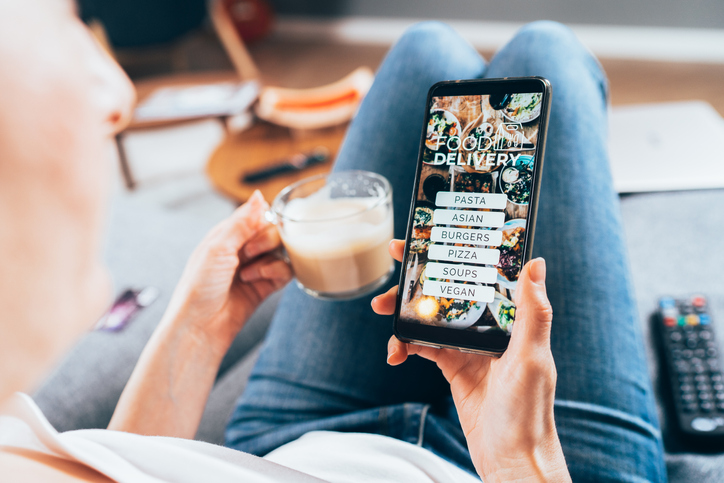 According to The NPD Group, consumers spent $450 billion in restaurants for the year ending January 2020. Of that $450 billion, 48.5% was spent on food eaten off-premises in the form of carryout, delivery and drive-thru. This represents a 4% increase compared to the previous year.
With the hopes of encouraging greater and more consistent social distancing among citizens to slow the spread of coronavirus, many states have are requiring restaurants to limit their service to drive-thru, curbside delivery or delivery to customers' homes or offices. Illinois and Ohio were part of that movement on Sunday afternoon and other states, including New York, took similar steps. Additional states with similar bans run from Connecticut to Louisiana to Michigan to Washington.
Given consumers predilection toward all things delivery and convenience driven, off-premises consumption might be poised to save the restaurant industry yet again during this time of crisis. Unfortunately, that might not be the case. If states take an additional step of shutting down restaurants entirely, that would be a devastating blow for an industry that's been scrapping for every little bit of real growth it has earned in recent years.
Widespread closures would likely result in a volume decline even in off-premises sales, NPD Group advised, however in the long run this will accelerate the shift to off-premises. Other trends that will likely accelerate, according NPD Food Analyst David Portalatin, include mobile ordering, mobile pay (one more point of human contact eliminated), and third-party delivery.
Realizing the impact this could have independent restaurant operators, Uber Eats developed a support package that targets these businesses. Uber Eats will waive delivery fees on all food orders from independent restaurants across the U.S. and Canada. To help boost demand, Uber Eats will conduct dedicated marketing campaigns — both in-app and via email — to promote delivery from local restaurants.
"We know the coming weeks will be challenging ones for many small business owners, and we want to help restaurants focus on food, not finances," said Janelle Sallenave, head of Uber Eats for the U.S. and Canada. "That's why we're working to drive increased demand to more than 100,000 independent restaurants across the U.S. and Canada through free delivery and marketing efforts."
"Over 90 percent of all restaurants are small- and family-owned with 50 or fewer employees, each restaurant, along with the industry's 15.6 million employees, are facing uncertainty and disruption because of the coronavirus," said Sean Kennedy, executive vice president of public affairs for the National Restaurant Association, via a press release. "Efforts that promote drive-thru, takeout and delivery are important tools to help restaurants continue to serve consumers during challenging times."
Other Uber Eats initiatives related to the coronavirus include a user campaign to drive awareness of "contactless" delivery, providing CDC guidance to restaurants to ensure operators properly seal all delivery orders in tamper-evident packaging and working to provide delivery people with sanitization materials in the most impacted markets. In addition, to support first responders, Uber Eats has pledged to deliver more than 300,000 free meals to healthcare workers and other relief efforts in coordination with local and state governments.
In addition, Uber Eats has pledged financial assistance to drivers and delivery people who are either diagnosed with COVID-19 or have been asked to self-isolate by a public health authority, per a company release.
"We've heard from restaurants that they're worried about what the health crisis will do to sales, and its impact on cash flow and their ability to pay suppliers or employees," said Therese Lim, head of restaurant product at Uber Eats. "That's why, from today, we'll provide restaurants with the option to receive daily payouts rather than waiting until the end of the week to see revenue from deliveries, which can be even more important as delivery becomes a bigger share of their sales during this time."
While restaurants continue to generate many of the headlines associated with the coronavirus, other segments of the foodservice industry will likely begin to feel the effects of this global pandemic very soon. For example, on Sunday the CDC urged a nationwide halt to public and private gatherings of more than 50 people for the next 8 weeks, citing the risk of the coronavirus. This would begin to impact caterers, hotels and other foodservice operators that cater to events of various sizes.
Various other chain restaurants continued to adjust their approach to serving customers in the name of guest and staff safety. These include:
O'Charley's Restaurant + Bar closed the dining rooms in its stores in Ohio, Illinois, Indiana, and Kentucky in accordance with local mandates to no longer offer in-store dining. Customers in these areas can order online and then pull-up to the restaurant where an O'Charley's staffer will bring the food to the guests' cars. The casual dining chain added seven different family-style meals designed specifically for off-premises consumption. Each meal serves up to six people with entrees, rolls and family-style sized salads or sides. O'Charley's traditional entree options are also available for off-premises dining.
Bakers Square remains open in Illinois, Indiana and Ohio to provide curbside, takeout and delivery options to comply with the government mandate to restrict services. Customers are able to order online and then simply pull up to the restaurant where their food will be brought to their car at the curb.
Village Inn remains open in Illinois to provide curbside, takeout and delivery options in compliance with the government mandate to restrict services. As explained by the Illinois governor, this drastic decision is designed to help prevent the further spread of COVID-19. All Village Inn restaurants in Illinois will close in accordance with the mandate to no longer offer in-store dining. Customers are able to order online and then simply pull up to the restaurant where their food will be brought to their car at the curb.
Shake Shack also temporarily shifted to a to-go only operating model in all its U.S. company-owned restaurants. Guests can place to-go orders in the restaurant, pre-order on shakeshack.com, the Shack App for pickup, or order for delivery through Grubhub and Seamless in all cities, as well as other providers such as Postmates, DoorDash, Caviar and Uber Eats in certain locales. The burger chain did close the dining room in all its company-owned U.S. locations.
Chick-fil-A also closed its dining rooms to limit person-to-person contact. Some locations will still offer drive-thru service while others may offer takeout, delivery or mobile ordering, the Georgia-based chain said through an update posted on its website.
A few days after CEO Kevin Johnson hinted at potential changes in service, Starbucks adopted a temporary to-go model in its company-owned locations in the U.S. and Canada. As part of this new approach, customers can walk up to the counter to place an order, use the order ahead feature on the Starbucks' app or order through one of the participating delivery services. All stores will have a modified condiment bar, and some may have modified order ahead handoff areas.
The situation surrounding the coronavirus continues to unfold on a daily basis and will continue to challenge the restaurant industry's resourcefulness for the foreseeable future.