Although her father, Stephen Tucker, president/CEO of Patterson, N.J.-based M Tucker Co., tried to dissuade her from working in the foodservice business, it obviously was in Morgan Tucker's blood.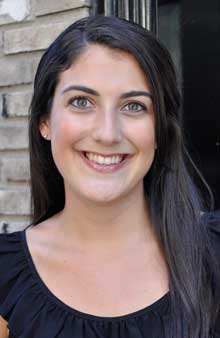 After graduating from Cornell University's School of Hotel Administration in 2007, Morgan Tucker worked as a manager for both Danny Meyer's Union Square Hospitality Group and Stephen Hanson's BR Guest Restaurant Group. Three years ago, she decided to join the company her grandfather Marvin Tucker started in 1955.
"I live the dream and get to report to my father, who's my best friend," Tucker says.
While she has experience in all aspects of the industry, Tucker has developed a strong expertise in tabletop. She also excels in selling smallwares as well as janitorial and sanitation products. In only three years at the company, Tucker's sales are approximately $3 million annually.
With so many successes in such a short time, it's no wonder that, at only 25, Tucker may very well be one of the youngest DSRs of the month in FE&S' history.
FE&S: Why break ranks from the operator side of the business to work for an equipment and supplies dealership?
MT: If I'm going to work hard and passionately for a company, it might as well be for my family's business. Growing up, my father tried to deter me from the foodservice industry, but that didn't work. I started from the bottom in an ice cream store at the Jersey Shore when I was 13. I grew up loving the business. My unique education at Cornell didn't prepare me for anything but a career in hospitality.
FE&S: What's it like joining a family-run business?
MT: My father has a great respect for me that I couldn't be happier about. I'm not micromanaged or in the office every day. Most people in a family business fall into a role where they're preparing for ownership of the company, and that's not what I've done. I've found a good niche for myself for the next five to ten years at the company while my father and his partner are still around.
FE&S: Why do you like the tabletop part of the business?
MT: I realize I can't be everything to everyone, and tabletop is what's important in New York. It's all about the aesthetics and front-of-house design. People look at tabletop as a fashion trend here, and this is where it starts. Every day I get to be a part of the next great development.
FE&S: How does your background give you an edge in your current career?
MT: My past experience helps me remember the little things for customers. I know what it's like to be the one to close the restaurant when the sun's rising, and I'm also aware of what the people around me are striving to be, which is the next big entrepreneur. This helps me be a better cheerleader for them and their business.
FE&S: What is your business philosophy?
MT: I always tell myself to embrace the pace, because I work in a city that never shuts down.
FE&S: In a very short time on this side of the industry, your business has taken off dramatically. What's the most important lesson you learned along the way?
MT: I've learned to develop relationships with manufacturers that are important to my customers and my company. I can't have the same type of relationship with everyone. If I did, I would compromise all of my relationships. I make sure to develop the relationships that will help me succeed. I'm not only selling my customers on the benefits of M Tucker, but also the Morgan Tucker package. I won't always be the lowest cost provider, but I will be there when you need me. It's not about being everything to everyone, but being everything to my customers and knowing which customers fit my business model. Learning how to zone in on the right client quickly is some of the best advice I've received from my father.