It wasn't until Jim Bologna took a cooking class while working toward a degree in hotel hospitality at Michigan State University that he realized his calling. He went on to earn his Associate's Degree in Culinary Arts, and worked as a chef for more than 20 years.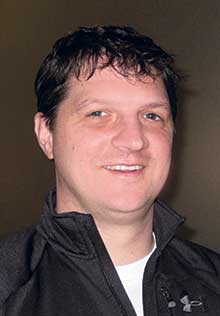 Jim BolognaIn addition to traveling overseas as part of a culinary team, Bologna worked at a number of Detroit's fine dining restaurants, as well as in supermarket catering operations.
"Then I had a restaurant opening scheduled the same week as the birth of my daughter, and my wife was forced to get induced a week early," Bologna says. "That's when I knew it was time to reassess my career."
When the opportunity at Great Lakes came up four years ago, Bologna made the change. He now has a diverse client base in the Detroit area, including fine-dining restaurants, chains and country clubs.
FE&S: How did you get up to speed on product knowledge and building your client base when you started?
JB: When I joined the company, my biggest concern was how to find customers. I was fortunate that the Detroit market exploded as I was coming into this role. I also made a concerted effort not to burn bridges at my previous jobs and left on great terms. It's especially important in this market, which is small. Even though we're all in competition with one another, we still want everyone to do well and be successful.
FE&S: You've said that high-end customers have high-end expectations. What's the best way to meet those?
JB: It's important to always have higher expectations than your customers. I've never set myself up for a challenge and expected average results. Whatever I did yesterday, I want to do it better today. When you want to win, you set high expectations.
FE&S: What attracts you to out-of-the-box projects?
JB: It all goes back to jumping around as a chef. I've never been cookie cutter. Working at The Capital Grille was fun in terms of the adrenaline on the line and comradery of the kitchen, but it was like punching a clock every day. Now, from job to job, I don't know what I'm walking into. It keeps things exciting and engaging. We don't shy away from challenges and we like to create things that don't exist. It's great being surrounded with people who are open to challenges.
FE&S: How does your experience as a chef help you?
JB: I understand more than most how to use the units and where they should be placed. When I joined the company, we didn't have a full design team like we do now. I'd have disagreements with the companies we contracted with because we had a different thought perspective. Now that we perform this work in house, we work in conjunction with each other. We are a strong team complementing each other's skill set; they know how to lay out a kitchen, and I offer practical, real-world experience.
FE&S: Describe your approach to finding the right piece of equipment.
JB: It's been a goal of mine to treat each job as if it were my kitchen and make sure that every detail is thought out. It all starts with getting to know the customer and their goals. In our Culinary Center, we test any piece of equipment available. This allows me to grow my product knowledge and stay current with anything new in the marketplace. I'm never afraid to talk someone out of a piece of equipment just because they think they need it.