For some, a successful career path can happen by chance.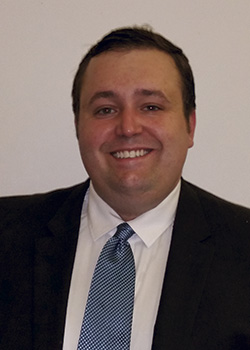 With a double degree in microbiology and biochemistry, Joe Shelpman had plans to go to graduate school and study genetics. An illness in the family put his schooling on hold, and he took a two-month contract job in genetics for a pharmaceutical company.
When a cousin asked if he wanted a temporary job at TriMark Marlinn's Bedford Park, Ill., office in 2008, Shelpman decided to give it a try. "I really fell into this industry by accident," says Shelpman.
He started inside working in customer service. Then, after landing a few large chain accounts, Shelpman transitioned into an outside sales role a year later. Today Shelpman's customer base is split almost evenly between traditional street sales and design/build projects. His customers are located throughout the U.S. and include independent operators, chains and resorts.
FE&S: What is it that you like most about the job? What keeps you engaged?
JS: This is one of the fields where every circumstance is completely unique. Whether I'm dealing with a new tabletop or a design/build project, there is unlimited product knowledge that keeps me on my toes. I get a lot of enjoyment out of it, especially the design/build side of the business. I initially was dealing with many chain accounts around Chicago, but now I have clients all over the country. I just did jobs for an exclusive Rocky Mountain resort and German beer hall in Florida, and I have a project coming up out of the country. I get to deal with high-profile equipment people, and I also take care of the project management for my design/build contracts. Coming from a customer service background, I find that it's quicker for me to handle many of these duties myself. I like being the single point of contact, which has been especially beneficial when dealing with chain clients who are very appreciative.
FE&S: Which of the skills you developed working inside sales helped you transition to outside sales?
JS: Working in inside sales for a year and a half has made me very efficient in outside sales. Being able to build relationships remotely via phone and e-mail with a broad set of customers has come in handy. Also, I've learned to navigate internal systems quickly and be more flexible.
FE&S: Describe the value that customers want when working with you and your company.
JS: The follow up from start to finish makes the biggest difference.
FE&S: Your business ranges from large design/build projects to smallwares to tabletop installations. Given how widely those types of relationships can vary, how do you transition from one project or customer to the next without compromising the quality of your approach?
JS: This had been a challenge initially, since all the details are important, no matter how small. We're judged on the mistakes we make. I try to give the same attention to every job, regardless of the size, and delegate when necessary. Over the past couple of years, I've managed to build in efficiencies in terms of how I take care of business.