Combining training and experience has been a recipe for success for Phil Blas.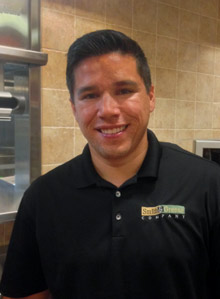 Phil BlassAt the ripe old age of 16, Blas began working his way through the ranks of the restaurant business, going from bus boy to manager before graduating from San Diego State University with a degree in multimedia design. "I learned a little bit of everything, including architecture, interior design and graphic design," Blas says.
When his wife received a job offer in Washington State, the couple moved and Blas began his job hunt. A Craigslist posting for an outside sales position at Smith & Greene Co. caught his eye. Blas beat out hundreds of applicants and got the job. "It was the perfect position, tying in the two things I knew most about, the foodservice industry and design," Blas says. "I was lucky they took a chance on me right out of college."
Fast forward five years and Blas has linked his education and experience into a successful career. He recently was promoted to smallwares sales manager at the company.
FE&S: You came in straight from school with no foodservice equipment and supplies sales experience. How long did it take you to get comfortable in your new role?
PB: It took me about two years to finally get comfortable on the job, and this was after a lot of training from reps and soaking in information from trade shows. I learned from my mistakes. It was an adjustment coming from a restaurant background. I had to learn new technical terminology. For example, when I worked in restaurants, a food storage box was referred to as a Lexan.
FE&S: What training or educational opportunities were instrumental in your development?
PB: Much of my SEFA training was very helpful, as was the sales and product knowledge training. I learned a lot from local reps, asking many questions. I learned a great deal from them and still do. Also, asking veterans in the industry questions was helpful. I bugged our sales manager at the time quite a bit, since I needed to know every detail about all of the products.
FE&S: You have a very diverse customer base. How do you keep track of who needs what?
PB: I definitely use technology to my benefit. I make myself available to my customers and figure out the easiest communication method, whether it be text messaging, phone calls, e-mails or faxes. I've found in this business keeping in touch and being available is key.
FE&S: Does having such diverse clientele help you be more resourceful for all of your clients?
PB: A diverse clientele absolutely makes me more resourceful. If I'm working in a hospital where things are done a certain way, I can transfer this knowledge to a restaurant. Learning all aspects of the business and doing a little bit of everything helps in this job.
FE&S: What do you enjoy most about your career?
PB: I really enjoy the relationships I get to form with different people. I knew no one when I moved here, so this business has allowed me to meet people I've become friends with.
FE&S: What's the most important lesson you have learned?
PB: A customer service emphasis is key. I try to pull out all the stops and do whatever I can to make the customer happy, even if it means losing money at some point. I've found if I do right by the customer, it will be profitable at some point.