As a former restaurant manager, then a key accounts manager for a national soft drink company and now a successful DSR, David Maxwell has had a very well-rounded foodservice career.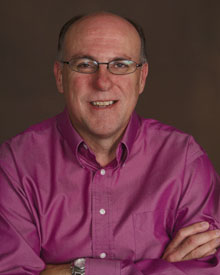 David MaxwellHe joined Thompson & Little almost nine years ago, when owner Dan O'Quinn's daughter Heather suggested he interview for an open sales position. Maxwell found it was a perfect fit. "It's a different challenge every day," he says. "This is a fun place to be."
His customer base is primarily institutional foodservice operators, breaking down to 70 percent schools and a 30 percent mix of prisons and hospitals.
FE&S: Previously you worked for a large, publicly traded company. What makes working for a family-run business appealing to you?
DM: In big corporations, you go through many levels. Here, I can go right to the boss. The process is much quicker, which makes handling things so much easier.
FE&S: Your expertise is in foodservice equipment. What drew you to this part of the business?
DM: When I worked for the national soft drink company part of my routine was calling on schools, so I knew many foodservice directors. When I came here, my bosses picked up on that experience and tried me out in the same area. I hit it off with the foodservice directors despite going through a big learning curve. I had to become educated very quickly using catalogs. I also attended the Supply & Equipment Foodservice Alliance national sales conference, which was really my kick off.
FE&S: You are known for being good at training your customers on working with foodservice equipment. How do you go about making sure the training is successful?
DM: When we put equipment in, I follow up with the reps and we go into schools to provide training. Then I check in with my customers periodically to make sure they are comfortable with the equipment. This is important with my type of clientele, who are not generally trained chefs. Many staff members go directly from high school to work in school cafeterias, so it's mainly hands-on equipment training.
FE&S: What are some of the biggest challenges your clients face today?
DM: Budgets are a big challenge, especially in schools. Many need to replace equipment, but are dealing with budget constraints. It's up to us to find ways to help them get the equipment they need at prices they can afford. Sometimes this can be a long process. I just finished working with a school system where it took five years to change out the equipment.
FE&S: You are known for having a good working relationship with the reps in your area. How do you cultivate these relationships and why are they important to you?
DM: My relationship with reps is a partnership. I call on them for many reasons, such as equipment expertise. If an operator transfers from a steamer to a combi oven, we sit down with the foodservice director to make them comfortable with that transition. Reps help me accomplish this. I also work with reps on specs that are sent out for bid. It's nice to know I have my company, rep groups and association manufacturers as a service network that can be utilized. This is important, especially with school foodservice.