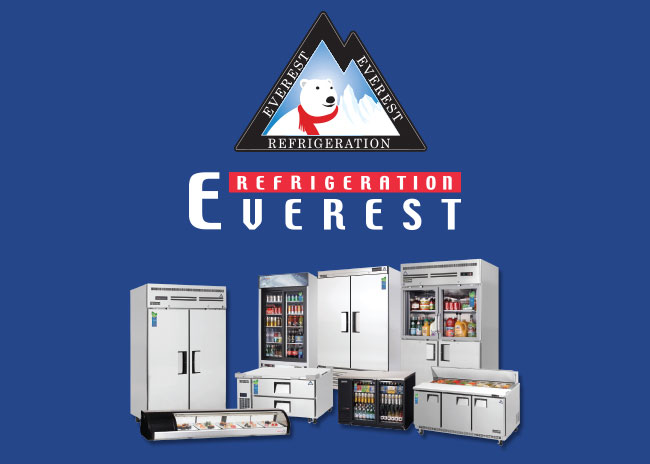 Everest offers a wide array of commercial refrigerators and freezers
When it comes to running a successful business, there are a lot of things to consider. One of the most important is having reliable equipment that won't let you down. This is especially true in the food service industry, where keeping food at the right temperature is crucial. That's why choosing the right commercial refrigerator or freezer is so important. Everest Refrigeration offers a solution that provides not only quality and reliability but also the industry's longest warranty coverage.
The industry's longest warranty coverage
Everest's refrigerators and freezers come with a warranty that includes three years for parts and labor, five years for electrical components, and ten years for the compressor. This warranty coverage provides peace of mind, knowing that you're investing in equipment that is built to last. Everest understands that downtime from unexpected equipment failure can be costly, and they have designed their refrigerators and freezers with minimal service downtime in mind.
One of the ways that Everest achieves minimal service downtime is by equipping their refrigerators and freezers with Blizzard R290. This is the industry's first all-in-one, slide-out cooling cartridge designed for rapid cooling, safety, and ease of replacement. The Blizzard R290 cartridge contains all electrical and mechanical components that run a refrigerator or freezer in one neat compact case. Replacing it only takes 30 minutes by sliding the old cartridge out and sliding the new cartridge in. It requires no on-site brazing, welding, or any of the hassles and risks of traditional cooling system repairs.
The industry's first all-in-one, slide-out cooling cartridge
The Blizzard R290 cooling cartridge is efficient and eco-friendly. It uses natural hydrocarbon refrigerant which cools quickly and uses minimal power, making it a smart choice for your business and the environment. Its innovative design removes the need for onsite repairs, eliminating any risk of fire during maintenance and service. Leak detection, flushing, and brazing are not needed which means faster service completion so you're back in business in no time.
Another feature that sets Everest Refrigeration apart is the dual rotation, auto-reverse condenser fan. This keeps the compressor cool and the condenser coil clean of debris, ensuring efficient operation and longer equipment life. An auto-diagnostic system paired with audio-visual alarms constantly monitor your refrigerator and freezer's performance, so you don't have to worry about unexpected breakdowns. The less of those there are, the happier you and your customers will be.
In addition to their warranty coverage and innovative features, Everest Refrigeration also offers a wide range of refrigerators and freezers to choose from. They offer reach-in refrigerators and freezers, glass door and open air merchandisers, undercounters, chefbases, prep tables, meat dry agers, kegerators, bar coolers, sushi cases and so much more. This variety of options allows you to choose the equipment that best fits the needs of your business and customers.
It's not just a piece of technology, it brings peace of mind
Everest's refrigerators and freezers are designed to meet the demands of any food service operation, be it a food truck, a small cafe, a family restaurant, grocery store and more. They are an investment in quality and reliability, as well as a commitment to the future of your enterprise. Their refrigerators and freezers are built to last, surpassing most brands in life expectancy by five years.
When it comes to choosing a commercial refrigerator or freezer, it's essential to choose a brand that you can trust. Everest Refrigeration offers the industry's longest warranty coverage, innovative, reliable, and energy-efficient technology, and a wide range of options to choose from. Their commitment to quality and reliability ensures that your investment will last for years to come, providing peace of mind and allowing you to focus on what matters most, running a successful business.
If you'd like to learn more about Everest Refrigeration and all that they have to offer, visit their website at www.everestref.com.