Coffee has been the most consumed beverage in the U.S. for the last few years, only second to water. Despite labor challenges, consumers continue to expect fresh, high-quality coffee wherever they go. Automatic, bean-to-cup coffee machines are the perfect solution for operators wanting to elevate their coffee program without added labor. As part of our latest hot coffee innovation, we created the award-winning A400 Fresh Brew. This fully automatic bean-to-cup coffee machine grinds whole beans fresh for each cup delivering on consumer demand for quality with a simple touch. This new system allows for consistent, bean-to-cup, fresh coffee every time, with less waste. The machine has a small footprint of just under 13.5" wide and adjustable stainless-steel feet, that will fit perfect where counter space is limited. At Franke, we are not just in the business of selling coffee machines. We are in the business of creating memorable coffee moments for your customers.
Self-service convenience is key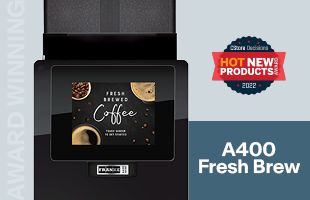 Appeal to customers who want a self-service shopping experience with the 8" intuitive touchscreen. Franke Coffee Systems offers technological innovations that make creating a delicious memorable coffee experience easier than ever with the A400 Fresh Brew. This bean-to-cup coffee machine walks customers through the ordering process in three simple steps with our Advanced User Interface. The unit has two bean hoppers with dedicated grinders to ensure a quality flavor in each drink. With a 9" cup clearance the A400 Fresh Brew can produce up to four sizes of hot coffee. With the quick touch of a button, brewing coffee to order is simple and is sure to delight your customer.
Monitoring an elevated coffee program is easy
Technology is having an impact on the coffee industry. Operators are looking to track inventory, waste, consumer preferences and enhance the customer experience. Franke Digital Services is available on all our coffee systems and provides insights and transparency - anytime and anywhere. Get real time data on commercial and operational performance in areas such as drink sales, cleaning discipline, and stock levels through remote monitoring. It allows you to react quickly, so machines are always clean and operating optimally, and ingredients stay fresh and fully stocked. Our Franke Digital Services enable you to remotely update your seasonal beverage or menu changes. And the A400 Fresh Brew ensures consistent in-cup quality and enhances your customers' experience.
Cleaning solution that delivers optimal performance
It is important for operators to protect the life of their coffee machine and maintain optimal conditions for continued coffee quality with regular and reliable cleaning using Franke cleaning solutions. The A400 Fresh Brew is equipped with Franke's patented automatic EasyClean system that reduces cleaning time and complexity, while limescale is eliminated easily with an environmentally friendly, integrated and fully automatic descaling system. Deliver top performance daily with every cup.
If you are interested in elevating your coffee program with Franke Coffee Systems learn more at us.coffee.franke.com.