The foodservice industry has had its fair share of challenges over the last few years. From forced closures and low product availability to changes in labor laws and practices, businesses have had to adapt and prepare for the unexpected. One solution that can help in these uncertain times is automatic equipment, like AutoFry.
AutoFry is an innovative food preparation powerhouse that does the deep frying for you. It is ideal for businesses struggling to fill kitchen positions, limited on space, or looking to focus more on delivery and takeout with a ghost kitchen type of operation.
AutoFry is easy to use, simply load your product into the front food chute and set the timer. Your product then falls into a teflon basket that sits inside the oil pot. AutoFry will even shake the basket just like a live person would, ensuring products cook evenly and do not stick. When the timer sounds, the finished product will dispense into an awaiting pan outside of the fryer. The entire process occurs without anyone ever coming into contact with hot oil.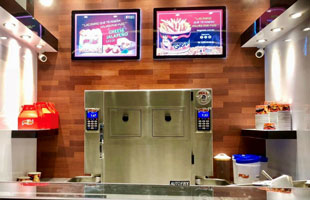 For companies that are trying to reduce their square footage or looking to focus more on takeout and delivery, the size of the equipment that is purchased is vital. AutoFry comes in a range of sizes, including single and double basket models. Our smaller models, the MTI-5, MTI-10X/XL & MTI-Mini C are perfect for locations that are limited on space. Not to mention, all of our equipment stays cool to the touch throughout operation, allowing for a minimal side clearance requirement.
One of the more unique features of the AutoFry is SimpliFry™, a built-in heat/time compensation intelligence that automatically adjusts cooking time based on the quantity of product being prepared per fry cycle. This feature ensures that every batch is cooked perfectly, eliminating the need for manual intervention. AutoFry's hypersensitive temperature probe measures the temperature of the oil within the unit, detecting how much the temperature drops when food has been dumped into the machine. AutoFry then adjusts the cook time to compensate for that drop in oil temperature.
SimpliFry technology is what makes AutoFry best known for its consistent quality. AutoFry cooks every batch to perfection, from the start of the day to your final order. Ensuring that customers receive the same great taste every time, allowing you to build customer loyalty and establishing a strong brand reputation.
AutoFry is a game-changer for businesses in the foodservice industry. With labor shortages and increased demand for takeout and delivery, AutoFry can streamline operations, save time, and reduce costs. AutoFry is also designed to be easy to clean, minimizing downtime and allowing for a more efficient operation.
One of the biggest advantages of the AutoFry is its ventless design. This means that the machine does not require a hood system, eliminating the need for costly installations and reducing energy costs. The ventless design also makes it easy to move the machine from one location to another, making it ideal for catering businesses or food trucks.
Offering a versatile experience for every use, AutoFry can cook a wide range of products, including chicken tenders, mozzarella sticks, onion rings, and more. The machine is perfect for both traditional and specialty foodservice establishments, making it a valuable addition to any kitchen.

Motion Technology, Inc. is a world leading ventless kitchen solutions provider of fully automatic deep-fryers and high-speed ovens. Our passion for the highest quality customer satisfaction motivates us to provide the best experience possible.
Learn more at mtiproducts.com.