As if a worldwide pandemic wasn't bad enough, today's restaurants are contending with rising food costs, labor challenges and supply chain interruptions that have put many operators over the edge.
According to a July 29, 2022 report, the U.S. Department of Agriculture (USDA) recently raised its forecast on food price increases for 2022. The agency now estimates that all food prices will increase between 8.5% and 9.5% in 2022.
This means it is more important than ever to control food costs by working in tandem with vendors, reengineering and/or shrinking menus, purchasing products in bulk such as vegetables and meat, and minimizing waste.
In addition, finding qualified and dedicated staff has become more difficult, as the supply of workers is not keeping up with the demand.
Restaurant operators can create a positive environment where people look forward to coming to work. This starts with compensation and incentives that show the employees they are valued. Also, providing a safe and productive workplace with the appropriate equipment to do the job right and that is properly maintained to prevent breakdowns are key. In addition, safety measures that ensure no injuries occur on the job should be put in place and followed. This will minimize downtime for workers.
Supply chain challenges are out of everyone's control, so managing this is not so cut and dried. For restaurant operators, it pays to be nimble and versatile. Being prepared with ingredient substitutions and alternative menu offerings goes a long way in handling product shortages that are inevitable in today's climate.
There's no doubt many of today's challenges are unprecedented, but for those who think outside the box and can pivot, these issues can be overcome.
---
Addressing Unique Challenges
When PPX Hospitality Brands' chief culinary officer Matt King began looking at airport locations for Legal Sea Foods and Smith & Wollensky, he realized small sites have unique challenges.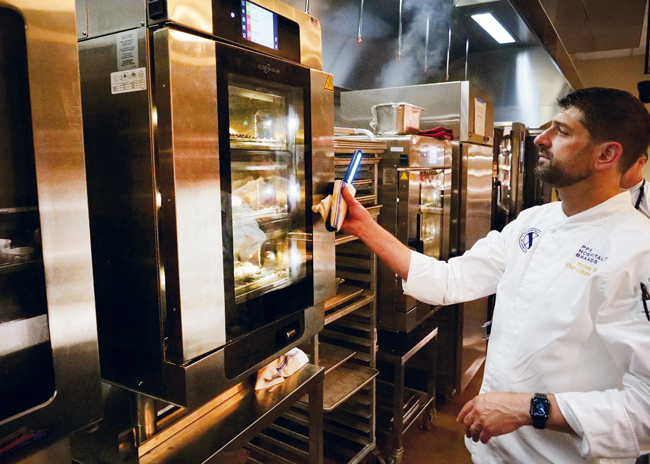 "With no traditional hood systems, we needed ventless cooking," he says. "We also required a short cook time, as there is a lot of seat turnover. Food needs to get out as quickly as possible."
PPX Hospitality Brands became an early adopter of Alto-Shaam's Converge Multi-Cook Ovens' new technology as a beta test user.
With the Alto-Shaam Converge ovens, quality is not sacrificed for speed.
"With the air flow and injection of moisture, items are cooked 30% to 40% faster than traditional convection ovens without losing quality," King says.
Recipes can be pre-programmed and pushed to and from the ovens through Alto-Shaam's web-based oven management system called ChefLinc™.
To ensure the Converge oven was a good fit for its concepts, King and his team conducted a simulated restaurant test at Alto-Shaam's headquarters and manufacturing facility. Employees enjoyed lunch with items from both Legal Sea Foods and Smith & Wollensky.
"We wanted to prove the oven works and see what it is capable of," King says. "We discovered it could feed 500 people in an hour and a half, which was remarkable."
PPX Brands has several Converge ovens on order for its new builds and retrofits.