All these issues lead to lowered performance and place your stored items at risk. Fortunately, there are ways to repair your cooler or freezer and restore its performance.
Refurbishment Or Replacement?
Depending on the condition of your walk in, you may be wondering if it makes sense to refurbish it or just replace the whole thing. A good rule of thumb is if the walk in still holds temperature and the damage is confined to one or two components (door, floor or refrigeration system), refurbishment is the more practical solution.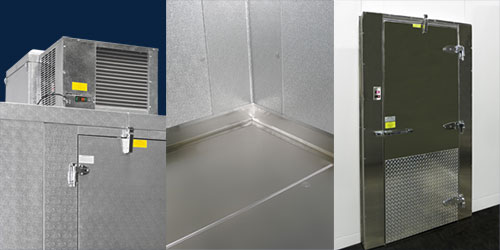 Walk In Door Replacement
Over time, numerous openings and closings, dents and scrapes reduce the performance of a walk in door and place your stored items at risk. Replacement doors restore your walk in's ability to hold the cold. To make the replacement process as simple as possible, look for surface-mount doors. These doors are easy to install since they mount on the outside of walk in panels and don't require exact sizing to an existing opening. Surface-mounts fit practically any walk in cooler or freezer, even if you bought the walk-in from a different manufacturer.
Other things to look for in a replacement door include:
Compliance with Health Department and USDA regulations
Meeting UL and NSF agency requirements
Meeting DOE requirements for both walk in cooler and freezer applications
Walk In Floor Repair
Most issues with floors are due to heavy traffic in and out of the walk in. Heavy carts can eventually cause the floor's metal finish to delaminate, or peel away, from the insulation underneath. Heavy traffic can also cause floor panels to separate forming spaces between seams. It's bad enough that your walk in efficiency will drop but spilled food and mildew formation in these gaps can lead to health hazards.
In many cases a new floor overlaminate solves the problem. An overlaminate is just a new sheet of metal installed over your existing floor. Metal types vary and manufacturers typically offer several finishes including aluminum and steel. Diamond tread is another popular finish that also adds extra traction.
If you have extensive floor damage or want to add a floor to an existing floorless walk in, drop-in floors are the answer. Drop-in floors are complete floor panels, not just overlaminates, that are field installed in your walk in.
Refrigeration System Replacement
Some manufacturers also offer replacement refrigeration systems. If a system component is damaged (a blown compressor, for example) you can usually replace it with a new self-contained or remote system. Replacements can also be an upgrade to an older system if you are looking to improve efficiency.
If you would like more information on refurbishing your walk in, please visit our webpage or give us a call at 800-955-5253.