The family-owned restaurant in Eagle River, Wisconsin needed to make the difficult decision to close on Wednesdays, with a nationwide labor shortage.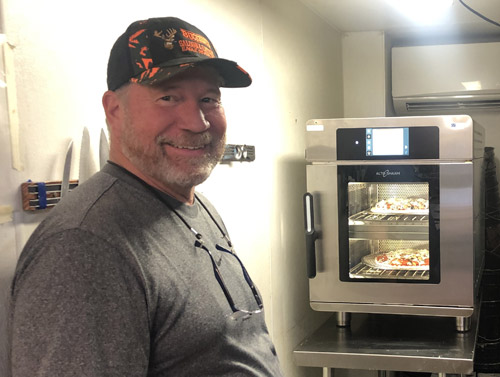 "Because of the loss of employees, we just didn't have the horsepower to stay open, and I did not want to have to close another day," said Dan UIlsperger, Buckshot's owner and operator.
UIlsperger needed an oven that boosted productivity in the kitchen—while also upholding the restaurant's reputation for providing the highest quality food and service. Buckshot's chose Alto-Shaam's latest Vector® Multi-Cook Oven – H Series Wide.
"Vector was the right solution I was looking for," UIlsperger said. "It's incredible to be able to put food in the oven, hit a button and walk away. There's not any other piece of equipment in our kitchen that allows our cooks to multi-task."
The wide edition increases the width of the original Vector oven, allowing Buckshot's to cook a variety of food items, including extra-large 16" pizzas. Structured Air Technology® enables high-velocity, focused heat for more even and consistent cooking, ensuring the highest quality output. Featuring up to three independent chambers, operators can control the temperature, fan speed and cook time in each individual oven chamber for maximum flexibility.
This allows Buckshot's to simultaneously cook a variety of menu items with no flavor transfer, including pizzas, seared ahi tuna steaks, bacon, grilled chicken and more.
"I had to tell my cooks to trust that they wouldn't need to babysit the oven during the cooking process," UIlsperger said. "They worried about needing to add an extra minute to the cook time. I came back after an hour, and they were amazed that the food came out so perfectly just from the programmed recipe."
Vector has further enabled Buckshot's to begin plans to expand their menu with an Italian night on Tuesdays, featuring lasagnas, chicken alfredo, garlic bread and more.
"Ideally, I want to revamp my entire menu around the capability of Alto-Shaam's products," Ullsperger said. "I'm excited to see what the Vector is capable of doing with some items that aren't on our menu right now."
Consistent food quality is the key to Buckshot's exceptional customer experience.
"If you don't have consistency, you're dead in the water as a restaurant," Ullsperger said. "Having an oven that is programmed to cook food perfectly, ultimately keeps our customers coming back."
To learn more about the latest Vector Wide Ovens, visit www.alto-shaam.com.