Kitchen Controller™ System completes the closed-loop oil management system; prompts actions to maximize oil health.
New Kitchen Controller system removes guesswork, improves food quality, saves money
Foodservice is always a challenging business. Now, in the midst of an unprecedented employee shortage, automation is more important than ever to maintain productivity without sacrificing food quality or customer experience.
Cargill and Frontline International have collaborated to develop the Kitchen Controller™ end-to-end automated oil management system. The new state-of-the-art solution leverages Cargill's foodservice experience and oil quality knowledge with Frontline International's Smart Oil Management® equipment expertise, providing foodservice brands with an integrated, intelligent approach to oil management.
Oil management is critical to profitability. The Kitchen Controller's simple user interface color-codes necessary actions. To resolve open issues, kitchen staff need only push a button. It is a smart, integrated, and easy way to maximize fry oil quality, reducing the total cost of fried foods while helping to deliver high-quality, great-tasting products every time.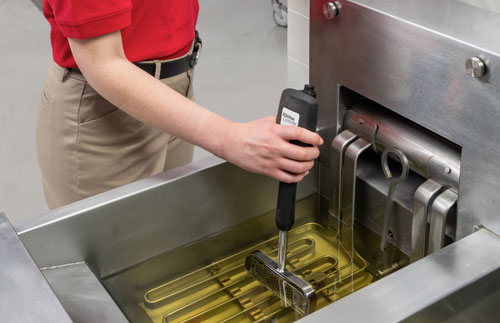 Easy-to-use Kitchen Controller system takes the guesswork out of oil management.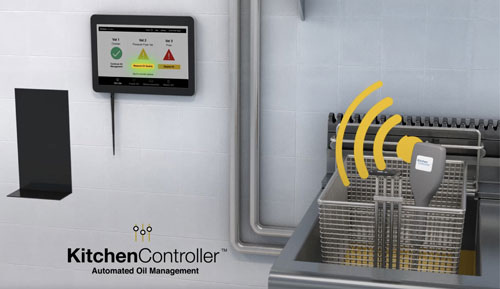 Insert the sensor into the v
There's no more guesswork, or worse, ignoring oil that requires attention. The automated, data-driven Kitchen Controller system connects to fry vats, monitors oil quality, and makes immediate, on-the-spot recommendations in a red-yellow-green format to help kitchen employees manage their oil. Employees must clear any red or yellow warnings to get to a green status, making the system one that directly prompts employee action.
at; oil health is broadcast to Kitchen Controller monitor.
The Kitchen Controller system informs highly engineered oil-handling equipment, allowing foodservice kitchen teams to manage oil easily and safely. The system directs fresh oil top-off, alerts for oil life and inventories, when to discard oil, when to order fresh oil, and can contact the store's oil collector for pickup. The user-friendly dashboard connects wirelessly to the system, providing easy ways to view metrics, optimize costs, and assess oil quality at any time.
Kitchen Controller system equipment:
Oil Quality Wand: Lower the wand's probe into the oil, hold for an oil quality reading, and the system does the rest. The wand's proprietary, highly-sensitive surface technologydetects even minute changes in oil quality, enabling the most thorough oil integrity reading and monitoring available. The collected information is synthesized into usable, actionable data by the Kitchen Controller system software information and fed to a touchscreen mounted near the fryer.
Software: At the center of the system, oil quality data is gathered from the vat, and proprietary software provides analysis and triggers recommended alerts and actions. Measurements of oil quality, fryer vat volume, fresh oil supply, used-oil tank volume, and more are collected, and the system records any changes. Data flows to the system directly from measurements taken from the fryer vat, and immediate recommendations are made based on algorithms programmed into the system created using decades of research on optimal oil quality. Potential alerts and actions such as: continue oil maintenance, top-off oil, take new oil quality measurement, schedule used oil pickup, etc., are prompted, and, with a touch of a button, can be marked as completed.
Oil Management Services:Frontline International contributes a complete oil-handling infrastructure, including fresh oil dispensing, used oil collection, and used oil containment. Frontline International fresh oil automation equipment uses packaged oil exclusively instead of bulk, achieving greater yields and allowing higher initial oil quality and a wider choice of oils. Kitchens will be cleaner and safer, because all oil handling, from distribution tofryer vatsto moving used cooking oil to containment tanks, is done via a closed system. No oil is handled manually. Containment tanks are lockable and can be unlocked remotely for access by rendering partners.
Actions are automated, from ordering fresh oil, vat top-off, emptying the vat, and more.
The Kitchen Controller system fills a previously unmet need in the industry for end-to-end oil management. Until now, some players in the oil space provided oil products, others provided bulk oil supply and used oil collection, and still others provided oil quality data with limited actions or recommendations. Proper oil management can have a huge impact on product quality and production costs.
The Kitchen Controller system addresses industry challenges and helps shape foodservice kitchens of the future. Value is achieved when cooking oil is viewed as not simply a commodity but a key driver of brand value and bottom-line benefit. The Kitchen Controller system literally puts store employees in control of their kitchen's investment in cooking oil.