Corporate Director Culinary, Kim Miller-Boivin, explains how Welbilt's culinary team can bring extra value to operators.
Kim Miller-Boivin, Corporate Director Culinary, Strategic Accounts, Welbilt FitKitchenQ: As kitchens reopen, what are some of the issues being dealt with?
Kim Miller-Boivin: The biggest thing is that operators will have to rethink how they do their business. A lot of people have planned around the revenue that comes in from the restaurant being fully seated; now they have to think of other ways to bring that revenue in the door. Not only do operators have to rethink their business model but some of the things that they have on their menu are probably not very friendly for taking away and enjoying at their best in a to-go situation. They have to think twofold: Is it that the meal is only three-quarters prepared and there's instructions for the guests to finish it off and make it an enjoyable meal when they get home? Or do they just eliminate that from their offerings?
Q: How else are menus affected?
KMB: People are looking for things that they're familiar with, that bring back good memories and great feelings of when times were not so troubled. They want to feel that satisfaction of enjoying their favorite things, whether that be a sweet dessert or a comforting savory dish. Although diners want to explore and taste different flavors and look at different things, when they are spending money on to-go food, some of them gravitate toward food they are familiar with and know they're going to enjoy.
Q: How have restaurant operations been affected?
KMB: In the past, you might have had a lunch or dinner rush coming in the door. Today, you're still getting that rush, but people are able to call and ask for food to go. It's a more rapid situation than if they were walking in the door. So, you need to find some speed-cook alternatives. That might be cooking from scratch but very quickly in a small, accelerated cooking platform. Or you can take advantage of a sous vide situation, where you have the food cooked and then you're doing a finishing step in accelerated cooking.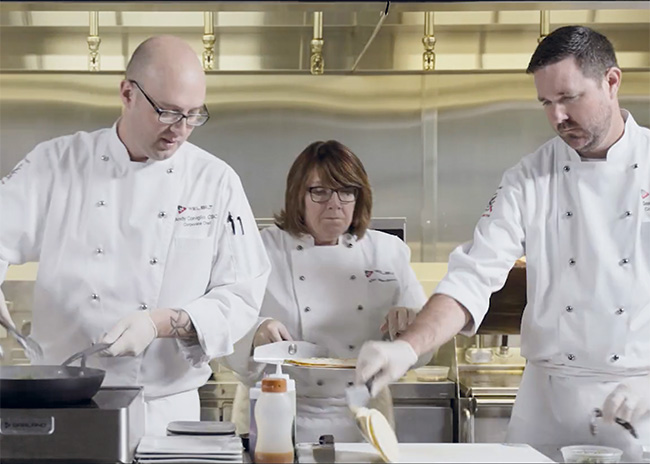 The culinary team running a product test in the Welbilt kitchen.
Q: How has the Welbilt culinary team been helping operators during this time?
KMB: Projects still have to move along, like new items that chains are planning on introducing later in the year, or ideas and ideation around some possible up-and-coming LTOs. Or things that they could do differently for items that already exist on their menu. We can do that here in our test kitchen because we have all the equipment readily at hand and are able to be an extended member of their culinary team.
Q: How does the Welbilt culinary team bring extra value to operators?
KMB: We have a wealth of experience in all the different areas of the industry. And our people are all together in one room, so we can pull from that vast experience. We're always able to use our in-house resources to look at what is trending out there and see what consumers are changing to or looking for. Our mission is purely to support and help their business move forward and prosper.