With 24 kitchens serving 15,000 students, Texas' San Angelo Independent School District requires reliable equipment that can handle producing 7,000 breakfasts and 6,000 lunches every day.
"We do a mix of from scratch, speed scratch and convenience production," says Michelle Helms, the district's foodservice director.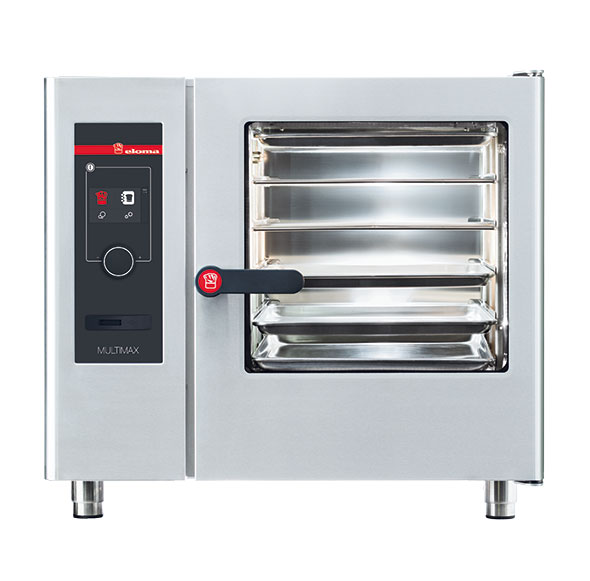 Eloma's MultiMax combi steamer's compact size paired with the ability to cook a variety of items makes it the smart choice when working in a smaller footprint.Prior to choosing Eloma's MultiMax 6-11 gas combi steamer as single unit and stacked configurations, the district worked with two other brands that didn't meet its needs.
"We were looking for a boilerless model that required less maintenance and had a smaller footprint," Helms says. "In older kitchens like ours, space is
valuable, and size is really important."
San Angelo ISD's schools switched from a 50-inch combi steamer to Eloma's 36-inch model to work smarter instead of harder. Though the Eloma combi steamer is smaller, it offers the true advantage of not being overloaded or skipping every other shelf for airflow while also being self-cleaning.
The small footprint allows operators to replace convection ovens with ease, while using less water and requiring no monthly deliming due to boilerless technology. Operators simply select the desired cleaning cycle and press start, without the risk of handling chemicals and getting chemical burns or cross contamination.
"It is faster and accommodates more product, which saves time," Helms says.
San Angelo ISD's combis are used for a variety of applications, including cooking meats, steaming vegetables and, in its larger kitchens, baking cookies and pizza.
"The combis also provide us with the ability to make crispy fries and evenly baked items. We have cooking flexibility all in one unit."