In today's competitive healthcare market, patient satisfaction is top of mind. With a portion of a hospital's federal funding hinging on responses to HCAHPS patient satisfaction surveys, every aspect of the stay is important. Although foodservice is not directly addressed in the survey, the quality of their foodservice experience creates a "halo effect" that influences responses to other questions. For this reason, a smooth running kitchen is paramount. If there is any disruption due to faulty or disabled equipment, it can affect menu offerings and food delivery.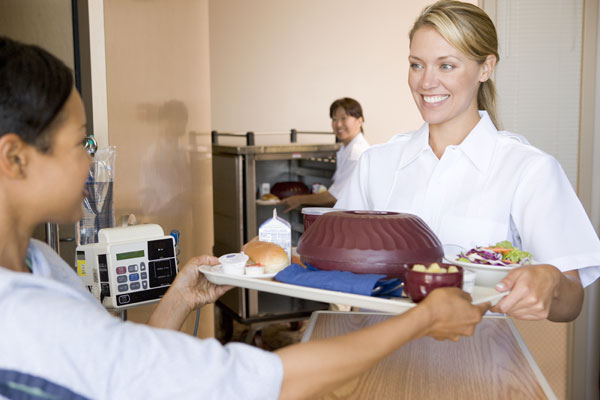 The quality of the foodservice is imperative to the hospital patient experience. Having experts from Heritage Parts as a foodservice equipment parts partner is paramount in keeping the kitchen running smoothly and patients happy.
Here, Dee Osborne, Heritage Parts' business development manager, discusses why healthcare facilities should select a foodservice equipment parts partner that understands foodservice's role in the overall patient experience.
Q: Explain what engineers and foodservice directors should be thinking about before they have a critical foodservice equipment failure.
Dee Osborne: It's important to not only have all the information needed if equipment breaks down, but who to go to for the proper parts. When I started in the industry 28 years ago, many facilities stocked parts for foodservice equipment. Now, with people not wanting to carry inventory and parts more readily available on the internet, they can get them quicker than in the past. Many healthcare facilities, especially larger hospitals, are members of GPOs (Group Purchasing Organizations) that provide better pricing and availability on building maintenance items. However, it is important to distinguish that in the foodservice industry, equipment parts are a specialty product rather than a standard item procured through a GPO.
Q: So are GPOs a good resource for foodservice equipment parts?
DO: What Heritage Parts offers doesn't fall under that umbrella, because it's specialty equipment specific to the manufacturer and model. While one hospital may use one type of steamer, another may use one from a different manufacturer. Even though the units serve the same purpose, the parts needed to operate both are completely different and not interchangeable. If a piece of equipment goes down, it helps to know there's an expert like Heritage Parts at the ready. Although some of the larger GPOs have maintenance contracts with supply companies and warehouses, the majority are handling building maintenance items and don't have the necessary expertise in foodservice equipment parts.
Q: Why do foodservice equipment parts require a unique product knowledge from the supplier?
DO: If you're going to buy a mop head, for example, if it's the right size mop head it will fit on the handle and work for you regardless of the brand. In our industry, newer equipment models especially need parts specific to the make and model. Healthcare organizations need to know the ins and outs when they call with equipment needs, and we have that information. This ensures when the part arrives, it's the OEM replacement that will get the unit running, minimizing downtime. Healthcare organizations are not going to go to a building maintenance supplier to buy a part for an x-ray machine, and the same should hold true for foodservice equipment parts.
For more maintenance tips visit HeritageParts.com.