How do you make Homer Laughlin's lightest-yet-durable dinnerware even better? In response to high demand, HLC is offering Gala™, the lightest ware it has ever created, in seven new pattern options sure to elevate any dining concept.
Furthering the trend toward metallics, Mia Gold and Mia Platinum have a single, elegant metallic band around the outer rim. Ella Gold and Ella Platinum start with that outer band and also add a second metallic band around the verge. Filling a need for intricate rim work are English Ivy Grey, which accents the rim with a delicate vine and leaf pattern, and Gossamer Gray and Gossamer Pink, featuring a sophisticated lace pattern in a broad band around the entire rim.
The sleek design, brand-new shape, and strong, alumina-infused Ameriwhite® body of Gala already provide a stunning backdrop for meals and celebrations while enhancing chip resistance and heat retention. These new patterns create additional options for increasing eye appeal.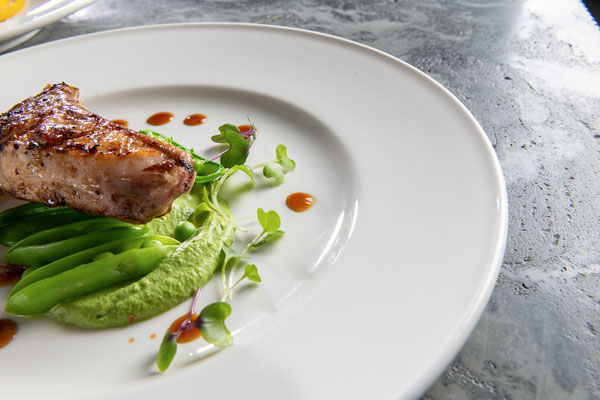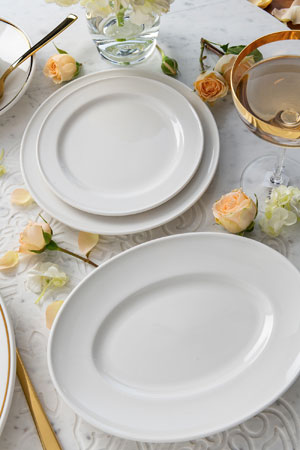 The discreet cord edge of Gala brings unique design flair—but is also a source of added strength exactly where it's needed most. (In the fast-paced foodservice environment, virtually all chipping occurs due to edge-to-edge contact—where the plate has the least amount of surface area and protection.) The cord edge resolves the problem without adding significant weight. Gala's rim is also artfully concave and at a higher angle for added strength and light reflection.
Each of the new patterns is specially designed to enhance these design aspects of Gala, using the ware as a jumping-off point for achieving even greater heights of plating potential. The graceful metallics catch light while the filigrees in elegant hues accentuate every curve. Gala is already loaded with subtle angles to play with light—now chefs and restaurateurs can select a perfectly crafted pattern to enhance these attributes and entice diners.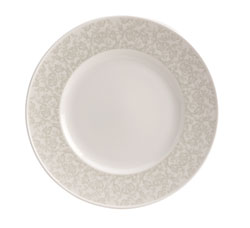 To learn more about Gala and all of Homer Laughlin's dinnerware options, visit http://www.hlcdinnerware.com/home.