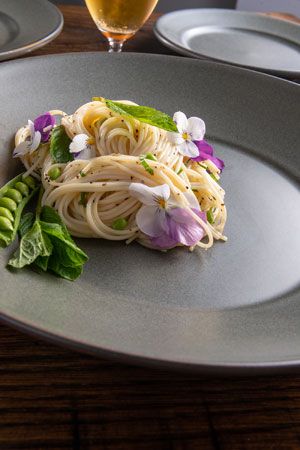 Is it possible for something to act as a neutral, yet still be bold? Homer Laughlin says "yes" with new Quarry. Inspired by the appearance of tumbled stone, Quarry is neutral enough to let food shine, but bold enough to make a statement.
Who says every blank canvas has to be white? Quarry is a full line of dinnerware created especially to serve as a dramatic backdrop for chefs' creations when plain white just won't do. Quarry won't compete with food, but won't fade into the background, either. It has just the right amount of personality, like you would expect from any good wingman.
Like gently buffed stone, the satiny finish of Quarry becomes a blank slate where creative chefs can plate their artistic concepts. Its surface was specifically designed to complement—but never overshadow—the rich colors and textures of perfectly prepared foods. Quarry's hidden depths reveal subtly melded hues of gray, dusky olive, and blue, depending on the lighting. An understated yet forward-looking choice, Quarry takes on different looks depending on its surroundings.
"We made Quarry for chefs who wanted a neutral color palette that wouldn't clash with or compete with different types of cuisine, but were looking for something with more presence than white," said Katie Bricker, foodservice and general marketing manager for HLC . "Up close, the finish is nuanced and variegated, which helps plating really come alive. We're eager to see how chefs use it."
Quarry invites patrons into the dining experience, invoking texture and complexity but offering a silky
surface against flatware. Its elegant curves and deep wells enhance and present food in its best light.
Quarry invites chefs and restaurateurs to dig deep and excavate their creativity, now that there's dinnerware that can stand up to their boldest ideas.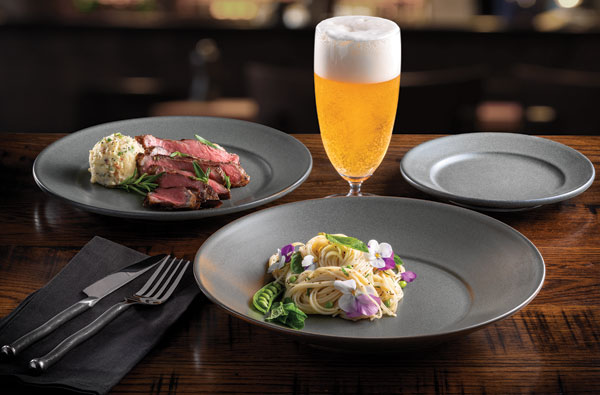 Find the perfect ware for you at http://www.hlcdinnerware.com/home.