Many factors can influence the purchasing decision when it's time to consider a new dishwasher. Getting dishes and ware really clean is of the utmost importance, and ease of operation is essential. Saving resources like water, energy and chemicals also helps the bottom line. What really differentiates one machine from another are the technologies and features that make the daily dishwashing tasks easier and more cost-effective.
Hobart commercial dishwashers have a number of advanced technologies that set them apart from others. Take a look at just a few of them:
Ventless Energy Recovery is available on most of Hobart's high-temperature dishwashers. This technology condenses the steam from the air in the wash chamber and uses the heat energy to preheat the cold water coming into the machine. This reduces the energy needed to preheat the water for the 180 degree F sanitizing rinse. Based on running 200 racks per day, Ventless Energy Recovery can save up to $300 in energy costs annually, when compared to non-ventless door-type units, and also eliminates the need to install a vent hood — another $3,500 savings. And keeping hot steam inside the dishwasher means less heat and humidity in the dishroom, making it a more satisfying work environment.
Drain Water Energy Recovery (DWeR) is a feature on Hobart Advansys™ CLeN conveyor-type dishwashers. DWeR captures the heat from the hot wastewater to increase the temperature of incoming water from a cold-water line, so the booster heater does less work to raise it to the proper sanitization temperature of 180 degrees F. The system has the additional benefit of cooling down the outgoing drain water, thereby lessening the amount of cold-water tempering needed for the drain water. That's less water and money down the drain.
Automatic Soil Removal (ASR) technology helps users not only save water but reduce their labor costs, too. With ASR, heavy food soils are filtered out during the wash cycle, which means less prescrapping. The soils are actively pumped out of the wash water, so the wash water stays cleaner, longer. That leads to fewer tank fills, requiring less labor. The food soil is then pumped into an external scrap basket. On average, based on a rack-conveyor running 550 racks per day, prescrapping time can be reduced by as much as 20 percent. An operation using ASR can save more than 8,000 gallons of water annually, resulting in a cost savings around $500 on water, energy and chemicals.
Depending on the type and model of machine you select, Hobart commercial dishwashers offer a variety of other features that save time, money and labor, such as:
Auto-cleaning and auto-deliming, which can save staff up to 30 minutes per day in cleaning time;
A configurable, NSF-rated pot and pan mode to clean stubborn, baked-on food soil.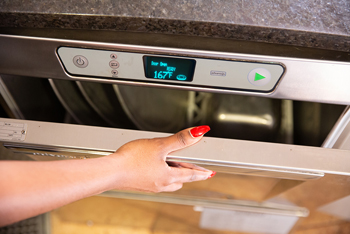 Steam Elimination on Hobart Advansys undercounter dishwashers keeps steam out of the dishroom and operators' faces.No matter what type of dishwasher you use — conveyor-type, flight-type, door-type, undercounter or glasswasher — the advanced technology found in Hobart dishwashers goes beyond just delivering consistent performance. By using water, energy and chemicals efficiently, they can significantly lower your cost of ownership over the lifespan of the machine. A machine that performs better can lead to increased employee performance and job satisfaction. And to keep your dishmachine running at peak performance, Hobart has a responsive, professional service team in all 50 states.
For all those reasons and so many more, Hobart commercial dishwashers have been named "Best in Class" by Foodservice Equipment & Supplies magazine for 17 consecutive years.
Learn more about Hobart commercial dishwashers at hobartcorp.com/products/commercial-dishwashers.
Content sponsored by Hobart