The focus of commercial restaurants has always been on food and profits. Recently, this has been a rising trend for non-commercial outlets.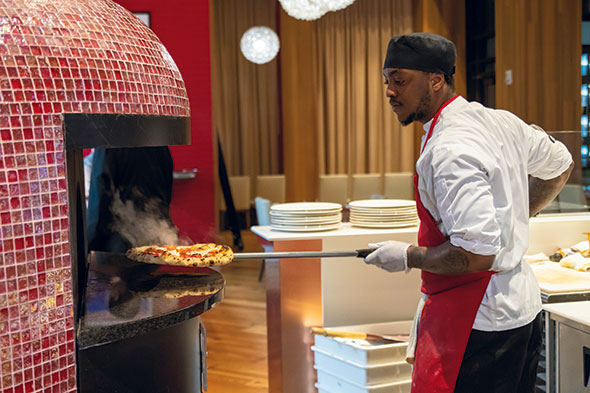 Marra Forni's Rotator oven, serving up hundreds of pizzas and high-quality meals day after day.
"One of the most important items to recognize as a challenge in a non-commercial operation is providing creative, healthy and cost effective food options with low labor to your patrons," says Angelo Mojica, senior director of nutrition and culinary services at John Hopkins Health System. "Also in non-commercial operations, operators are not easily able to find highly-qualified chefs, so a good amount of dedicated time is dedicated to training."
This is not as simple to overcome as it may seem.
"Training costs money as an investment into the employees, but that investment can be turned around in a negative format if that trainee decides to leave for other endeavors in a career field," says Mojica.
The tide has changed, and there is equipment technology that raises the bar. Marra Forni's Authentic Hand Crafted Brick Ovens provide a solution for non-commercial operators struggling with budgets and staff training challenges who are seeking high-quality, consistent and high-volume results.
Marra Forni's ovens are easy to use with an innovative touchscreen technology fully controls temperature, deck rotation direction and speed as well as the auto on/off powered exhaust fan, so there is no need for a highly-trained operator. These customizable, durable, energy efficient and high-tech feature packed handcrafted brick ovens perform high-volume cooking, expanding menus with high-quality items.
The proprietary bricks and rotating deck allow Marra Forni ovens to cook made-to-order gourmet pizzas that are much healthier than the traditional version. These pies have fewer calories, and the flour used is often better for people with gluten sensitivity. Another asset of this oven is its versatility. It can be used for baking, slow roasting, braising and searing meats. It delivers fire roasted vegetables and seafood in cast-iron pans, and even can be used for preparing fresh baked bread and sandwiches.
"What Marra Forni developed is a product that identifies the need for entry level cooking personnel to produce a highly profitable product, such as pizza," says Mojica. "Their rotating ovens assist in efficiency and effectiveness in training, labor costs savings and low shrinkage rates.
"For example, the LCD touch screen capabilities allow operators to automatically turn the oven off and on, so there's no need for an employee to arrive early to warm up the oven," says Mojica. "If you calculate two hours every day by the amount of days you are open, times the hourly wage you pay your opening crew, your savings from the automatic on and off function would buy your oven in theory."
The MF oven's integrated eyebrow hood system allows for direct venting to be used, instead of a traditional hood system, which can save operators thousands of dollars. This design also ensures better performance due to proper air flow in and out of the oven, which will result in consistent cooking results.
And the appeal of the oven's custom tile work and crackling open fire, create an enticing visual, further raising the bar for non-commercial applications.