A Q&A with Chef Luciano Delsignore
Chef Luciano Delsignore uses the KitchenAid Commercial countertop blender to make everything from peanut butter, chocolate hazelnut and puréed soups.
Q. Talk about your background and the importance of reliable kitchen equipment.
Chef Luciano Delsignore: I began my career working in the kitchen of my parents' Italian restaurant, Fonte d'Amore in Livonia, Mich. Having spent summers in Abruzzo, Italy, where my parents were born and raised, I moved to Italy and trained in some of the best restaurants. After returning to the United States, where, at the time, most Italian restaurants had a heavy American influence, I convinced my father to remodel the family restaurant to provide an authentic Italian dining experience. Now, I own Bacco Ristorante, a fine-dining restaurant with an emphasis on inventive, contemporary dishes. I'm also the proprietor of Bigalora Wood Fired Cucina, a casual chain that serves authentic, Neapolitan-style, wood-fired pizzas. I credit my success to my European training, my passion for food and, of course, my reliable kitchen equipment.
Q. How important is equipment quality in terms of time savings?
A. It's among the most important things we can have in a kitchen. We work in a business where stuff breaks – heating, cooling, plumbing – we have all those people on speed dial to keep us up and running. But our KitchenAid Commercial equipment is extremely reliable. Never having to worry about the functionality of our tabletop appliances is priceless to us. The stand mixer, the immersion blender and the countertop blender are the go-to, everyday pieces of equipment. We use them 10 to 20 times a day.
Q. Discuss the importance of time savings in the kitchen and how the KitchenAid Blender assists with that?
A. Any way we can save time without sacrificing quality, we win. The KitchenAid Commercial blender has become the chef's best friend. It can puree anything from frozen peas to toasted nuts in a smooth puree in seconds. We have even ground farro and other whole grains into flour in the KitchenAid blender for pasta making! When executing an off-site dinner for 600 guests, we were able to make a delicious smooth & airy Béarnaise sauce in a matter of minutes, also keeping it hot with the dual wall thermal container. The Coulis cycle on the Culinary blender also works great. We don't have to take extra time to strain the sauce or soup after blending, it is so smooth!
Q. What makes KitchenAid Commercial appliances the ideal time savers?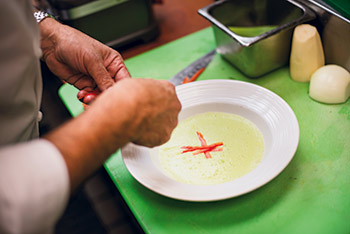 The power and speed can "take down the smallest seeds possible and puree's them entirely" says Chef Luciano Delsignore.
A. The design and ease of cleaning. Chefs can disassemble them quickly and be right back in business. We use the same bowls and blender jars again very quickly. We love that the immersion blender is all packed in this beautiful hard case. The parts go back together easily, so we aren't missing pieces when you need them. We love the handle on the back of the tabletop blender. The orange, commercial-grade cord unplugs from the machine quickly, so we can move it to wherever we need to work. Everything about the design has been really thought out with the professional chef in mind.