Vector Multi-Cook Ovens from Alto-Shaam provide operators with unrivaled benefits for their business, including improved food quality, increased production, reduced labor cost, and the revolutionary ability to cook different foods in the same oven at the same time.
Now this innovative technology is available in a larger size. Building on the overwhelming success of the H Series countertop models, the new F Series full-size electric models offer many of the same benefits, but the larger size allows the combination of oven chambers to accommodate taller foods, such as turkeys or roasts.
Up to Four Ovens in One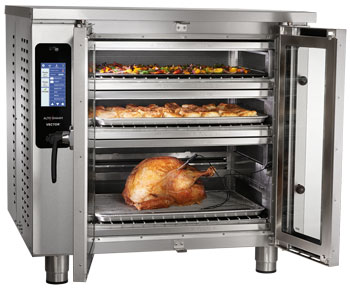 Vector ovens feature up to four independent oven chambers, each with individually-controlled temperature, fan speed, and cook time, with no flavor transfer between chambers. No other oven allows high-quality, simultaneous cooking of a wide variety of foods, including breakfast sandwiches, hash browns, cinnamon rolls, pizza, tater tots, nachos, seared salmon, grilled chicken, cookies, cupcakes, and crème brulee.
Vector ovens are so versatile they can replace a wide variety of kitchen equipment, including traditional convection ovens, microwave and speed ovens, combis, grills, conveyor ovens, and salamanders. One F Series Vector oven can replace two traditional convection ovens.
Faster, More Even Cooking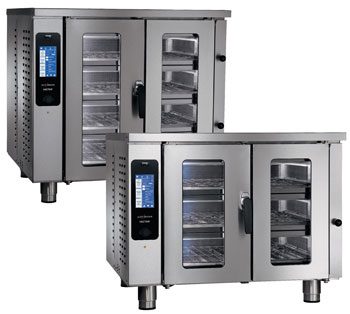 Vector's exclusive Structured Air Technology™ uses no microwaves, but cooks foods faster than traditional ovens, producing twice as much food in the same amount of time. Vector ovens cook more gently and evenly than microwave and rapid-cook ovens, so your customers won't have a dry, hard breakfast sandwich brick five minutes after purchase. This technology also prevents heat loss when the oven door is opened, allowing food to be loaded into and unloaded from one chamber while foods in the other chambers continue cooking.
Reduced Labor and Operating Costs
Vector ovens eliminate the need to watch and rotate pans and are simple to operate and easy to clean. They can be pre-programmed with recipes, decreasing the need for skilled labor. The waterless design requires no plumbing.
Vector Still Fits Anywhere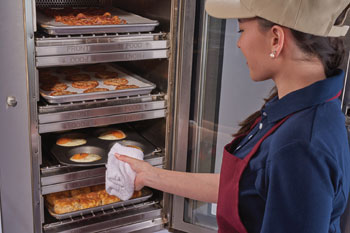 The original H Series countertop models feature a compact 21" footprint and a ventless design, allowing them to be placed anywhere and eliminating the need for an exhaust hood. The H Series is available with two, three or four chambers.
To learn more about the new F Series Vector Multi-Cook Oven or attend a demo, visit https://www.alto-shaam.com/en/products/vector-multi-cook-oven/vector-f-series.