KitchenAid mixers have been a favorite with home cooks and professional chefs for many years. In fact, 2019 will mark 100 years in business for the venerable brand.
The KitchenAid commercial mixer is designed for tough professional usage, while the Culinary Blender features a durable die-cast metal base.Now KitchenAid is providing equipment made especially for food service professionals: the KitchenAid Commercial line. "We're now offering products that are designed for use in commercial kitchens yet offer the core promise made by all KitchenAid small appliances: easy to use, simple to clean, and built to perform," says Jeff McClure, Global Director, KitchenAid Commercial.
The line starts with, as you might expect, a mixer. But this isn't just any ordinary mixer. "This is a workhorse made for a commercial kitchen," says Susan Azadian, National Sales Manager, KitchenAid Commercial." This 8-quart, NSF-certified stand mixer has a powerful 1.3 HP* motor that can handle up to eight pounds of dough. The commercial-grade stainless steel flat beater, dough hook and wire whip are standard accessories and make cleanup as simple as putting them in the dishwasher. Its PowerCore® technology delivers consistent power while reducing heat buildup for long-lasting performance. Five-quart and seven-quart bowls are also available and can be purchased separately for smaller or more delicate jobs. In the U.S. and Puerto Rico, the KitchenAid Commercial Mixer is backed by a two-year replacement commercial warranty**. "If anything fails on the mixer (excluding damage resulting from accident, alteration, misuse or abuse) during the warranty period, you can call our customer service number and we'll dispatch a new unit," says McClure. "We'll pick up the old unit at no cost to the operator. That shows our commitment and confidence in the product during commercial usage."
Next is the 400 series Immersion Blender. Extensive ergonomic observation and testing went into the handle design on the KitchenAid immersion blender. "You have three different ways you can hold it, for less fatigue," says Azadian. A powerful 1 HP* motor makes quick work of the toughest blending jobs, and an easy-to-control ring lets you control the speed up to 18,000 RPM. It even comes packed in a durable storage case, making it convenient for offsite projects.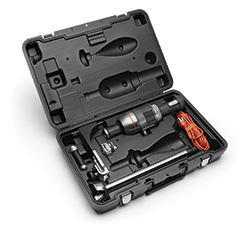 The KitchenAid immersion blender comes in a handy storage case.Last but not least, the KitchenAid Commercial Countertop Blender is perfect for bar or kitchen use. A 3.5 peak HP* motor can blend a perfect margarita in just 22 seconds, and a 60-ounce BPA-free jar allows for clean pouring from three sides. Simple controls make it easy to use; a die-cast metal base makes sure this blender is durable and steady on the counter.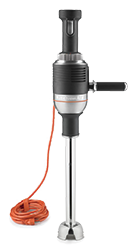 McClure sums up what's behind the KitchenAid Commercial line. "We create efficiencies in the kitchen with our products and chefs depend on our products to make a living. Reducing time in a process and providing confidence through dependability is something that we're always striving to do."
*Motor horsepower for our stand mixer, immersion blender and blender motors was measured using a dynamometer, a machine laboratories routinely use to measure the mechanical power of motors. Our horsepower reference reflects the horsepower rating of the motor itself and not the products output to the blending or mixing vessel, which will be less.
**Warranty details available for review at KitchenAidcommercial.com or call (855)-845-9684.