Running a restaurant is a tough business. It's even tougher when you have a small kitchen space to work with. But that's the challenge that's faced every day by Peter Shuey, Managing Partner of the Hoppy Gnome in Ft. Wayne, Ind.
Thermodyne helps the Hoppy Gnome slow-cook their proteins to perfection.The Hoppy Gnome opened in 2015 to fill a niche Shuey felt was being unmet locally. "We wanted a restaurant focused around the craft beer industry," he says. "There wasn't really anybody in town taking advantage of the great beer the Midwest has to offer." After visiting craft breweries in Chicago and Indianapolis for inspiration, the next focus for Shuey and his team was deciding on the menu.
One morning, while having a breakfast taco, the Hoppy Gnome team "all just had that 'light-bulb moment,'" he says, "where we looked at each other and said, 'Why not tacos and beer?'" Thus the menu for the Hoppy Gnome — craft beers with a wide selection of tacos — was born. Original plans called for a 300-plus-seat restaurant but once the menu was developed, the Hoppy Gnome was scaled back to about half that size.
Problems
A Polar King Fiberglass Outdoor Walk-in Cooler provides ample cold storage.With a limited menu consisting primarily of tacos, and after some consultation with the chef, it was decided to shrink the kitchen area. "We didn't really need a lot of working space…or so we thought," says Shuey. To maximize front-of-house seating, the kitchen was reduced to its current size, about 400 square feet. An 8' x 8' cooler in the kitchen seemed sufficient to handle the restaurant's refrigeration needs.
Shortly after opening, Shuey found the cooler size was too small. "We thought on paper with our menu, it seemed fine. But we realized we were extremely incorrect." Also, the kitchen space worked as long as the menu stayed fairly tight. But after six months of operation, the Hoppy Gnome team decided to expand the menu based on guest feedback. Customer perception was that the restaurant was more of a beer bar and the Hoppy Gnome wanted to project a more full-service, family-friendly image. Shareable small plates were added, as was an expanded liquor selection. "Once we expanded the menu," he says, "that's when the kitchen became extremely small. When you have about a dozen new items, you have to find space for them somewhere."
Solutions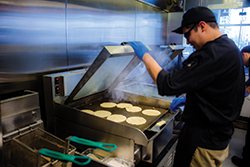 Tortillas on the steam griddle from American Griddle at the Hoppy Gnome.The first, and most critical, step to solving the kitchen space problem at the Hoppy Gnome was to increase the cooler capacity. After getting city approval, a hole was cut in the kitchen wall, and a 7' x 16' Polar King Fiberglass Outdoor Walk-in Cooler was installed to handle storage for critical items such as meat, produce and soft drinks.
The ability to turn out a larger menu, while maintaining flavor and quality standards, was essential to the restaurant's long-term success. Shuey turned to Thermodyne so he could slow-cook all his proteins to mouth-watering perfection. He uses two small-footprint Thermodyne 550CT Slow Cook and Hold Ovens to slow-cook every protein he menus: chicken, short ribs, pork cheeks, steak and others. "The Thermodyne units were the one factor that would separate us from other taquerias or anybody doing something similar to what we were," Shuey says. "Obviously, slow cooking is far and away the best way to cook most any protein, and the Thermodyne unit is the only way that we knew of on a mass scale to do that."
Cooking ahead and prepackaging is another kitchen strategy Shuey uses, and he chose two steam griddles from American Griddle to help with that. He slow-cooks his proteins and vacuum-seals them ahead of time. At service, he rethermalizes the protein on the American Griddle with steam to decrease serve time and to keep the protein moist and flavorful. "If we were to just throw that on a dry electric or gas griddle, that would really negate everything we did," Shuey says. Another benefit is the American Griddle unit helps steam-heat the tortillas.
Problems solved. The Hoppy Gnome is busy turning out anywhere from 800 to 1,000 covers on a typical eekend evening, even with the addition of a 24-seat private dining room and a small "nanobrewery," bumping capacity up to 220 seats. Shuey gives due credit to the Polar King-Thermodyne team for the assistance they've given him. "They have our same philosophy about service," he notes. "Whatever it takes to keep the guests happy is what we do, and it's what they do, too."