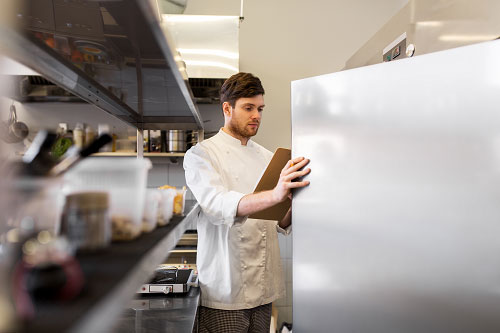 Regular planned maintenance can greatly impact the function and longevity of a reach-in refrigerator.
Reach-in refrigerators have become necessary staples in many facets of the commercial foodservice industry, from restaurants and convenience stores to grocery stores and beyond. Since they're used so frequently, keeping them well-maintained is one of the most important aspects of their upkeep. Offering planned maintenance to your customers is one of the most vital services you can provide commercial businesses. While there are many refrigerator maintenance tasks the operators can perform themselves, there are scores of other tasks and inspections that require the attention of an authorized service technician. If your service company offers regular planned maintenance for reach-in refrigeration units, here's how you can present these programs to your customers.
Outline the Overall Benefits
Reach-in refrigerators require frequent inspections and cleanings to make sure they're running properly. However, the idea of scheduling routine maintenance may be daunting at first to an equipment operator. Outlining the overall benefits of a planned maintenance schedule will not only settle any possible worries they may have, but it will also inform them on the importance of these tasks. Be sure to mention benefits like:
Worry-Free and Easy—Takes out the guesswork and stress for foodservice operators of when to call a service company to come out and inspect the unit
Avoid Unexpected Downtime—Provides thorough checks of internal components so that they avoid an unexpected issues or breakdown of equipment
Easy Troubleshooting—Troubleshoot any issues that might have popped up
Find Underlying Issues—Identify other underlying issues that might be affecting the health and operation of the reach-in, like mold or other contaminants
Cost-Effectiveness—Save money in the long-run on costly, unexpected breakdowns
Maintains Reach-In's Function—Keeps equipment running efficiently for longer
While there certainly may be more benefits you can incorporate into this list, the ultimate goal is to communicate the importance and positive impact planned maintenance has on your customer's equipment and business.
Include the Basics
To keep any reach-in refrigeration unit running smoothly, there are several inspections, tests and cleaning tasks that should be completed twice per year. These should be included in any planned maintenance package to ensure the refrigerator continues to function properly and safely.
The package should consist of an inspection of electrical components, thermometer testing, a refrigerant check, a compressor inspection and cleaning drain lines. Including such tasks in your planned maintenance program not only covers basic tasks but also vital measures that improve the overall health of the reach-in unit.
Offer a Variety of Planned Maintenance Programs
Frequent checks and regular cleanings on a reach-in fridge's condenser coils are essential.
To cover the range of tasks, inspections and routine cleanings needed for reach-in refrigeration units, consider setting up a variety of planned maintenance programs. This gives foodservice clients a few options to choose from that will fit their schedule and needs. You also can give them the flexibility to choose additional services accordingly and as needed.
For example, you can offer planned maintenance packages based around a recommended timeframe and tasks that a service technician can complete as a convenience. This can be done on a monthly basis and include condenser and evaporator coil cleanings, fan blade checks and a brief inspection of the reach-in. With a 6-month maintenance program, you can schedule more thorough biannual inspections and cleanings like draining the lines, checking refrigerant and so on.
Join the discussion ― follow us on social media, visit our blog and subscribe to the PartsCast podcast via Apple Podcasts, Spotify or your podcast player of choice
Content sponsored by Parts Town.