FE&S' subscribing operators share how they purchase foodservice equipment and supplies, their expectations and more.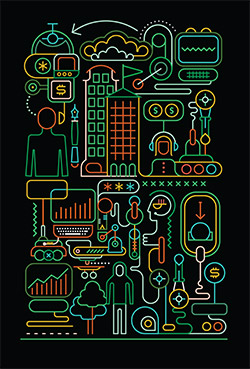 Running a foodservice operation has never been more complicated. Today's operators deal with a cadre of challenges that often conflict with one another.
For example, customer-facing technology, such as mobile ordering and third-party delivery, represents a most disruptive force that quick-serve and fast-casual restaurants have wrestled with plenty in recent years. Today, however, operators from all segments must come to grips with how customers would like to use these technologies while patronizing their businesses. In fact, operators from the non-commercial segment, including corporate dining, healthcare foodservice and even college foodservice operators, must now include various forms of customer-facing technology in their plans moving forward.
What once was a nice to have has become a have to have for foodservice operators. For example, as most of the industry comes to grips with customer traffic levels that range anywhere from flat to up 1 percent, for the most part, restaurant visits via mobile app are up 50 percent, according to data from The NPD Group. In other words, technology is fast becoming a necessity for operators who want to simply maintain market share.
In addition, labor remains a constant concern that keeps many foodservice operators up at night. A relatively stable labor market throughout the country means foodservice operators compete with other businesses to attract and retain talent. And when they do snag that talent, today's operators often have to pay a premium, stressing an already taught business model.
To respond to labor challenges, third-party delivery and other factors, operators keep looking inward. Specifically, many continue to rethink their unit design and prototype to make their businesses more effective and efficient to operate. This includes maximizing labor, expanding into other dayparts and even placing their restaurant operations closer to their customers. For example, in response to declining customer traffic and consumers' increasing desire to consume food off-premise, operators are now contemplating dark kitchens – sites only accessible by employees, delivery drivers and suppliers. These facilities exist only to create food and deliver it to hungry customers and can really have a positive impact on a business by lowering real estate costs, shifting employees to more impactful roles and more.
As operators focus more on industry-specific issues, their economic concerns no longer play as influential a role in how they purchase foodservice equipment and supplies, relative to recent years. In fact, only 61 percent of operators made changes in their purchasing behavior, according to FE&S' 2018 Operator Purchasing Study. That's down 10 percent from 2016 and 20 percent from 2014.
Instead, any major changes in operators' present day purchasing habits directly reflect macro issues affecting the foodservice industry. That's not to say the economic influences have faded away entirely. Rather, shifts in the usually stable foodservice industry appear to have a greater impact on purchasing behavior at the moment.
For example, when it comes to purchasing foodservice equipment, operators report using fewer suppliers and attribute this to consolidation within the industry. When looking back at the past 18 months in the foodservice equipment industry, there seems to be a certain logic to this behavior. From February 2017 to March 2018, the foodservice industry saw 20 merger and acquisition transactions involving equipment and supplies dealers. For an industry not known for moving at a particularly brisk pace to begin with, this accelerated rate of consolidation is worth noting.
Also, to satisfy consumers' seemingly insatiable appetite for all things local and seasonal, operators continue to change how they source ingredients. In fact, how operators purchase food and beverages represent some of the biggest changes in this year's study.
Purchasing Equipment
Operators continue to funnel roughly 50 percent of their equipment purchases through traditional foodservice equipment and supplies dealers. While there appear to be some subtle shifts between the various distribution channels, overall equipment sales data remains consistent with FE&S' previous two Operator Purchasing Studies. Once again, a few subtleties exist when comparing how commercial and non-commercial operators purchase equipment. For example, commercial operators buy direct from factories more than non-commercial operators. And non-commercial operators turn to broadline distributors for equipment purchases at a higher rate than the commercial operators participating in this study. They both, however, use online sources at a similar rate when purchasing equipment.
When it comes to purchasing foodservice equipment, generally three people on the operator side of the transaction have a say in the process. This number increases to four or more people for design/build projects and declines to less than three people for replacement purchases.
Ninety one percent of operators say testing equipment positively impacts their decision to make a purchase. Doing so helps operators evaluate equipment in a variety of ways. It helps them determine how equipment works in the actual operation, allows them to measure real-world performance, lets them verify if the equipment can handle the operation's workload and allows them to better analyze product performance regarding durability, cleaning and employee productivity.
Along those lines, 52 percent of operators report actually testing equipment before making a purchase. This includes 17 percent of operators who say they always test equipment and 35 percent who say whether they test equipment depends on the type of item they intend to purchase. Examples of the types of equipment these operators would like to test generally focus on primary cooking equipment such as ovens, brands that are new to the operator, new technologies and the like.
One area where the supply chain has an opportunity to better serve operators is in the area of equipment training. Operators turn to a variety of sources for training, including manufacturers' reps (57 percent), followed by service agents (32 percent), foodservice equipment and supplies dealers (23 percent), chefs (12 percent) and the in-house training team (7 percent).
Only 42 percent of operators rate equipment training as good; 38 percent say the training is good sometimes and 20 percent say training is never adequate enough, per FE&S' 2018 Operator Purchasing Study. Along those lines, operators participating in the study offered a variety of ways to improve equipment training, including: training all staff at once instead of only a few at a time, allow more time on-site for training, spend hands-on time with staff, follow-up after training, review material more slowly to make sure everyone understands what's being presented and go over details such as how and when to clean the equipment.
Warranties do impact equipment purchasing decisions, according to 89 percent of operators. This is especially true for big-ticket items, large or complex pieces of equipment and products that are new to the market.
In addition, 53 percent of operators indicate they have a planned maintenance program for specific equipment. They feel planned maintenance plays an integral role in the operational health of their business. Frequent items with planned maintenance programs include hoods/exhaust systems, refrigeration, dishwashers, combi ovens and specialized equipment. Those that do not use planned maintenance cite cost as the reason or because they have an in-house staff that can perform these tasks.
Purchasing Supply Items
fes1806 Supplies Purchases by ChannelWho operators purchase supplies from represents one area that appears to be in transition. Among commercial foodservice operators, broadline distributors saw their piece of the supplies sales pie shrink to 36 percent from 47 percent in 2016. Online foodservice equipment and supplies distributors and traditional equipment and supplies dealers appear to be the two biggest beneficiaries of this shift, growing their market share at a rate of 10 percent and 4 percent respectively.
Similar developments took place among non-commercial operators. Broadliners saw their piece of the supplies sales pie drop to 36 percent in 2018 from 40 percent two years ago. In contrast, groups growing their supplies sales to non-commercial operators include online suppliers, up more than 5 percent, and traditional dealers, up 4 percent.
Operators employ a variety of methods to order foodservice equipment and supplies, the most popular of which remains using online ordering systems. In fact, 73 percent of operators indicate they use an online ordering system when making equipment and supplies purchases, generally consistent with the previous study. One notable study in contrast centers on the use of sales reps to place equipment and supplies orders and phoning in orders. The percent of operators who report phoning in equipment and supplies orders increased from 37 percent in 2016 to 42 percent in 2018, which seems counterintuitive given the growing influence of online ordering. In 2018, however, calling in orders ticked up five points compared to the last study and merits watching over the next few years. Orders placed by sales reps, however continued its steady decline. Only 28 percent of operators say their sales reps handle placing orders for them, down from 36 percent in 2016.
Only 14 percent of operators indicate they have switched vendors or suppliers in the past year, much lower than in past waves of the study. Among the companies switching equipment and supplies vendors, the top two reasons were better service and pricing.
Operators seem satisfied with the frequency of visits paid by members of the supply chain on a monthly basis. Dealer sales reps show up an average of 1.4 times per month, which 79 percent of operators say is just right. Manufacturers' reps are visiting operators .96 times per month, which 72 percent of operators say is just right. When prompted about ways equipment and supplies vendors could enhance service, operators cited two key areas: making product information easier to find and make more technical information available about products.
When it comes time to make a purchasing decision, 79 percent of operators rely on their own personal research, which is similar to 2016. Operators consider trade shows, foodservice trade publications, manufacturer websites and their peers to be among the top four sources for researching equipment and supplies products.