FE&S' subscribing foodservice operators explore how their most pressing business challenges impact the way they purchase foodservice equipment and supplies, their product expectations and more.
By all accounts, the foodservice industry continues to chug along with steady yet unspectacular growth. The National Restaurant Association projects industry sales will total more than $727 billion this year, up 2.1 percent in real terms compared with 2015. That remains in line with last year's growth rate of 2.2 percent. While 2016 is projected to be an overall growth year for the industry, the competition and business challenges operators face will remain stiff and diverse.
To be successful, operators will need to be able to navigate a costly and tight labor pool; learn to maximize their use of locally sourced, seasonal ingredients; and try to leverage customer-facing and back-of-the-house technologies to better manage inventory and overall performance. In other words, the margin for error remains razor thin.
As they try to navigate these challenges, operators will continue to value those suppliers that can add value through their product knowledge, help them build flexibility into their businesses and demonstrate an ability to quickly remedy a variety of challenges.
On the following pages, we take a closer look at what FE&S' subscribing operators told us about their approaches in today's complex business environment and what they would like to see from their supply chain partners. While every foodservice operator and distributor is unique, we hope this data will be useful as you evaluate your supplier and customer relationships moving forward.
Business Concerns' Impact on Purchasing Patterns
Labor issues remain top of mind for foodservice operators in 2016. In fact, labor-related challenges represent three of the top five concerns foodservice operators cite. With national unemployment levels hovering around 5 percent, it should come as no surprise that foodservice operators from all industry segments identify finding and hiring employees as their top overall business challenge. This issue was third on operators' list of top challenges just two years ago and ranked even lower five years ago, when increasing energy costs was the chief concern.
Rising labor costs and employee retention place fourth and fifth, respectively, on operators' list of top business concerns. The next two top concerns operators cite are increasing food costs and food safety issues.
As a result of these challenges, 71 percent of operators report changing their purchasing behavior. The product categories most affected by these changes in purchasing patterns vary by operator segment. For example, restaurant chains are 20 percent more likely to change their equipment purchasing plans as a result of these challenges when compared with non-commercial operators. In contrast, non-commercial operators are 22 percent more likely than their chain counterparts to change their food and beverage purchasing habits. Both operator segments indicate that their purchasing patterns for supply items will change, too, but the difference is not as pronounced as it is with the other two categories.
Focusing more closely on equipment purchases, both chain and non-commercial operators require more bids than previous years and are more likely to try to repair equipment rather than replace it. In addition, chain operators report buying more equipment directly from manufacturers and consolidating their supplier base. In contrast, non-commercial operators seem to take a variety of approaches, which include delaying new purchases and buying more from group purchasing organizations.
It is interesting to note that 17 percent of chain operators report looking to purchase more equipment online, compared with 13 percent of non-commercial operators.
With respect to purchasing supplies, both chain and non-commercial operators appear to be taking similar steps. The most popular among them include carrying less inventory, consolidating suppliers to get better deals, using more rebates and placing smaller orders. It is interesting to note that non-commercial operators are 21 percent more likely to carry less inventory than than they have previously. As a result of these changes in their buying habits, roughly 15 percent of the operators surveyed said they now purchase supply items more frequently.
Supply Chain Matters
The growth of online ordering systems remains on the uptick in the foodservice equipment and supplies arena. Overall, 75 percent of operators use some type of online ordering system to purchase equipment and supplies, according to our study. This represents a 9 percent increase compared with two years ago. Generally speaking, commercial and non-commercial operators are just as likely to order online. This is a significant change from two years ago, when commercial operators were far more likely to make purchases online compared with the non-commercial segment.
In addition, 37 percent of operators also report calling in orders over the phone, and 36 percent say their sales rep will help manage or complete their orders. The latter represents another significant point of differentiation between commercial and non-commercial operators. Commercial operators are 18 percent more likely to trust their sales rep to manage or submit their orders.
Further, foodservice operators continue to invest in purchasing and inventory management software. Seventy-five percent of the operators participating in this survey report using some type of purchasing and inventory management software.
For example, 63 percent of non-commercial operators report using purchasing software, and 47 percent of commercial operators report doing the same. Taking a closer look at the commercial operator segment, 65 percent of chain operators report using software to manage purchases and inventory, compared with 35 percent of independents. So in this instance, the general rule of thumb is the larger the operator, the more likely they will use purchasing software.
Operators are most likely to use these software packages to manage inventories and purchases of supplies, food and non-alcoholic beverages. Interestingly, foodservice equipment and alcoholic beverage purchases rank much further down the list of items operators use these systems to manage.
These systems can help operators do more than manage their purchasing and inventory levels. Operators report using these systems to provide recipe costing, collect point-of-sale data, generate nutrition analysis and analyze sales. Non-commercial operators are more than twice as likely to leverage the nutritional analysis functionality these systems provide. In contrast, commercial operators are much more likely (63 percent) to use the sales analysis feature than are non-commercial operators.
New Equipment Purchases
A robust 85 percent of the operators surveyed said they purchased a piece of foodservice equipment within the past year, and another 66 percent say they plan to make an equipment purchase in 2016.
When researching a piece of equipment, foodservice operators use a variety of avenues, but most begin the process on their own. Word of mouth also plays a strong role in operators' research. In fact, after conducting their own research online and by other means, operators indicate that seeking recommendations from their dealers/distributors and their peers are the next two most popular approaches to getting product information. Breaking the data down a bit further, non-commercial operators are 19 percent more likely to augment their equipment research with recommendations from their peers.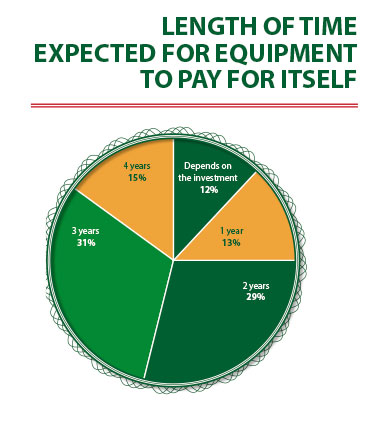 In general, when researching an equipment purchase, foodservice operators use a variety of other sources. Listed in order of frequency, these include trade shows, foodservice trade publications, manufacturer websites, trade publication websites, supplier websites, online equipment catalogs and ads in foodservice trade publications.
Testing a piece of equipment prior to making a purchase remains a significant point of interest for members of the operator community. In fact, 64 percent of operators say they would like to test a piece of equipment before making a purchase. And 100 percent of the participating operators who tested a piece of equipment prior to making a purchase report that it had a positive impact on their decision. Reasons the operators cite include that it helped them determine how the equipment works in their specific operation by showing if it can handle the business' workload and it allowed them to analyze product performance regarding durability, cleaning and employee productivity.
Overall, operators from all industry segments value the opportunity to validate the "real world" performance of these items. Specific equipment items operators report testing include ovens and other primary cooking equipment and refrigeration items. In addition, operators report testing unfamiliar brands, products new to their business and newly configured equipment.
With respect to product training on new equipment purchases, operators report that manufacturers' reps lead the way in this area, followed in order by service agents and equipment and supplies dealers. Interestingly, 15 percent of operators report that nobody trains their staff on how to use equipment. Also, 12 percent of operators report the chef trains their staff, and 7 percent say an in-house team handles training.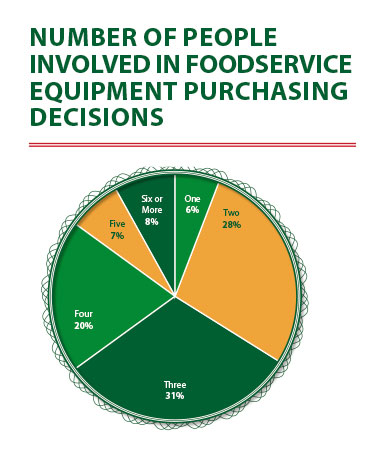 When it comes to replacing a piece of equipment, 78 percent of foodservice operators report researching new items before making a purchasing decision. A solid 50 percent of all operators surveyed report consulting with a service agent before making a replacement purchase.
In an interesting contrast of styles, 76 percent of commercial operators say they replace a piece of equipment with a new version of the same item, compared with only 51 percent of non-commercial operators. Commercial operators are 18 percent more likely to consider purchasing a used piece of equipment than are non-commercial operators.
Foodservice operators look at a variety of factors when it comes to making equipment purchasing decisions. For example, 64 percent of operators report always factoring total cost of ownership into their purchasing decision. Only 2 percent of operators indicate total cost of ownership is not a factor in their purchasing decisions.
Warranties continue to play a significant role in the purchasing process, with 87 percent of operators indicating that this value-added feature impacts their decisions. Looking at the types of equipment purchases impacted by warranties, 55 percent of operators would like a warranty on everything they buy. Other types of purchases impacted by warranties, listed in order of importance, include anything with water, equipment with complex parts or that is considered high tech, any piece of equipment that costs more than $2,000, large pieces of equipment, new-to-market items, hot food equipment and refrigeration equipment.
With respect to planned maintenance, 68 percent of operators subscribe to planned maintenance programs for specific pieces of equipment. They use these programs for such items as hoods and other exhaust-related equipment, disposers, warewashers, combi and other ovens, refrigeration and specialized equipment. Among those operators who do not subscribe to a planned maintenance program, 70 percent indicate they have an in-house team that handles this for them, and 30 percent indicate that cost is the deciding factor.