FE&S explores the impact of rising food and gas prices among other challenges facing the foodservice industry as it tries to emerge from economic doldrums.
Despite the overwhelming optimism the foodservice industry exhibited during The NAFEM Show this past February, the community faces a number of legitimate obstacles, such as rising gas prices and food costs, as it tries to post its first year of real growth in quite some time.
So how will these developments impact the remainder of 2011? FE&S polled its operator and dealer subscribers to get a better idea from them about how they are dealing with the new economic factors that foodservice faces.
Through the first half of the year, net sales growth for operators and dealers has exceeded their projections heading into 2011, according to FE&S' 2011 Mid-Year Forecast Update. And both groups expect to reach their sales targets in the second half, although by anticipating 4.5 percent growth dealers project a more robust period than their operator customers, who project a .8 percent increase over their budget for the same time frame.
All in all, foodservice operators project their annual sales will increase by 3.5 percent, which is consistent with the 2011 Forecasts published by the National Restaurant Association in its 2011 Forecast (3.6 percent growth) and Technomic (3.5 percent). This projection is slightly better than what operators anticipated in the fall of 2010, when they projected 2.8 percent growth for the coming year as reported in FE&S' 2011 Forecast Study.
While it is nice to see the industry generally trending upward, Darren Tristano, executive vice president at Technomic, a Chicago-based market research firm, advises taking a cautious outlook. "We have to be careful because the industry is still down from three years ago and is working its way back to where it was," Tristano says. "The numbers may look good today but you have to remember that they were down double digits the prior year. So we want to see some sustainable growth."
Along those lines, it is important to point out that 82 percent of foodservice operators report that customer traffic has increased (46 percent) or stayed the same with 2010 levels. Overall, foodservice operators report a 2.9 percent net increase in customer traffic, citing renewed consumer optimism about the economy, visible signs of an up-trending economy, operational and menu changes and a focus on improving quality as influencing factors. What's interesting to note about foodservice operators is that while they report increased customer counts, net check averages are growing at a more modest rate of two percent. "It is a combination of consumers spending less and some price increases leveling them out," Tristano says.
In addition, 68 percent of operators reported holding the line on menu prices. Among the 30 percent of operators reporting an increase in menu prices the average rate was 1.9 percent. When discussing why they increased menu prices, the top driving factors cited by operators were higher food costs, higher labor costs, higher facility/operation costs and an increase in other specific expenses such as credit card fees and freight/shipping charges.
To help counteract increasing expenses, operators continue to use couponing, limited time offers and other deals as incentives to drive traffic among value conscious consumers. In addition, operators also expressed an interest in altering their buying behavior in the form of implementing purchasing contracts, utilizing group buying power or reducing equipment and supplies purchases. An additional step operators may look to take include buying more in bulk to get volume discounts.
Thirty-six percent of dealers have noticed some changes in the way their operator customers are purchasing foodservice equipment and supplies. The most frequent changes in operator purchasing behavior, as reported by the dealers, include buying equipment and supplies only when needed, making more equipment repairs, more comparison shopping before buying and purchasing a lower quality product to get a better price.
Dealers are even more bullish about the remainder of this year with 50 percent projecting second half sales will exceed their initial forecasts. Overall, dealers surveyed by FE&S project a net growth rate of 6.5 percent compared to 2010 levels. One factor fueling dealer optimism is an increase in proposals and design work for the second half of the year. Also, dealers report that equipment that operators have chosen to repair for the past several years is coming to the end of its life span and will require replacement.
"It is a better situation than it was a year ago for capital spending," says Hudson Riehle, senior vice president of the National Restaurant Association's Research & Knowledge Group. "Even though consumer demand is nowhere near optimal, because this is the fourth year of this period of economic weakness, it does indicate that the restaurant industry is loosening its purse strings."
Still, for dealers it appears to be too early to tell if their average order size will increase. In fact, only 29 percent of dealers report larger orders thus far in 2011. Dealers also project that close to 40 percent of their sales for the first half of 2011 will come in the form of replacement sales.
Looking at business by market segment, dealers report that 41 percent of their business comes from independent restaurants, 25 percent from chains, 31 percent from non-commercial operators and 3 percent from other areas. Among commercial operators, casual dining represents a market segment that dealers feel is starting to show some signs of life after a difficult couple of years, according to the FE&S study. In addition, dealers report that noncommercial segments, such as colleges and universities and healthcare operators, have experienced some growth, which translates into opportunities for dealers to replace or even sell new equipment.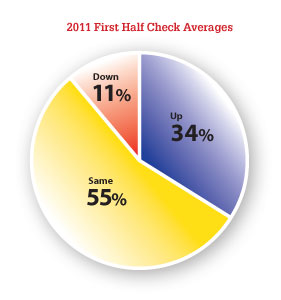 It is also interesting to note that 49 percent of dealers report commercial operators are purchasing the most foodservice equipment, compared to 27 percent that feel non-commercial operators are making the most purchases. Twenty-four percent of dealers report that both commercial and non-commercial dealers are buying equipment at the same pace.
Dealers also report that the top selling product categories for the first half of 2011 are refrigeration/ice, primary cooking equipment, smallwares, food prep, tabletop and serving.
Despite the uneven results, both foodservice operators and equipment and supplies dealers indicate their staffing needs have stabilized in the past six months. Specifically, close to 60 percent of operators maintained their staff size thus far in 2011. And close to half of dealers have reported hiring sales or other staff during the past six months, according to the
FE&S
study.
---