Real growth may be slow in the foodservice industry, but the pace of change will only intensify thanks to a cadre of emerging players, a series of dynamic, business-related issues and operators' insatiable appetite for growth.
Are you trying to forecast the foodservice industry for the rest of 2017 and 2018? Well, then you have to take the good with the bad.
First the good: the foodservice industry remains on solid ground. "It's a good stable economy. We've added jobs. Unemployment is low. Discretionary income is stable, maybe even rising a little bit," says Robert Veidenheimer, partner and president at Pentallect, a Chicago-based food industry consulting firm. "Traditional foodservice is generally stable."
Now the bad: Despite a seemingly stable overall economic environment, growth in the foodservice industry remains inconsistent. "We've seen areas of growth and areas of challenges," Veidenheimer says. "In general, growth has been modest for the overall foodservice industry."
Along those lines, the National Restaurant Association (NRA) projects the restaurant industry will grow to $799 billion in revenues in 2017, up 4.3 percent from 2016. In real terms, though, this translates into a growth rate of 1.7 percent, consistent with the past few years. "The past several years, and even the first quarter of this year, have definitely been one of the slower growth environments," says B. Hudson Riehle, senior vice president of research for the NRA.
Looking ahead to 2018 and beyond, the restaurant industry should anticipate much of the same moderate growth rate. That's because, according to most industry observers, macroeconomic indicators, such as national employment levels and disposable personal income, can be expected to continue edging up but will not experience a period of rapid growth. "It is sustained real growth for the industry, but it is definitely a sustained moderate growth environment," Riehle says.
On a year-by-year basis, that growth may seem modest, but looking at the bigger picture, the industry remains healthy. Over the past decade, the NRA reports, the industry has posted a 3.7 percent compound annual growth rate. And over the past 47 years, the restaurant industry has grown at a rate of 6.4 percent. "That's better than many industries," Riehle notes.
The industry's modest performance remains reflective of how well consumers are — or are not — faring in today's economy. "There's an element of the population that's doing great and is spending on foodservice," Veidenheimer says. "And there's another part of the population that's not doing as well. They are looking for cost-effective solutions for food and other areas."
Given the political gridlock in Washington, D.C., and other parts of the country, it's not likely that the overall consumer outlook will greatly improve in the near future. "There's a general uncertainty about where we are going from an overall economic sense," Veidenheimer says. "Some of those potential policy issues regarding trade and monetary have the potential to trickle down and impact foodservice. It could impact cost of goods and wages, and that could impact discretionary spending."
The foodservice industry's steady, if unspectacular, growth continues to manifest itself in various ways. For example, some of the larger chains have been struggling to grow even by a couple of percentage points, Veidenheimer says. In contrast, some independent operators and regional chains continue to outperform the industry, with some growing at a rate of 4 percent to 5 percent.
"We've seen independents and smaller chains growing at a rate that's double that of larger chains," Veidenheimer notes. "Independents have picked up momentum, driven by their engagement of consumers." In these instances, engagement takes the form of food quality and social elements related to the business and service.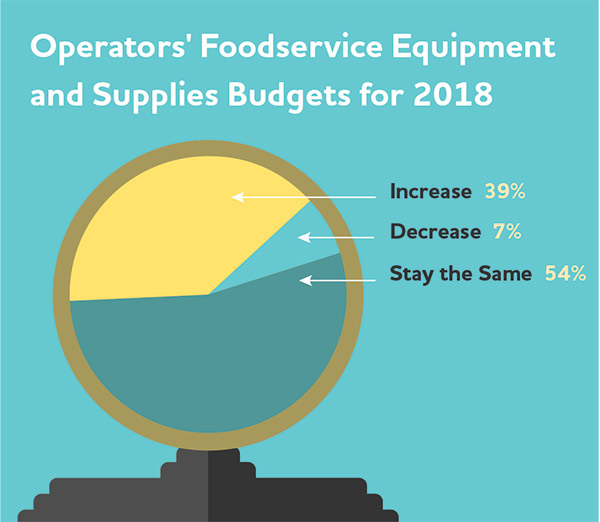 Despite showing some signs of life, the independent restaurant market remains complicated. Visits to independent restaurants declined 3 percent in the first quarter of this year from a year ago, and consumer spending was flat reports market research firm The NPD Group. Despite these results, NPD reports some signs of life among independent restaurants in the U.S.
The decline in customer visits to independents is largely a reflection of the fact that independent restaurant unit count dropped by 4 percent, according to NPD. A 4 percent decline in unit count but only a 3 percent decline in visits suggests some of the 323,456 remaining independent restaurants in the U.S. are growing. Further, independent operators doing well enough to order from broadline foodservice distributors increased their dollar spend by 2 percent, and cases ordered from these distributors were up slightly in the first quarter compared to a year ago, reports NPD.
Some independents added units and now operate between 3 and 19 locations; NPD refers to these operators as microchains. They tend to favor major metro areas, and they increased their case orders from broadline foodservice distributors by 3 percent in the first quarter compared to a year ago.
The evolution of these microchains is worth monitoring in the coming year, as they could represent an industry growth vehicle. Because these operations are smaller in size, they should remain nimble, which should serve them well in engaging customers.
And engaging customers remains the key to every operator's success. "Even in this challenging environment there are many examples of major chains, microchains and independents that are thriving because they have a differentiated experience, superior quality and excellence in execution," says David Portalatin, NPD's vice president, industry analysis. "These fundamentals are key to restaurant success at every segment of the
industry and in any macro-economic environment."
While independents will remain a source of intrigue, restaurant chains still represent a key indicator of overall restaurant industry performance for one big reason: they account for most of the industry's transactions. In fact, restaurant chains account for 64 percent of industry traffic, according to The NPD Group. Independent operators, those with 1 to 2 locations, account for 22 percent of restaurant visits, according to NPD Group.
Sales Growth
Given that the foodservice industry's moderate growth environment is expected to continue, expect most operators to increase their focus on two aspects of their businesses: sales growth and cost management. "This being the eighth year of moderate growth, the ability of operators to grow sales has taken on heightened importance," Riehle says. "Because there are a host of other competing demands for the consumer's money, it's important to get them to spend money on food prepared outside of the home."
Operators seem to have somewhat realistic sales expectations heading into 2018. In fact, 58 percent of operators project their sales will increase in 2018, that's down 10 percent from last year's projections, according to FE&S' 2018 Industry Forecast Study. And 33 percent of operators project their sales levels will remain the same in 2018. Among those operators projecting an increase in sales, the average anticipated growth rate is slightly more than 2 percent.
For operators looking to increase sales, they will look to tap into consumers' desire for convenience when using foodservice. "Convenience remains a very important driver of growth in the industry, and it is one of the main reasons that the quick-serve segment has posted growth rates higher than the industry average in recent years," Riehle says.
Convenience remains a critical factor for all segments of the foodservice industry, not just quick-serve operations. "When you look at the growth rates by segment, the continued focus on convenience by the consumer will only continue to grow in importance," Riehle says. "When you look at restaurant industry performance, 60 percent of sales is for food consumed off premise. The majority of restaurant industry growth has come from that off-premise segment of the market."
In other words, operators from all segments will continue to embrace delivery more and more. "From the consumer's perspective, there's nothing more convenient than having the restaurant come to you. Going forward, delivery is going to increase its share in the off-premise market and the total foodservice market," Riehle says.
No doubt the influence of delivery will continue to grow, forcing restaurant operators of all shapes and sizes to respond accordingly to this evolving customer expectation. "Clearly consumer behavior has evolved where online ordering and delivery has become central to the industry," Veidenheimer points out. "How operators handle that, whether it be their own delivery service or contracting with Grubhub or UberEATS — it's here to stay. Those third-party delivery companies will continue to build share over time. The key is how restaurants address that opportunity."
Some companies will aggressively pursue delivery. Take, for example, Pizza Hut. The national chain plans to hire 3,000 delivery drivers a month through the end of the year. Even quick-serve giant McDonald's got into the delivery game this year. Thanks to a deal with UberEATS, McDonald's now offers its McDelivery service at more than 7,800 restaurants in 47 countries on 6 continents.
Third-party delivery is part of what many refer to as consumer-direct channels. This emerging foodservice industry bright spot also includes food trucks, online ordering and meal kits. "Things across the food industry are better than many measurements indicate because of the performance of nontraditional players," Veidenheimer says. "These segments represent less than 10 percent of the market but are growing at a double-digit rate."
These parts of the foodservice industry may seem new, but they will continue to develop rapidly and, in doing so, come to play a more prominent role in the way consumers use foodservice. In the coming years, food industry consulting firm Pentallect projects 25 percent to 30 percent of total growth in foodservice industry will come from this emerging segment.
Key ingredients in operators' ability to successfully offer delivery include technology (namely, the ability to place and process orders) and packaging. "When you look historically at carryout and delivery, it has focused on pizza and fried chicken and other items that transport rather well," Riehle says. "Today there are a lot of developing packaging options that will allow different cuisines to transport well without compromising the quality."
For example, in the case of delivering gourmet burgers to a customer, the operator may need to package the lettuce and other components separate from the patty to ensure the integrity of those items remains uncompromised. "It requires some assembly, but the overall product quality is better," Riehle says.
From an operator's perspective, though, embracing technology means more than an opportunity to grow sales. In fact, four out of five operators feel that technology not only enhances sales, it also makes their businesses more efficient and provides a competitive advantage, according to the NRA.
"There's a lot of ways to do that, but technology is playing a big role in operators' growth efforts," Riehle says. "The greater integration of equipment is truly paramount to ensure success on a long-term basis."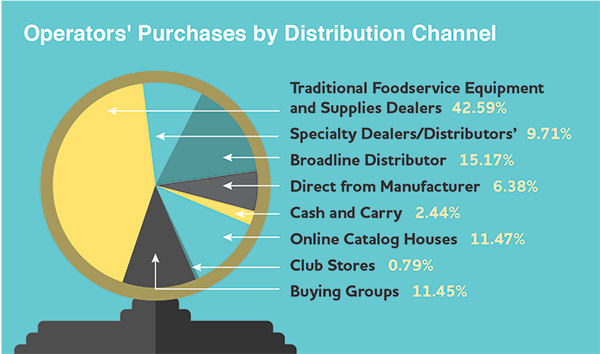 In fact, many operators have already integrated technology into their platforms, generating some eye-opening results. Panera, for example, reported it generated $1 billion in sales through such digital means as in-store kiosk ordering, app ordering and orders from its website for the 12-month period between May 2016 and May 2017. With its customers clearly embracing the convenience offered by its various technical platforms, integrating delivery represents the next logical step for Panera.
As the customer-direct channels grow, the definitions of traditional foodservice will change. Take, for
example, meal kits offered by companies like Blue Apron. "They suddenly become a little more mainstream within traditional foodservice and retail settings. And that will impact overall growth and the traditional dynamics," Veidenheimer says.
Pentallect remains bullish about the outlook for meal kits for two main reasons. "One is convenience. Consumers know they don't have to go shopping. The ingredients are coming," Veidenheimer says. "The other big piece is experiential. Meal kits provide a social experience if you have someone else in the house. And they allow you to try a meal you might not normally try on your own. The price point is attractive enough, falling between the grocery store and the restaurant."
Seeing the growth potential for meal kits, some restaurants now offer them under their brand names. "If you think about 21 meal periods a week, roughly 5 to 6 are away-from-home solutions, a few are skipped and 14 to 15 are at home," Riehle says. "So there's still great opportunity for meal kits to grow when you look to food consumed at home. There's no doubt that meal kits have a place in the decision matrix of meals consumed at home versus outside of the home."
Of course, like any other business segment, meal kits will occasionally ebb and flow. "Consumers will participate for a period of time and will stop for a while," Veidenheimer notes. "So there's a constant need to acquire customers, and that's part of the business model they will need to address."
Labor
Another potential pothole on the road to growth: labor-related costs. One out of every two operators reports labor as their top concerns," Riehle says. "Restaurant labor costs are higher on an hourly rate compared to the private sector. Roughly a third of every sales dollar goes to labor."
And the pressure shows no signs of letting up. "It is going to be an issue. The pressure won't go away on
restaurants to raise wages," says Veidenheimer.
Labor pressures take a variety of forms. Specifically, operators continue to focus on retaining good employees and recruiting new employees. Labor-related costs in the form of higher wages and benefits continue to keep operators up at night. In fact, operators attribute 41 percent of their labor increases to higher wages and benefits, according to FE&S' 2018 Forecast Study.
Looking ahead to next year, 90 percent of operators say the amount they spend on labor as an overall percent of their budget will increase or stay the same, FE&S' 2018 Forecast Study indicates. This is similar to last year's study results.
Rising or even flat labor costs, though, will continue to impact gross profits. Sixty percent of operators predict their gross profit levels will remain flat (46 percent) or even decline, according to FE&S' 2018 Forecast Study. Among the 40 percent of operators projecting an increase in gross profits, the average level is 2 percent.
The foodservice industry has long been known as a low-tech industry with average revenue per employee considerably trailing other industries. For example, as of 2015, the last year for which this data is available, the average revenue per employee totaled roughly $56,000 in the foodservice industry compared to $226,000 per employee in the grocery store industry and $769,000 per employee at automobile dealers, per data from the NRA.
With disparities like this, it should come as no surprise that operators continue to embrace the promise of implementing technology in their businesses. "In a labor-intensive industry like the restaurant industry, when applying technology correctly, it can have very important results," Riehle adds.
To help offset rising labor costs, operators will need to apply a variety of tactics.
One approach is to recruit new employees and retain existing ones through industry-specific apprenticeship initiatives. To that end, the U.S. Department of Labor awarded the National Restaurant Association Educational Foundation and the American Hotel & Lodging Association a $1.8 million contract to develop the Hospitality Sector Registered Apprenticeship, an apprenticeship program specifically for the restaurant, foodservice and hospitality industries.
The goal of this program is to place 400 individuals in apprenticeships in the restaurant, foodservice and hotel and lodging industries. The intent of the program is that by placing individuals in paid apprenticeships focused on management-level positions across those industries, that will translate into professionals with increased skills, higher wages, recognized credentials and career advancement plans.
Technology will also play a big role in helping offset rising labor costs. Applying customer-facing technology solutions such as ordering via a website or mobile app, or even in-store kiosk ordering, allows operators to make more effective and efficient use of their labor and enhance revenues. "If you look at quick-service and their use of tablets or apps or other forms of technology, they are able to change their pricing by day to help spark demand," Riehle says.
While customer-facing technology offers lots of promise, it may not be right for every foodservice operation — both financially and philosophically. "There's obviously a cost associated with that as well as a strategic question," Veidenheimer notes. "Do you want to change the way customers interact with your business?"
Technological advances in foodservice equipment that allow staff members to automate certain tasks or even multitask without compromising food quality or food safety will become more important too. "Going forward, the ability to use new equipment and new techniques at restaurants is imperative to ensure organizations remain viable," Riehle says. "Equipment suppliers have the ability to shorten the labor requirements on site."
Along those lines, 39 percent of operators plan to increase their foodservice equipment and supplies budgets in the coming year, according to FE&S' 2018 Forecast Study. This is consistent with last year's results. It's interesting to note, however, that only 7 percent of operators anticipate decreasing the amount they spend on equipment and supplies in 2018, which is 11 percent lower than last year's projections.
Will Mergers and Acquisitions Continue?
Given the moderate growth environment, the restaurant industry seems ripe for merger-and-acquisition related activity. "There's overcapacity and a need to drive efficiencies, and acquisitions can help with that," Veidenheimer says.
Veidenheimer's explanation dovetails nicely with a spate of high-profile mergers and acquisitions that have made restaurant industry headlines this year. They include private equity firm JAB Holding Co.'s acquisition of Panera Bread and Amazon's acquisition of grocer/emerging restaurateur Whole Foods, among others.
The mergers and acquisitions continue to impact the supply chain for similar reasons. For example, in June of this year, private equity firm Trivest Partners acquired B&J Food Service Equipment and Beltram Foodservice Group, merging the two to become BJ Beltram Inc. This came a few months after TriMark USA announced its plans to acquire Hockenbergs, a Nebraska-based dealership with locations throughout the Midwest.
Most industry observers don't expect this M&A activity to slow down any time soon. "You are going to see it in the restaurant industry and in distribution certainly through the next 6 to 12 months," Veidenheimer says.
Conclusion
Despite relatively moderate growth rates, expect the pace of change within the foodservice industry to quicken. Consolidation among both operators and suppliers, paired with disruptive forces (such as members of the consumer direct segment and nontraditional players like Amazon going head-to-head with traditional powers), will only intensify the foodservice industry's competitive appetite. Unfortunately, foodservice will not grow its proverbial pie at a rate fast enough to satiate all of its players — which means 2018 will be another "take share" environment for the industry.