By preparing breaded items from scratch operators may save money and have greater control of ingredients and flavor options.
There was a time when the popularity of frying breaded items was dropping off due to trans fat and calorie concerns, but with new, healthier oils, there has been a recent resurgence in these menu items.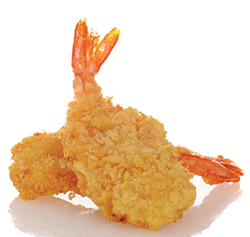 Because hand-breading can be labor intensive and produce inconsistent results in commercial kitchens, operators producing from-scratch chicken nuggets, breaded chicken patties, onion rings, fried fish and similar items now turn to automated equipment to make the process easier.
Not only can breaders help decrease production time and, consequently, increase speed of service, but they can reduce waste and ingredient costs, too. Operators can save money by preparing breaded items from scratch, rather than buying these frozen and preprepared. Breading on-site also gives more control in terms of ingredients and flavor options. Some automated systems have stacking capabilities to provide high-volume production in a smaller footprint.
The more automated machines are suitable for high-volume production due to their size and cost. For example, one type, geared for commissary or institutional use, utilizes a conveyor belt to feed product through a batter tank and then a breader. The unit works as fast as the operator can feed product into the machine.
Even larger machines that mimic full-scale breading in food production plans are also available but mainly used in commissaries or central kitchens. These feature in-line designs and sophisticated technology to accommodate more complicated coating preparations.
One of the simplest breaders is a drum-roll type similar in design to a cement mixer. Breading is placed inside, along with wet product, and the container then rotates with an auger. This process simulates hand breading and typically coats up to 14 pounds of product in about three minutes. Operators can also use this equipment with one piece of food at a time. Metering hoppers on some models control the breading amounts distributed at one time. The turning action helps remove dough lumps. Although the production is messier and the result is not as consistent as with automated breaders, these units are the most affordable and don't require much space. Motorized versions of this type are available with timers included, and marinator accessory kits are optional. Internal baffles can reduce the action inside the drum for more fragile product breading, like with fish. These breaders also can be used with herbs and spices for seasoning food.
Hand breader/sifters are portable, self-contained stations for hand breading in small spaces. These units include a stainless-steel frame and sifting basket, a ¼-hp motor and drive assembly for automatic sifting, and two interchangeable lugs for breading and to catch sifted ingredients. Units generally hold up to 25 pounds of breading.
Prep stations designed for a higher-volume breading operation looking for added efficiency are available. These units have a built-in sifter that moves breading into the lower container, which includes a lid to help reduce the risk of contamination. The extension shelves on this unit make it easier to bread and load product into fryers. Components include extension shelves, a pan shelf, a rotary sifter, two 12.5-gallon tubs, one caster kit, four swivel casters, and a 12-quart bucket and lid. Some simple food prep tables are designed for blending and sifting flour during the hand-breading process.
Some automated breaders include vibrating springs or oscillating baskets that shake product to remove excess breading that is resifted and reused. There also are models that utilize rotating brushes to accomplish this. Both types ensure a high percentage of the breading is used, so although the unit is more costly, the return on investment can be quicker for operators.