For many chefs, immersion blenders represent one of the most versatile pieces of equipment in a commercial kitchen. Operators use these units for many of the same applications as standard blenders, but instead of being an all-in-one apparatus with the bowl attached, immersion units feature a stick format. Cooks use these units independently for mixing product in separate, various-sized vessels.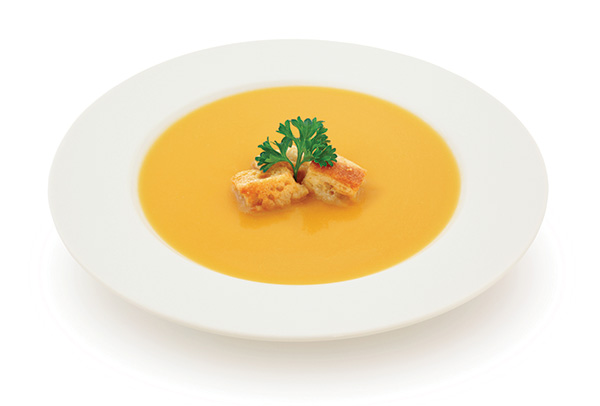 Immersion blenders come in light-, medium- and heavy-duty versions. The light version is the smallest size and not often used in commercial foodservice applications. This is because these blenders don't have the required torque, power or motor to get through heavier batches or higher volumes. Larger immersion blenders are NSF-approved and can better withstand the rigors of commercial kitchens but cost more up front.
Sizing with this equipment depends on mixture capacity as well as density. Foodservice operators can choose from a variety of sizes, with the smaller ones geared for lower volume and lighter batches of sauces and salad dressings, while the longer shafts with larger motors can be used to process larger, heavier mixtures, such as refried beans.
In terms of applications, larger immersion blenders, generally considered hand mixers, are heavier and may require pan support. The mini or compact units are easy to use for single servings, latte foaming or dessert blending. Combination types are designed for interchangeable attachments and added versatility.
Along with the size, the motor's horsepower also determines what type of mixtures can be prepared with the unit. Commercial immersion blenders start at ½ hp and go up to 1 hp, with the heaviest duty requiring two hands to operate. It can be difficult to measure the actual horsepower at the end of the blending shaft during operation, since this is impacted by the density of the product being blended as well as the length of the shaft.
Blender shaft lengths range from 12 to 22 inches, with arm length being a consideration when operating. The shaft length also helps determine the appropriate vessel size for the mixture. The motor power provides the torque to run longer shafts and manage the vortex flow of the product. Thicker mixtures also will require bigger bells and longer blades.
The simple nature of this equipment means it does not include much in terms of standard features. The typical design encompasses a stainless steel motor casing, bell and tube. The bell and blade may be removable for easier cleaning. One- or variable-speed types are available. The majority of blenders work with electricity, and 110 volts is common. Cordless models also are offered. Most come with a blending arm, while others include whisk attachments, bowl clamps for securing to a large vessel during heavy mixing, a carrying case for easier transport and an extra handle for better gripping and leverage during use. Wall mounting racks can be purchased for storage.
Various attachments provide mixing options, such as whisks, to incorporate air or whipping salad dressings and sauces. These are available in 7- to 10-inch sizes. Larger paddles can be specified to better handle heavier concoctions.
Much of the innovations for immersion blenders has centered on the design of this equipment. Vertical models for added leverage and better ergonomics are popular, as are horizontal handles for easier maneuvering when product is situated below the operator. Cord safety is an issue with these units. For this reason, some manufacturers offer an added feature where, if the bowl clamp is knocked off, the blender automatically shuts down.