Bar operators can choose from a variety of blenders. Food prep blenders work well with craft cocktails. These blenders break down fresh ingredients into flavorful offerings. Beverage blenders work well with standard drinks that require fewer food ingredients.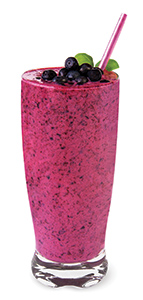 Generally speaking, blenders that perform well for chefs will work just as well in a bar setting. The main difference between applications is that blenders used to make beverages will likely have to crush ice. In these instances, operators should specify a blender that has, at minimum, a 2-horsepower motor. Some operators prefer to spend less on the blender, but they may end up replacing it more often.
Applications
Beverage blenders combine a container and blade design to fully process ice-based drinks to the desired consistency. Added power helps process quickly and contributes to the unit's longevity. Some beverage blenders come with programmability, which provides drink repeatability and helps improve speed of service.
The use of this equipment depends on the application, though. Bars that offer a wide range of blended beverages will benefit from a programmable unit with a more powerful motor. High-volume operations should have at least two blenders available to not only keep up with demand but also as a safety measure in the event one becomes inoperable.
Operations centered on craft cocktails tend to use blenders less frequently due to some mixologists' preference to manually mix their drinks. With these programs, operators use blenders more for prep. For example, some signature drinks involve more experimentation with simple syrups in blenders. Beverage blenders emit just enough heat to dissolve sugar without getting to a boiling point, providing more consistent flavor output. Bartenders can add more infusions and redistribute ingredients.
Mocktails, traditional cocktails without the alcohol, have become more prevalent, and blenders are a good tool for these beverages as well.
As a rule of thumb, any beverage with ice can raise the total ticket amount and, as a result, an operator's profit margin.
Capacities
The majority of blenders come with either a 32- or 64-ounce cup, but containers up to 1½ gallons are available. Blend volumes in bar settings, for example, typically run at a minimum 8 ounces. Servings can range from 12 ounces to 16 ounces for cocktails like margaritas.
Construction
A blender's key parts include a steel blade, a container with a lid and a motor. Some blenders also have an accelerator tool, or tamper, which aids in processing food by eliminating cavitation. Operators can use the tamper to push food through the blade for complete processing. Tampers benefit production of thicker ingredients. Blender housings can feature plastic or use die-cast metal construction.
Innovations
The motor, along with the type and amount of food or ingredients the operator is processing, will determine how much sound these units produce. Fortunately, today's blenders offer sound-dampening features that minimize the noise in the front of house. This is accomplished in the latest models with air handling features and/or motor enclosures that help reduce the sound level. Sound enclosures can help control the blending sounds and sit on top of the unit's base.
Advanced programming capabilities are another innovation that has made this equipment easier to use and more efficient. Some types provide programming through a USB port.
Aerating blender containers feature whipping discs inside rather than cutting blades. This incorporates air into mixtures for foams, textured emulsions and specialty fruit drinks that focus on aromatics.
Care and Maintenance
Daily, weekly, monthly and yearly blender maintenance centers around cleaning. "It's the nature of the beast with mixing sticky drinks," says Ron Hastings, Salisbury service manager for Baltimore-based EMR. "The unit needs to be unplugged and wiped down with a nice clean, damp cloth ideally after every use."
Weekly tasks include cleaning air inlet screens, located on the side of the unit. "It's very important that these are cleaned and can breathe," says Hastings. "Once this is accomplished, the unit can be wiped down with a dry cloth."
When cleaning the air inlet screens, also take the time to inspect the blender's drive clutch and cutter blades. It's important to note that the cutter blades won't rotate properly if the drive clutch is sticking. "If cutter blades are loose or worn, they need replacing," says Hastings. "These can last a week to six months, depending on use. If ice is being crushed, the blades will wear down more rapidly."
Operators can inspect the blades and drive couplings, both of which they can replace on-site without a service tech. "Many bars have spare blades and drive couplings," says Hastings. "If the unit isn't turning up to speed, this is a clue it needs attention. Also, a service tech should be called in if there are any unusual noises."
The most common operating mistake users make is overloading the blender, which can cause product spills. Also, misuse of covers or improper lids can make a mess and also create big problems, especially with sticky syrups. "Operators should never turn on blenders with utensils inside," says Hastings. "I've also seen cases where users put holes in the push button overlay, which causes a short. In addition, ice tongs should not be used to turn blender knobs and spoons should not be utilized for pushing buttons."
Service tends to take place on-site, although some repairs are shop jobs. "As for maintenance, we make sure all functions are operating correctly," says Hastings. "We go over components, including blades and drive couplings, which are the main parts that need attention. Hard ice is hard on blades and can cause them to loosen up and even break off, which is a safety hazard."
Choosing a Blender
Blenders touch almost every part of Cleveland's The Spotted Owl's prep operation, taking up an entire corner of the bar.
According to the restaurant's owner, Will Hollingsworth, who also runs a consulting business, Hollingsworth Beverage Consulting (HBC), bar operators need to decide whether to have an array of blenders (for just one function) or a barrel freezer (for higher volume). "This depends on the product mix, scale and volume," he says. "The first decision is binary — deciding whether you're in the market of running a bar where blenders are pumping out an array of frozen drinks, which is not typical. Those that do may be in the market for a barrel freezer, which puts out a large volume of frozen product at one time."
Blenders often play a prominent role in craft cocktail creation. At The Spotted Owl, staff use this equipment for fresh prep by creating syrups and sherbet, aerating juices, and emulsifying egg whites. "In the process of clarification for centrifuge, we use blenders to introduce enzymes into products we want to clarify," says Hollingsworth. "Everything — infusion, maceration, clarification, and complex syrups — is produced using a blender."
Bars need a power motor for blending ice, and Hollingsworth recommends commercial units that can withstand constant use. "It pays for itself and eliminates prep time while also cutting down on labor and the flavor concentration required. Bartenders use less to produce a cocktail," he says. Also, programmable units increase efficiencies. For blenders used for production as opposed to beverage blending, sound is typically not a factor.
Operators should also consider the number of blenders necessary, using the bar's size and volume as the basis for this calculation. The Spotted Owl runs two blenders in tandem, one manual and the other programmable. "We let the programmable unit run on its own and manually use the other one when needed," says Hollingsworth. "We have 32- to 64-ounce containers here, and we are looking to grow. If so, we will centralize our prep operation into a commissary. When that happens, we may move into larger machines, which would make more sense. Incredibly high-volume cocktail operations may need extra-large machines, but this depends on the space and operation."