April 6, 2021
---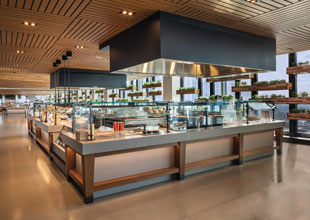 Planning for Reopening
After a year-long hiatus, serving meals from large foodservice operations, such as corporate feeders and school cafeterias, will take more than simply flipping a switch. With equipment idle for months, operators must take several steps to get these items up and running again.
Sponsored Content
How to Easily Troubleshoot Common Beverage Dispenser Issues
Commercial beverage dispensers are one of the most-used pieces of equipment in a restaurant, bar, QSR and beyond. If the operator thoroughly cleans the machine regularly but something still isn't right, there is a way to ease their worries quickly if and when you get that call.
2021 Top Achiever: Service Agent
Katie Green, Refrigerated Specialists Inc., has been named a FE&S Top Achiever. After proving her value to the company, Green was named RSI's operations director about 10 years ago by president Scott Hester, who calls her "the firm's special secret."
Advertisement
Keeping it Real is the Deal
In our business, safety is a top priority. That's why you should always go with real OEM parts, accessories and consumables to keep equipment running as the manufacturer intended. Choose OEM to choose safety, reliability, efficiency and warranty protection.
Specifying Beer and Wine Systems
Before selecting beer and wine dispensing systems, learn about the different types and how they operate to ensure the best fit for the operation. Be sure to factor in cost considerations and maintenance requirements.
Cleaning and Maintaining Coffee Brewers
Keeping coffee urns and bulk brewers spotless and in optimal condition has a significant impact on the overall quality and freshness of the coffee.
Service Tips: Hot Holding Units
Long a mainstay of the catering world, hot holding units continue to gain traction in restaurants seeking to offer high-quality food to off-premises guests. Here are a few tips to keeping these units working well.
Click here to subscribe to more of our e-newsletters!
You received this e-mail as a subscriber to Foodservice Equipment & Supplies or one of its e-newsletters.

View past editions of Service Insights in our online archive.

Please direct advertising questions to:


This email address is being protected from spambots. You need JavaScript enabled to view it.

, Vice President.

Please direct editorial questions to:


This email address is being protected from spambots. You need JavaScript enabled to view it.

, Editorial Director.

Subscription Support:
630-739-0900 (ext. 53) or e-mail

This email address is being protected from spambots. You need JavaScript enabled to view it.