December 1, 2022
---
As a foodservice professional, you are constantly seeking the products and manufacturers that offer the best solutions. Below, you'll find videos from leading suppliers of products and services that can enhance your operations.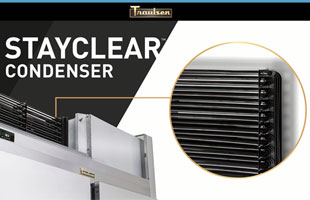 Simplify Maintenance with Traulsen's StayClear™ Condenser
With Traulsen's StayClear™ Condenser coil, operators can focus on what matters most to them with minimal concern about regular condenser cleanings. The finless design of this coil eliminates the blocking of airflow from kitchen grease and debris, significantly decreasing the frequency of cleanings needed. Reduce labor and simplify maintenance.
Webinar: Equip Your Kitchen of the Future
Relieve single-use appliances and create a more functional kitchen workflow. Create your future kitchen today with just a few small and mighty pieces of equipment. Watch this on-demand webinar to discover the top 3 design trends for foodservice spaces with function and foresight.
Custom Exterior Options for Walk-In Refrigeration
Curb appeal is everything; it sets the tone for your restaurant. This includes back-of-the-house items like walk-in refrigeration. Polar King, manufacturer of walk-ins, provides a one-color finish of your choosing or select an alternative exterior finish for an exact match to your building. Learn more about Polar King's exterior options.

FE&S November 2022 DSR of the Month
Nathan Beucler, Burkett Restaurant Equipment and Supplies, sits down with Jason Wange, Foodservice Powerplant Network, to talk about being named an FE&S DSR of the Month.

Subscribe to more e-newsletters!
You received this e-mail as a subscriber to Foodservice Equipment & Supplies or one of its e-newsletters.

View past editions of FESFlix in our online archive.

Please direct advertising questions to:


This email address is being protected from spambots. You need JavaScript enabled to view it.

, Publisher.

Subscription Support:
630-739-0900 (ext. 53) or e-mail

This email address is being protected from spambots. You need JavaScript enabled to view it.