September 26, 2019
---
Add Variety to Your Menu with the Snack System
Hatco® Corporation and Suntec have partnered together to create the multi-purpose Snack System. With a single or dual electric baker, interchangeable cooking plates, and adjustable temperature and time controls, the Snack System lets you freshly bake breakfast items, lunch foods and a variety of snacks in between.
NSF-Certified Thin Tip Pocket Thermometer in HACCP Colors
CDN's NSF-Certified Thin Tip Pocket Thermometer (DTT450) meets the needs of commercial kitchens with a 6-second response, 1.5 mm thin tip, and field calibration for accuracy over time. In HACCP colors, to help prevent cross contamination and promote food safety. Data hold to lock reading, 304 stainless steel stem, and food-safe ABS plastic with BioCote.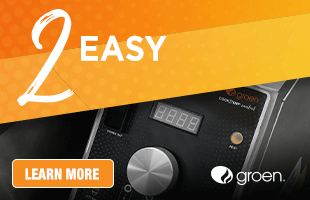 2Easy. 2Consistent. 2Smart. Cook2Temp.
Cook with more precision than ever before with new Groen Cook2Temp™ controls. Whether whole foods or liquids, Cook2Temp™ gives you a more consistent product, saves on labor costs, and reduces waste. Find out how Cook2Temp™ can make life easier for YOU!
LTI's ThermalWell Heats With or WITHOUT Water
Built for energy savings and performance, LTI's ThermalWell hot wells can save operators thousands on energy costs, heat food more evenly in order to maintain food product quality and is available from 1 to 6-well units.
Centerline™ by Hobart HMM20 Standard Heavy-Duty Mixer
Don't settle for any other brand! We're bringing Hobart quality to everyone around the globe with the new Centerline mixer. Other brands can't deliver its long life of reliable performance and convenient features. Centerline: It's what you need at a price that fits your budget.
Eggcheff® Cooks Your Eggs in a Minute
The two NEW devices allow foodservice to offer fast, freshly cooked healthy options like boiled or scrambled eggs without waste. Perfect eggs to your choice. The eggs are cooked in the same time as you wait for your coffee! The devices don't require staff, are ventless and use patented technology.
Endless Walk-In Solutions, Helping You Keep Your Cool
Nor-Lake manufactures walk-in coolers, freezers and combination coolers/freezers. From same day shipments with Kold Locker™ to unlimited lengths with Fast-Trak® to custom designs with Fineline™, Nor-Lake provides endless solutions for all of your walk-in needs. Nor-Lake's walk-in technology delivers increased food safety and energy efficiency.
Switch Easily to Hands-free Handwashing with T&S EC-3105
T&S Brass' EC-3105 makes upgrading to efficient, hygienic sensor faucets easy. Designed for restaurants' standard 4" center-to-center, wall-mount installations, the EC-3105 allows operators to replace manual two-hole faucets without altering existing hole configurations. The EC-3105 has a polished, chrome-plated brass body for durability and includes a variety of convenient features.