August 29, 2019
---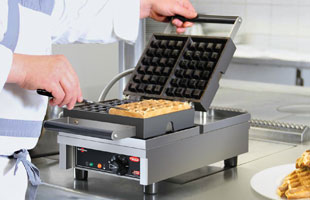 Expand Menu Offerings with Liége and Brussel Waffles
Hatco® Corporation and Krampouz® are combining their legendary brands to offer Electric Waffle Makers. With insulated heating elements and a thermostatic control, operators can cook delicious waffles in minutes. Models, available with a 90° or 180° hinged opening, are designed for cooking fresh waffles from batter and/or reheating pre-cooked waffles.
Curtis Unveils the Evolutionary GemX™ Brewer
Now there's a brewer that thinks for you, making perfectly hot, totally fresh and delicious coffee with the push of a button. One that lets you monitor freshness at a glance — without a second thought. An innovation combining exceptional brains and uncommon beauty.
3 Easy Steps to a Cleaner Griddle
Maximize efficiency in your kitchen by cleaning your dirty, food-soiled flat top griddle in 3 to 5 minutes with the Scotch-Brite™ Quick Clean Griddle Cleaning System. It leaves your griddle clean in just three easy steps: squirt, scour and squeegee. See the system in action.
Renau's T-2268 Wireless Timer/Controller
The most advanced reliable kitchen timer available to foodservice operators. Total control of your food preparation, from cooking to frying, produce to sauce prep, walk-ins to serving line, every product at a glance. Data for each product, graphs, & more with a tough screen for gloved operation. Rugged wireless communication provides up to date information seamlessly.
Switch Easily to Hands-free Handwashing with T&S EC-3105
T&S Brass' EC-3105 makes upgrading to efficient, hygienic sensor faucets easy. Designed for restaurants' standard 4" center-to-center, wall-mount installations, the EC-3105 allows operators to replace manual two-hole faucets without altering existing hole configurations. The EC-3105 has a polished, chrome-plated brass body for durability and includes a variety of convenient features.
Convection Ovens with More Than You Think
Rethink your use of valuable kitchen space! Turbofan's E33 convection ovens—fully loaded with features including programmability, multi stage cooking and moisture injection. Best of all, no drain is required! With unmatched features, it's the most powerful and cost-effective 1/2 size oven in its class. Moffat Turbofan – we use your space differently.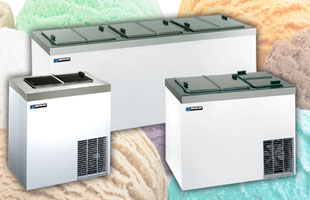 Reliability in a Wide Range of Sizes
Master-Bilt's durably designed dipping cabinets offer reliable performance for ice cream serving and storage. The DC series provides a wide range of sizes and capacities to fit your space. Each model also features a sturdy stainless steel top.
Controlling Risk in Food Safety
Thursday, September 19, 2019, 1:00 (central)
When it comes to food safety, you can never be too careful. It's about controlling risk, which involves developing a plan with food safety-related standard operating procedures. In our annual webinar, we bring in industry experts to offer their tips, insights and best practices in developing and implementing a food safety-related plan and standard operating procedures. We'll also touch base on the ideal active management control system, which includes monitoring the plan and taking corrective action when necessary.