June 27, 2019
---
Renau's T-2268 Wireless Timer/Controller
The most advanced reliable kitchen timer available to foodservice operators. Total control of your food preparation, from cooking to frying, produce to sauce prep, walk-ins to serving line, every product at a glance. Data for each product, graphs, & more with a tough screen for gloved operation. Rugged wireless communication provides up to date information seamlessly.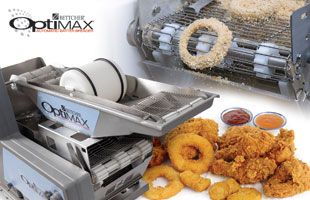 Perfect your Breading with One Powerful Solution!
Bettcher automated breading machines are the practical, money-saving way to offer a full range of fresh-breaded foods. Faster and easier than hand-breading, you'll reduce physical stress on your workers with less mess! Our machines save on ingredients costs, and they're easy to clean, too. Learn more!
Convection Ovens with More Than You Think
Rethink your use of valuable kitchen space! Turbofan's E33 convection ovens—fully loaded with features including programmability, multi stage cooking and moisture injection. Best of all, no drain is required! With unmatched features, it's the most powerful and cost-effective 1/2 size oven in its class. Moffat Turbofan – we use your space differently.
Stocking More Parts From More OEMs Every Day
Heritage Parts is the industry's leading distributor of 100% Genuine OEM parts for commercial kitchens. When you need Right Part. Right Time. Every Time, count on the Parts Experts to help you maximize equipment performance.