April 25, 2019
---
Heated Base Glass Shelves Offer Stylish Foodwarming
Hatco® Corporation's Heated Base Glass Shelves feature a foodsafe heated ceramic glass that creates a uniform heat across the holding surface, making it the ideal foodwarmer for keeping foods at safe-serving temperatures. Models available as both portable and built-in, with black or white ceramic glass to match your décor.
Submersible Scale for Demanding Foodservice Kitchens
NSF certified, the CDN Submersible Scale (SD1110X, SD2210X) is waterproof, with an IP67 rating, protected from water up to 3 feet for 30 minutes. Programmable, it also offers a tare function, field calibration, and low/high limit alerts. It includes a built-in rechargeable battery and power adapter. One-year warranty. Available in 11- or 22-lb. capacity. www.CDNkitchen.com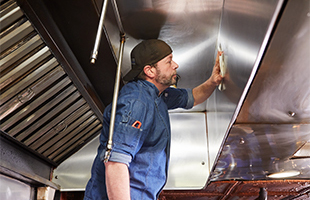 Wipe Out Grease 45% Faster
Grease removal is an unpleasant job, as grease sticks to most everything and is difficult to remove. Tackle the toughest job of the day with Scotch-Brite™ Kitchen Cleaner & Degreaser Wipes with Scotchgard™ Protector. Each clean leaves behind a protective layer helping you cut future cleaning time by 45%.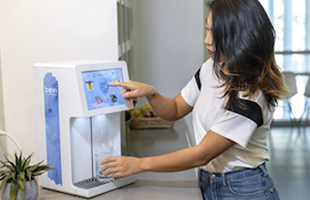 Meet Bevi, the Smart Water Machine
Hooking up to an existing water line, Bevi provides customizable pours of still, sparkling, and flavored water on demand. (Pure filtered water included.) This smart water dispenser is also internet-connected and automatically notifies Bevi technicians when a machine needs servicing.
T&S DuraPull offers new take on pre-rinse units
The new T&S Brass DuraPull pre-rinse unit with pull-down activation is an entirely new approach to pre-rinse units, offering efficiency and durability for high-volume kitchens. The unique function reduces user fatigue and eliminates excess water waste. T&S DuraPull's premium design and heavy-duty construction is backed by an industry-leading 7-year warranty and available in more than 25 configurations.
KA Series Rack Conveyor Dishwashers from MEIKO
Its advanced technology and smart design makes the KA Series economical, reliable and easy to use, while its efficient washing performance helps you save water and energy — no matter which size you choose. Plus, the high-contrast touch screen control panel keeps operators informed at every stage.
Curtis ThermoProX™ Makes a Great "Fresh Impression"
Engineered with all the advanced features of the renowned Curtis ThermoPro®, the new ThermoProX offers a new, sophisticated design and styling. It has modernistic rounded corners, an elegant sloping top, slender side panels, plus a textured honeycomb front panel that will turn heads. www.wilburcurtis.com.
New! Metallic Elements Collection from Service Ideas!
Introducing Service Ideas newest product collection, Metallic Elements. Same high quality products, but in unique and stunning finishes: Vintage Gold, Rose Gold, and Dark Tungsten. See the whole collection at NRA, booth #3624.