A slew of new-wave French bistros and brasseries continue to crop up around the country. Expect the number of restaurants that celebrate "classic French fare with a modern twist," to grow this year, says consultancy Andrew Freeman & Co.
Concept Close-ups
Chef Daniel Rose and restaurateur Stephen Starr take a twist on a classic French bistro that showcases an open kitchen with a custom European cooking suite of green porcelain steel with burnished brass fittings and a custom hood to match.
The front-of-the-house design showcases the dining room as a glass-encased, box-within-a-box adorned with pewter steel chandeliers, hand-blown glass decorations, blue-gray mohair banquettes and reupholstered 1920s-era chairs paired with more industrial features like exposed concrete and brick.
On the menu: Fleurs de Courgettes Farcies, a lobster-stuffed squash with yogurt, mint, dill and cucumber and Tout le Lapin (all of the rabbit), braised hind legs with mustard and onions, saddle roulade and rabbit broth.
Le Coucou Photo by Ditte Isager
Nico Restaurant, San Francisco
This intimate, 34-seat historic Jackson Square-based eatery helmed by Executive Chef Nicolas Delaroque draws inspiration from classic Parisian bistros with exposed brick, patterned tile floors and a classic, linear bar. It opened in the spring of 2018.
On the Menu: Monkfish with arrowhead cabbage and bergamot, scallops with yuzu and tarragon, duck breast with brown button mushrooms and coffee, and a grilled cheese variation made with black trumpet
jam and comtè cheese.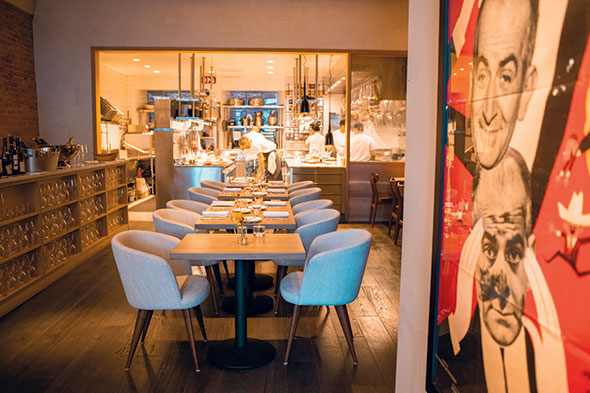 Nico Restaurant
Taureaux Tavern spans a massive 7,000 square feet and 2 floors, which include 288 seats and a year-round 78-seat patio. The fifth restaurant by WellDone Hospitality, it opened in late 2018. Shades of jade and sleek adornments accent the interior.
On the Menu: A French dip sandwich made with shaved wagyu beef, lobster langoustine thermidor; steak frites, roast chicken and seafood towers.
Taureaux Tavern Photo by Eric Kleinberg
---
Growing up French
French cuisine's growth potential ranks below other segments; however, Datassential reports that French food currently shows up on about half of all the menus at fine-dining restaurants in their database. The research firm predicts that this number will remain steady for the next few years, indicating that French food has essentially gone mainstream in U.S. dining, at least in the fine-dining segment.
---
Oui Oui
Two French dishes that outperform others at chain restaurants, based on order frequency (how often
diners order the dish):
Source: Datassential
---
French-related E&S:
French top range for sauteing and simmering
Large kettles and pots for stock and soup making
Traditional garde manger sections
Blow torches for creme brulee and other finishing techniques
Expanded baking and pastry kitchens