When Christine Guyott took a personality test during an Association for Healthcare Foodservice (AHF) preconference workshop, she learned her greatest strength is "maximizing." This makes sense given her tireless involvement in AHF and other volunteer activities, and of course, her feverish dedication to her projects and long-time clients.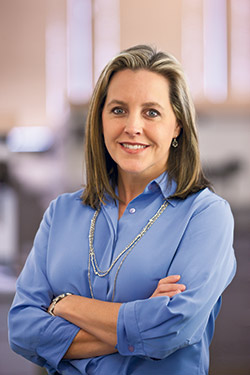 Guyott says she found the results highly accurate. "I'm a sucker for taking something and trying to make it better, whether that's a design project, an organization, a book or something else — that's sort of my Achilles heel," she says with a laugh.
A registered dietitian, Guyott brings a different perspective to her consulting work in healthcare, especially as more facilities in that segment focus on wellness and the intersection of food and nutrition. Since joining Minneapolis-based Rippe Associates in 1995, she has continued a prolific run of projects, each peppered with equal polish and passion. Guyott has worked on a slew of high-end hospitals and academic healthcare facilities, including having just completed a major 10-year renovation project at the University of Stanford that included the development of two new kitchens with advanced production capabilities and a handful of retail outlets sprinkled across the campus.
The only result from that personality report that surprised Guyott was her low score on empathy, which drew a laugh from her. Anyone who knows her well, or even just in passing, can clearly see her warm and calm demeanor, constant smile, kind eyes and even slightly soft-spoken demeanor. She is a friend to many and the loving mom of two boys.
"I felt so bad about that [low empathy score] because I feel like I do listen to others very well, but I guess I can be very task-oriented sometimes and just want to get something done and move on," Guyott says. "So I've been taking time to slow down a little more."
Clients say Guyott does a great job of listening to what they want and then advocating for specific solutions they might not even know they need. She's also known to be very fair and honest with vendor partners. This has earned her respect and loyalty from all industry players over the years.
From Dietitian to Consultant
Guyott's path from dietitian to consultant was actually quite serendipitous. While studying at Pepperdine University in sunny Malibu, Calif. (a very intentional move away from the cold winters spent growing up in Minnesota), Guyott switched from a focus on international business (she speaks Japanese and Spanish) to dietetics. The move was prompted by an intriguing nutrition class and being surrounded by the healthy eating movement going on in California at that time in the '80s. A professor who was passionate about consulting encouraged
her to consider an internship at Clevenger Associates in Santa Monica, Calif., where she worked her senior year. Had she not moved back to Minnesota to complete her required dietitian internship at the Mayo Clinic in Rochester, she might have stayed on with Clevenger. Knowing her background, a client told her about an opening at Rippe Associates that required some travel and seemed right up her alley.
"It was a great fit," Guyott says. "When I was a dietitian, I didn't know anything about the consulting world, but after I worked at Clevenger, I knew I wanted to be a consultant no matter what. At Rippe, there are five of us who are all dietitians, including Bob Rippe."
The large majority (90 percent) of Guyott's projects are in healthcare. She's worked with a variety of healthcare facilities across the country, from large systems and academic institutions to small facilities, as tiny as a 25-bed hospital in a small town on the Oregon-California border. And she gives every project — no matter the size, scope or longevity — her equal, focused attention.
What's exciting in healthcare these days, Guyott says, is the peaking interest in wholesome eating, wellness and food as medicine. Most recently, she went on a tour of Microsoft and Google with representatives from St. Jude Children's Research Hospital to learn about aeroponics and how she can help "bring the gardens indoors" for her healthcare clients.
"I personally take an interest in learning about newer diets like Paleo and gluten-free and how they relate to my work in foodservice," Guyott says. "It's great to see the two worlds of clinical and food colliding. They used to be so separate. Now, everyone wants to know what's in their food, and they want more nonprocessed, whole meals." The constant challenge in healthcare, however, remains the lack of labor and in some cases, funding. Above all else, because of shifting foodservice operators and staff, flexibility in design remains of utmost importance in Guyott's mind.
In many cases, amid all that change, Guyott and her team are the only constants. In the case of Stanford, which saw the turnover of many teams as architects wrestled with new seismic regulations in California, Guyott remained steadfast in sticking to the original vision. At the same time, she kept her designs up to date and current.
Lately, though, she's enjoyed working with more hospital systems, in which she might work with the same leadership team to maintain consistencies and streamline projects across multiple facilities in a state or region.
Industry Initiatives
To say Guyott is an active member of multiple organizations outside of her main work would be a huge understatement. She won't say this about herself, but Guyott has definitely had a hand in shaping and growing the AHF into the organization it is today, even through its many changes and management shifts over the past decade. She has spent six years on the AHF Industry Advisory Board and says she feels honored to have been personally selected to be its chair in 2015. She also serves as secretary on the board of trustees for the Foodservice Consultants Society International (FCSI) and is a past member of the Facilities Guidelines Institute's foodservice design planning task force. Many conference planning and other committees for the various associations have also benefitted from her help over the years.
Guyott regularly mentors younger professionals coming into the industry. In addition to FCSI-related efforts, she regularly speaks at universities around the country, including both dietitian and architectural students, about the job of a design consultant. "One of my favorite things to do is talk to students about nontraditional dietetics jobs and about foodservice design and consulting," she says. She can be found speaking to architectural classes to help students understand customer flow and even create their own mini foodservice designs in an effort to expand their knowledge of architecture outside of just building design.
What's also great, Guyott notes, is how the healthcare architectural community has changed. "When I started in the industry 25 years ago I would say maybe 10 percent of architects were women, but now there's at least half or more women as there are men," she says. "I'm not sure if this has had an impact on the changes in healthcare, but these days you definitely see more collaboration and everyone is much more respectful of differing opinions and views and everyone's insights matter."
When she's not running from city to city or project to project, Guyott enjoys running outside, working out and diving into a good read; she just finished the entire Game of Thrones book series. "In my later years I have learned to be either super on, but then off," says Guyott, who feels this has helped her be a better mom to her sons Max and Mostyn. She also enjoys watching her boys play hockey and soccer and participate in karate, and taking trips to her hometown in St. Paul to get away. She certainly deserves it.
Quick Facts:Christine Guyott
Education: BS, Nutritional Science, Pepperdine University, Malibu Calif.; Dietetic Internship, Mayo-St. Mary's Hospital, Rochester, Minn.
Industry involvement: FCSI, secretary on board of trustees, board liaison and various committees; AHF, board of directors and various committees
Family: Two sons: Max, 14, and Mostyn,11
Weekday wakeup time: 6:30 a.m.
Go-to food when dining out: Sushi
What do you think about when you are in your car? The day ahead or behind; what needs to get done; how I'm going to get it all scheduled in.
What one word would your co-workers use to describe you? I thought "driven." My co-workers said "passionate."
What one word would your family use to describe you? I thought "blessed." My sister-in-law said "fierce" and "strong."
What's your superpower? Going from whirlwind taskmaster to lazy couch potato in 30 seconds flat.
What was the last picture you took on your phone? A photo of Mount Shasta on my drive from a project, preceded by 20 photos of the existing project site, a stray kitten who ate dinner with me on a patio, a bunch of photos of my boys playing hockey, and one of my nephew, whom I babysat this past weekend.